We're wrapping up restaurant month on Allison's Written Words, with a visit to another buffet-concept restaurant that has seen its locations dwindle in recent years.
Grab your appetite and a plate, we're going for crazy combinations we would never eat at home!
I've been enjoying not only putting together these "Do You Remember?"-style articles, but also hearing from readers about their memories. Last month, we covered video game systems with cable-based game subscription services (Sega's version, Intellivision's version), video dating, and the "Clear Craze," and this month, we covered restaurants (related links at the end of the article).  I've already began planning next month, so there will be more healthy and fun conversation to be had.
If you've been coming by to read these recently, thank you!  And if you've been commenting, an even bigger thank you!  Your recollections have been appreciated!
Today, going back to the buffet for a taste of the old country with a Midwest-based brand that has seen its numbers dwindle in more recent years.
But before we dive in, let's explore the research side of things.  Because that is the obligatory part of these articles – you're required to learn something!
History of The Old Country Buffet
Old Country Buffet was established on October 19, 1983 (hey hey, this author's first birthday!) as part of a group of chains under Buffets, Inc. from inception until 2013, and since then, part of Ovation Brands.  Old Country Buffet has several sister restaurants – Hometown Buffet (based in California, my fiancee has mentioned this one, and also where SIZZLER still exists), Country Buffet, and Ryan's Buffet/Restaurant Group.
The restaurant offered a nice variety of meal choices – pasta, chicken, steak/beef, salad bar, and of course…DESSERT!  Drinks were even included in the overall cost, which was apparently a big deal, but just a standard of Old Country Buffet.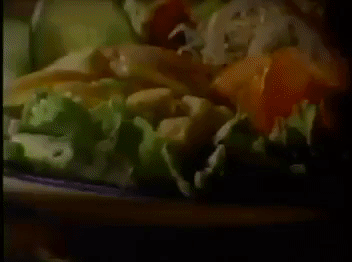 Buffets Inc. was not without its problems, declaring bankruptcy twice (2008 and 2012).  In 2008, fifty-two stores closed, but the 2012 bankruptcy that resulted in Ovation Brands taking over resulted in 81 closures, including the location I went to (Mays Landing, NJ) on a regular basis.  However, by that point – actually, long before that – I stopped going there.  It just seemed to go downhill and not worth the time or energy to go there.  Which was a shame, at one point it was so good.
As of February 2019, there are nineteen Old Country Buffet locations left, primarily in the Midwest.  At its height in the mid-1990s, the chain boasted over 200 locations across the country.  The location near me closed about 5-10 years ago, becoming a Japanese buffet (it didn't last long), before the location itself (a corner store in a small strip of stores as part of a large shopping center across the street from the mall) was converted to an XFinity/Comcast store.  They've been there since at least 2014.
Don't weep for my area's interest in buffet restaurants – Golden Corral opened in the area in 2012.  I ate there once and I have considered it a one-and-done.
Something about little kids and chocolate fountains really freaked me out.
But let's not talk about questionable hygiene, you've come here for one reason, and one reason only…aside from commercials, of course…
Personal nostalgia!
Allison's Old Country Buffet Experience!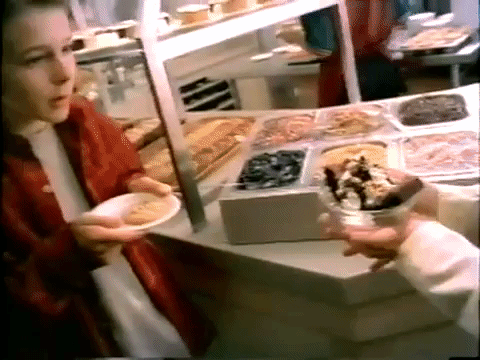 Because seriously, I would never leave out personal nostalgia!
Old Country Buffet – or "The Buffet" as I called it – was a regular staple of mine and my friend Kristin whenever we went to the movies in the area.  This was back in the late 1990s-early 2000s – we didn't get an Old Country Buffet until the late 1990s when the shopping center opened (I believe in 1996) and had been established for a few years.
That location was in a small strip of stores, including Radio Shack (shed a tear for them) America's Best, and Party City, which are both still there.
We would go in, pay, get a table, and as soon as the server came to our table to introduce themselves and drop off utensils (and I think a plate for each of us), we would run right up to start getting dinner.  Buffets bring out the worst of our appetites, and whenever I went, I swear, my plate was always full of stuff that had no right being mingled on the same plate. It was never like on the commercials, where the pairings made sense.  My plate was a free-for-all, and it was AMAZING!
And this was not just exclusive to Old Country Buffet, I've done this at casinos as well.  And the Ming Dynasty (the former Ponderosa), but since that was Chinese, it wasn't the kind of place you couldn't co-mingle the most random choices and get looked at weird.
We used to stuff ourselves full of dinner and dessert, and off we went to the movies (or the mall).  It was a regular dinner trip for us, and we loved it!
I miss those days, eating a lion's share of buffet food and dessert and it not sitting on my hips forever.  Everytime I would ever love to relive those days and visit a buffet, I'm reminded of the wedding dress hanging in my closet at my parents' house.
And the treadmill at the gym should I make such a terrible choice!
And now that you've heard my nostalgia, how about a bunch of commercials in the YouTubeLand archives full of hungry diners partaking in Old Country Buffet's choices?
You live for this, trust me!
Old Country Buffet Commercials…What A Great Choice!
Compiled for your tastebuds' torture, a playlist of commercials – a veritable buffet, if you will – of Old Country Buffet commercials, going as far back as the early 1990s!
Thanks to YouTube uploaders TheClassicSports, Betamax King, Tim Entwisle, Play Pause Video, Analog Memories, RateMyCommercial, adfreak20, TheClassicSports (again! 🙂 ), Chi-Town TV Fan, Sam Rosen, Derek Dahlsad, and Richard Canipe for sharing your commercial gifts with the world!
I totally remember the kid with the "cookie" commercial, and wanted to do the exact same thing during my next visit to Old Country Buffet.  I think there were signs discouraging it though, which leaves me to wonder why they would show something in their advertising they refused to let you do!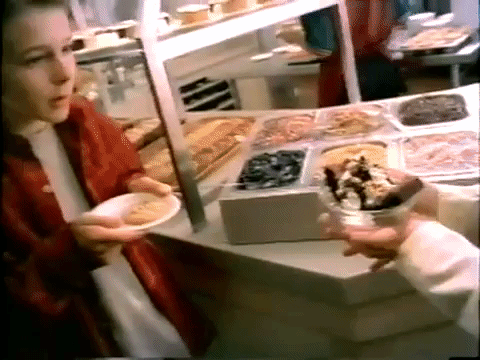 (They did have good cookies, in case you were wondering).
That's like the time at the Ming Dynasty where they were out of ice cream dishes, so the guy I was seeing at the time had the bright idea to grab a soup bowl.  Other people took our lead.  There wasn't a sign saying "Don't you even think about it," until I went back the next time, and a sign specifically said to not use soup bowls for ice cream.
Well, darn!
Related Eating (See What I Did There?!)
In case you missed it…or just want to relive the experience of eating at these restaurants through the magic of living vicariously…
The Restaurant With the Family Feeling: Have You Ever Eaten At Ponderosa? (February 5, 2019) – A dwindling (but not yet dead!) restaurant with an amazing buffet, and many happy dinners eaten there!
Sizzler: The Place That Brings Us Choices (February 11/12, 2019) – A restaurant that still exists, though the buffet concept they made famous in the 1990s has been retired.  A staple of Southern California, this chain brought us choices…and the most '90s marketing video that could make even the 1990s do a double take!
A Celebration of Chi-Chi's (And Food!) (February 19, 2019) – The chain Mexican restaurant concept known for its fried ice cream and amazing menu.  An unfortunate health crisis was the final nail in its already almost closed coffin, but I still can't forget that fried ice cream!
And Now, A Word From The Readers…
As I said, these commercials have been bringing up a healthy and fun conversation among my readers.  Did you ever eat at Old Country Buffet, or any of its sister restaurants?  I'm not familiar with the other brands, but if you've eaten at any of them (Old Country Buffet, Hometown Buffet, Ryan's Buffet and Grill, or Tahoe Joe's), I'd love to know what you remember!
We're wrapping up restaurant month in a to-go box, and moving on to a different topic in March.  What topic, you ask?  You'll see next Tuesday!
Have a great day…and a great choice!