If there was ever something that belonged in the vault of weirdness, this is the thing.
Thanking The Gods of Relationships…
I'm eternally grateful to the Gods of Relationships, Love, and Finding the Right One for being off the market.  The days of dating websites, apps, and commercials for dating websites and apps is a distant (but still very much conscious) memory burned into my head for all time.
I tried the websites – eHarmony and Match.  I never even approached the idea of Tinder when I was single in 2015.  I also never approached the idea of (the earlier online dating solution) Lava Life (my brother met his wife of ten years on that site when they were in college – this was sixteen years ago).  I figured, if he could do it, I could do it.
Here's my online dating stats:
Total attempts at dating websites – 6 (three on eHarmony, three on Match)
Total number of guys dated – 3 (three dates with two guys, and a relationship that lasted almost two and a half years)
Total number of guys talked to – Less than 7 (including a guy who kept me on the phone for four hours to talk about himself)
Money Wasted – at least $300-$400 in subscription fees
When my previous relationship ended in early 2015, I swore off dating, decided the single life worked for me, and vowed never to get involved with dating websites ever again.
It all worked in my favor, trust me.  No dating website needed. 🙂
The Dating Scene: The Pre-Internet Years
Before eHarmony, Match, Tinder, Christian Mingle, Plenty of Fish, Zoosk, and well, everything else, there were a few options.  One involved putting yourself out there, the other involved putting yourself out there on videocassette.
Or The Love Connection.
Who didn't watch this show, seriously?
But if you weren't into bars, clubs, singles cruises, or Chuck Woolery, video dating services were there to help.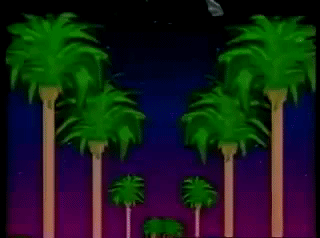 You've seen these – cheesy wipes/edits, shoddy production quality, synth music, lasers, and the finest collection of people that Ted Bundy would think were a bit creepy.
And a Viking.

Never ask too many questions.
And that's just the tip of the iceberg.  You haven't seen a damn thing yet!
My question to you is…are you ready?
Check Out This Group of Potentials!
Upload via Jameson Murphy
The best part about this was that in 2009, Ellen DeGeneres interviewed Big Phil, Maurice, and Smoke-Free Mike, and interviewed them.  Of the three guys, Maurice is married.  And none of them look creepy by today's standards at all.
Must have been the clothes.  And the hair.  And the mustaches.  And the production quality.
Afterthoughts…and My Name in Lasers, Lightning Bolts, and Synth!
When you search "1980's dating videos," the vast majority are parodies, and so very precious few are legitimate, aside from the one featured here.  That doesn't make the parodies any less funny, but there is something special about the legitimate version, mostly because you can tell it is not scripted, and that these guys really seem like they had to rise to the challenge of putting themselves out there.
Except for this guy.  He is ISO The Goddess.
Are you her?
And before we go…
This was from a parody dating video, but I've honestly never been this deliriously excited to see my name written anywhere else!
Makes up for the school photo backdrop my school chose not to have.
Have a great day!
(I seriously hope Fred The Viking and ISO Goddess found their matches.)