…and a camera.
Because you need incriminating evidence.
I got my first VCR for Christmas in 1996, when I was fourteen years old.  I had gotten a TV the year before, and having the VCR was the next logical step (I purchased a video game system, a Super Nintendo Entertainment System, a few days after Christmas  when I got the TV).  That VCR, a Sharp with a super cool Rewind/Fast Forward knob, was with me until early 2017.
I couldn't wait to tape anything and everything with my VCR, including commercials.  Because even though I didn't like watching them back then, it was easier to tape them than it was to pause the video.
Nice to know all that laziness paid off in spades.
Today's commercial is from one of my first recordings on my VCR, taped in 1996.  This was a commercial that I saw many times prior to – and during – the holiday season that year. It never failed to make me laugh on any of those occasions.  It also proved that in a world of rivalry between cats and dogs…that cats are jerks.
Known fact.
The commercial is for the Polaroid One-Step Camera (I've covered Polaroid a few times), and its use not to capture the perfect memory, but to capture the purrfect crime.
Had to do it.  Because I'm a jerk.
Anyway…
So, we have a dog…
…we have a cat…
…and we have the purrfect crime.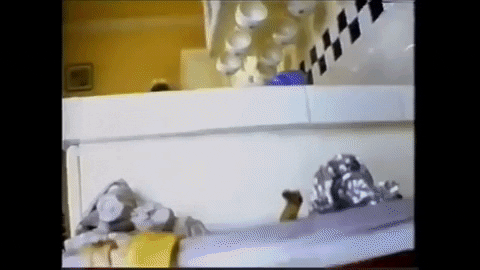 Or do we?
Our canine friend has a solution!
Click play and find out what trick he has up his sleeve!
I used to crack up over the "Very bad dog!" accusation, and these days, it still makes me laugh, but only because it plays out like a bad wartime memory.
Kinda like this, but without helicopters.
I love the ultimate revenge for the dog, who is, as it turns out, the victim of the purrfect crime.
Oh dear.
This commercial, aired during the holiday season in 1996, boasts the affordability of the Polaroid camera, now under $25 (this 1991 commercial set boasts the cost at under 30 "bucks"!), and promoted the OneStep camera, which was celebrating its 20th anniversary on the market.  That same year, Polaroid tried (and failed) to capture the attention of photographers wanting to switch to digital with the PDC-2000, but it failed to get any attention.
In the coming years, consumer interest in advancing technologies with photography forced Polaroid into bankruptcy in October 2001.  The Polaroid brand was licensed for use on other products, and as of today, the name is still around, and yes, they still have instant film cameras.
Because some need to clear their name, and Polaroid is the only way to do it.
Gotcha!
As I said, I've featured Polaroid a few times on the site, including the time Polaroid wanted us to "show 'em your Impulse!", helps with the greatest scavenger hunt EVER!,  as well as Christmas commercials from 1987 and 1991.
Apparently, I like Polaroid commercials?
I've never owned one.
Have a great Throwback Thursday!