Attention readers, Board Game Month continues on at Allison's Written Words!
Previously, on Allison's Written Words…
Last week, we kicked off Board Game Month guessing the identity of a person on our card holder.  Today, we're breaking out a whole other kind of card, meant to provide a whole lotta instant gratification, and none of the bills.
Wasn't it nice when credits cards did this for us?
(Your debit card doesn't count!)
We're at the mall with it all, playing a game all about something girls love to do, while appealing to mall-centered culture in our very late 1980s-1990s life!
So…got your credit card?
CHARGE!!!
I'd be hard-pressed to find a female who grew up in the late 1980s and early 1990s who has never heard of Mall Madness.  Even if you never played it, the name should sound familiar.
And the commercials should fill in the rest of the gaps.
Upload via TheRetroTimeMachine
Upload via George VHS
So, what is this Mall Madness all about?
There's A Sale At The Fashion Boutique!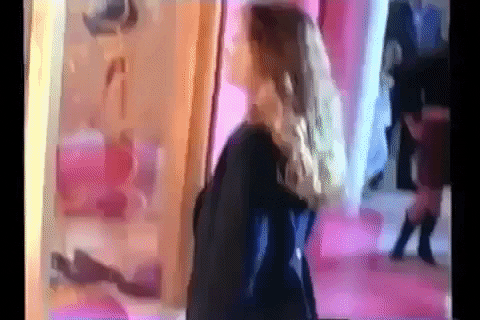 "I was born to shop!"
Mall Madness was created by Milton Bradley, and first sold in 1988, with an electronic version (Electronic Mall Madness) following a year later.  Design updates were made in 1996 and 2004, and editions featuring Hannah Montana and Littlest Pet Shop were released in more recent years.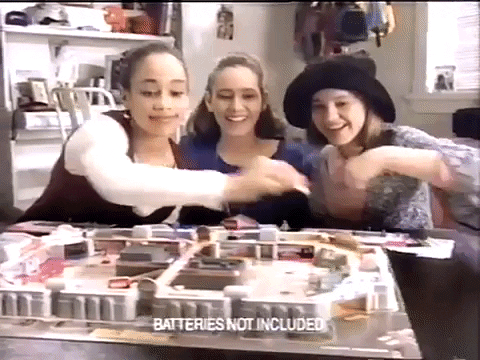 Geared to girls ages nine and up, the target were girls ages eleven to sixteen.  Players get a cash card and play money, and the object of the game is get everything on your shopping list and leave the mall.  Do all that, and you win!  The "computer" in the electronic version dictated gameplay, as well as scanned your "credit card."
God that's amazing.  What a picture of beauty.
This game played all up on our very 1980s and 1990s mall culture in a huge way, but always had this pseudo-educational value that taught us how to use a credit card.  I mean, it wasn't super realistic, but who didn't feel like a badass saying "CHARGE IT!" and having to do something every girl ever loves in order to win a game: shopping for stuff!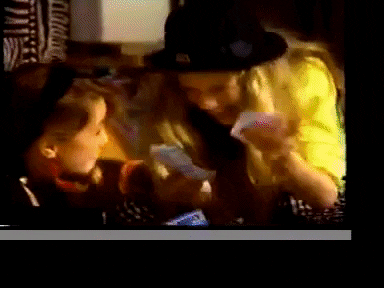 The mall had stores with punny (yes, punny) names (source: Wikipedia):
I.M. Coughin Drug Store
Suits Me Fine Men's Shop
2 Left Feet Shoes
Short Circuit Electronics
Yuppy Puppies Pets
Scratchy's Records
Novel Idea Books
Frump's Fashion Boutique
The Write Stuff Card Shop
Fork It Over Kitchen Store
Hokus Focus Cameras
Sweaty's Sports
Made in the Shade Sunglasses
Chip's Computers
Ruby's Jewelry
DingaLing Phones
M.T Wallet's Department Store
Tinker's Toys
As well as four additional areas to visit:
Conehead's Ice Cream
Restrooms
Vidiots Arcade
Aunt Chovie's Pizza
So…the restrooms?  Did the computer actually say "you need to use the ladies' room?"
Seriously, I'm super curious.  Did it ever say that?!
Escaping – er – I mean, clearing your list and getting to the mall parking lot meant winning, so if you could do that, you could be the Master of Mall Madness.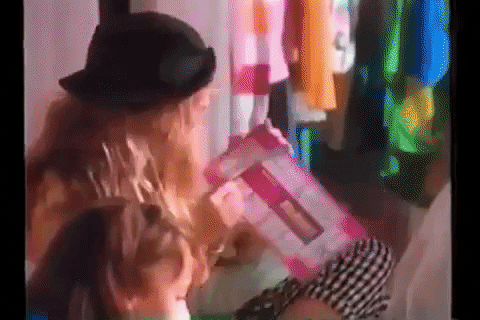 Childhood was so simple, wasn't it?  It's all the fun of shopping, without the crushing debt and credit card bills that come with shopping addiction!
So, you know the game, you know the stores, and you know how it all works, but there's an important, unanswered question…
Did Allison Play Mall Madness?
These Days…
A copy of Mall Madness is not a cheap find.  I've seen complete copies of the 1989 electronic game for $89 on eBay, and newer edition copies will run you even more (over $120 in some cases!).  And forget the Littlest Pet Shop version – there's a copy on Amazon for over $300.  So unless you have a little bit of extra money burning a hole in your pocket in the name of nostalgia, this one is for fanatics.
I'm not even compelled to spend $89 on the version I played, let alone $300 on one for a series of toys I wasn't remotely interested in.
And Now, You!
Did you play Mall Madness, or know someone who had it?  Or, do you just remember the commercials?  Be social on social media, or in the comments below.  I want your Mall Madness stories!
Board Game Month rolls on (no pun intended!) with another classic game.  Instead of being armed with credit cards, we're going to be armed with skill, determination…and a cool catchphrase!
Have a great day!