Hand me down my laptop, hand me down my tablet, hurry now and don't be late, 'cause it's Music Monday and I ain't got time to chat.
But I have time to write!
At work, I think of myself as the "Office Supply Maven." I love when someone asks me for a specific office supply, and the excitement over it being delivered to them.  Like the Rubberband Man of those funny Office Max commercials from the mid 2000s, I push the office dolly cart, stacked with supplies, making my rounds and dropping of my deliveries.  The "thank yous" and "you're the best" that I get really makes my day, especially when I go the extra mile and get something great.
I've had many appreciative managers come to me about the chair that was delivered directly to their program, or a phone call thanking me for the brand new stapler.  Sounds silly, but those little things mean alot, and having appreciative co-workers is a boost to my ego.
Today's song was written to boost the self-image of a young man, teased for being overweight, and eventually evolved from being about a fat man, to a man with the incredible ability to make music with a a certain office supply between his toes.
I think you know where I'm going with this.
"The Rubberband Man" is a 1976 song by The Spinners, co-written by keyboardist/vocalist/studio musician Thom Bell for his son, who was overweight and the target of teasing by classmates.  The song eventually moved away from being about a fat man, but was meant to lift the young man's spirits and boost his self-image.  So no, this song isn't a love song for office supplies.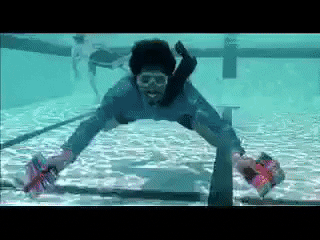 Don't tell him this.
After all, that's not what these guys are singing about!
"Rubberband Man" reached #2 on the Billboard Hot 100 (held out of the #1 spot by Rod Stewart's "Tonight's The Night"), but reached #1 on the Billboard Hot Soul Singles chart.  "Rubberband Man" finished #81 for the year end Billboard Hot 100 in 1976. In Detroit, the Detroit Free Press ranked the song #70 out of 100 of Detroit's greatest songs.
Not bad for a song about a guy known for his musical rubberband playing.
In addition to the hilarious Office Max commercials from the mid 2000s, the song has also been featured in recent Bank of America commercials, the famous mud wrestling scene involving John Candy in the 1981 film Stripes, and was the introduction of the Guardians of the Galaxy in the 2018 film Avengers: Infinity War.
Because if this song was going to be featured anywhere, it would be in Peter Quill's Walkman.  So much rhythm, grace, and debonair for one man, wouldn't you say?
Well, that's open to interpretation.
Have a great Monday, and enjoy the music!