Music Monday and Valentine's Day?  I guess we better pay homage to the Holiday Hallmark Created, shouldn't we?
The only way we can start that is…heart to heart.
Of course!
Yep, that's right, we're digging into Kenny Loggins' music library for this one!
Because nothing says Valentine's Day and Allison's favorite music quite like that time I coined the hashtag #WhitePeopleDancing!
Kenny Loggins has this effect on people, trust me!
Anyway this week's song!
So it's Valentines Day week, I have tons of songs about love in my music collection (and plenty about jilted lovers and breakups – I'm an equal opportunity listener, folks), and I've seen every incarnation of the Time Life infomercial hocking those Ultimate Love Collection/love album compilation set out there, so I'd like to think I've culled my playlists from the best.  And while I could have chosen any of those songs, I went with the Kenny Loggins song I used to think was a Michael McDonald song.  Turns out my grave mistake was only because Mr. McDonald actually sang backup on this song.
The year is 1982.  Kenny Loggins has been a solo artist for several years.  He is the reigning King of the 1980s Soundtrack, and he surprisingly has to put out albums between soundtrack contributions.  So it was only natural that he combined the two ventures.
Eat your heart out, Indiana Jones.
Anyway, "Heart to Heart" was the second of three singles released from High Adventure (the first being "Don't Fight It," which I previously covered on Music Monday in July 2017, and the third being "Welcome to Heartlight"), and was written by Loggins, along with Michael McDonald and the brilliant David Foster.  Foster, if you remember, was the subject of two previous Music Mondays – last week and the music pick of June 19, 2017, as well as January 15, 2018.  He and Loggins are friends and have composed some amazing music together.  They write the songs that makes me a very happy listener, and white people dance everywhere.
"Heart to Heart" speaks of the mutual opening up of hearts in keeping a distanced relationship alive.  I wrote about the music video in 2015, and while that's what I interpreted from the song, what I actually saw were hanging teddy bears…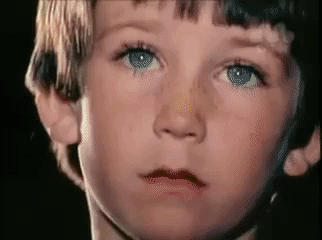 …and crushed childhood dreams.
I tried to make sense of it, but it was those days of music videos not really having any known point.  So unfortunately, I came up empty on trying to figure this all out.
Weird and creepy music video aside, "Heart to Heart" reached #15 on the Billboard Hot 100 Chart for five weeks between January and late February 1983, 13 weeks in the Top 40, 17 weeks on the Hot 100 overall, and #3 on the Adult Contemporary Chart.
Oh, and furthering the whole "Six Degrees of Chicago" connection I seem to make with all of the music I love, Tris Imboden performed percussion on this song and the album it rode in on.  This was, of course, in his pre-Chicago days, when he was touring and playing for Kenny Loggins' band.
And now, without anymore further ado than the ado I've already thrown at you, from 1982 and my Music Monday pick of Valentine's Day week, the Kenny Loggins (formerly Michael McDonald in my weird brain) song about mutual understanding as a means to keep the relationship living, breathing, and surviving, "Heart to Heart."
I hope you enjoyed this pick of the week, whether you're coupled, single, or a white person dancing.
Seriously, I'm not even this white!
Have a great day, and enjoy the music!