Every little look inside your eyes is all it takes to make me realize, we can last forever…or Music Monday.  Which ever one is longer.
Previously on Allison's Written Words…
The winds of change swept through the boys of the Windy City, as one album helps the group regain the ground it lost in the late 1970s.  The era of soft rock and power ballads arguably began with Chicago 16 in 1982, but it was Chicago 17 that cemented them in this distinction.  By 1985, one member decided his solo career had nowhere to go but up, and when the prospect of a "Phil Collins/Genesis" arrangement doesn't go as planned, he finds it is time to go (he never looks back).  A change in personnel ushered in the next album, and the group spent 1986 finding their way again.
It's now 1987-1988, and Chicago is back in top form thanks to a series of albums giving them newfound success.  Back to the studio the group went, and the next number in the sequence was underway.
Chicago 19
Chicago 19 is the sixteenth studio album by well, Chicago.  Released in the summer of 1988 (June 21, 1988, to be exact), the album was anchored by five singles, one of which was the group's largest-selling single of all time (and the rest saw the top ten). The songs, as on the previous albums from this era, relied on outside songwriters.  David Foster did not return for this effort, and the group attained Ron Nevison and Chas Sandford as producers.  The Full Moon imprint (which was part of Warner Music Group until WMG absorbed it in 1992) moved to Reprise (a different Warner label, they're still around today).
Received similarly to Chicago 18, this album went Platinum, and continued with the sound that had been part of Chicago's re-invention.  Prior to the album's release, the single "I Don't Wanna Live Without Your Love" was released, followed by "Look Away" in September 1988 (this was the group's highest-selling single of all time, the only #1 single of the Post-Cetera Era, and the subject of a previous article – not Music Monday, but its own article), then "You're Not Alone" in January 1989 (which was the subject of Music Monday in April 2019), and "We Can Last Forever" in April 1989.  "What Kind of Man Would I Be?," which was from this album, saw its release in November 1989, coinciding with the release of Chicago's Greatest Hits 1982-1989.
The Charts
Chicago 19 reached #37 on the Billboard Hot 200 during its 42 weeks on the chart.  All five singles released on this album saw the Top Ten, with the exception of "We Can Last Forever."
"I Don't Wanna Live Without Your Love" reached #3 on the Billboard Hot 100 and #5 on the Adult Contemporary Chart, "Look Away" hit #1 on both charts, "You're Not Alone" reached #10 on the Hot 100 and #9 on the Adult Contemporary Chart, "We Can Last Forever" reached (yikes, must have been a competitive chart at the time!) #55 on the Hot 100, but charted at #12 on the Adult Contemporary Chart.  The final release from this album, "What Kind of Man Would I Be?" reached #5 on the Hot 100, and #2 on the Adult Contemporary Chart.
All of the most successful singles were written by outside songwriters, while the only song released as a single that is credited to a member of Chicago (in this case Jason Scheff), was the worst-performing single.  I feel bad for the guy – he caught so much flack from Cetera devotees when he was a newbie, and he co-writes a song that charts at #55.  I mean, it wasn't a terrible single – quite the opposite, it was pretty – I like it better than "I Don't Wanna Live Without Your Love" – and it wasn't the redone "25 or 6 to 4" or "Niagara Falls".  Neither of those are low points by any means, but I can imagine alot of people were weirded out by the high-tech sound of 1986's throwback to a song about writer's block becoming a song about post-apocalyptic Chicago.  As for "Niagara Falls," that never felt like a Chicago song.
My Take
Love or hate this era, it has produced a great catalog of music that deserves a little more credit than it gets from some fans.  Does it lack the edge of the early era?  Yes.  Does it have a "very 80s" sound?  Sure it does – the sound is exactly what flooded the airwaves at the time.  Chicago had a sound that managed to keep up with the times.  Reinvention wasn't the worst thing to happen to them.  I can see why people don't like this era, but at the same time, there are gems to be found throughout the era, and not just the stuff that does see the concert setlist.
Most of what appears during this era (including the songs from this album) haven't seen a concert setlist since the 90s, but, amazingly, "Look Away" was on the setlist when I saw Chicago in April 2019.  Lou Pardini gave a great performance of the song – very much the blue-eyed soul coming to grips of the end of a relationship that Bill Champlin gave to it in 1988.  When he started playing the opening chords of the song, the woman behind me said "this song reminds me of the year I graduated high school!"
For me, this song was more like Kndergarten, but I remember the music video, if not for the bizarre imagery of a woman walking away from an exploding car.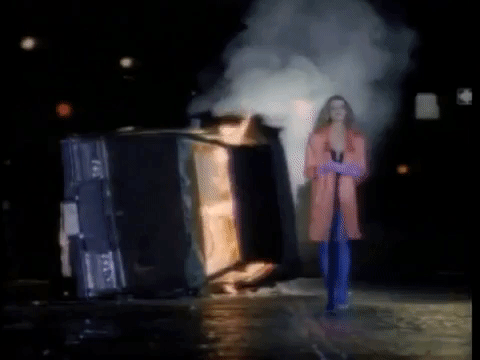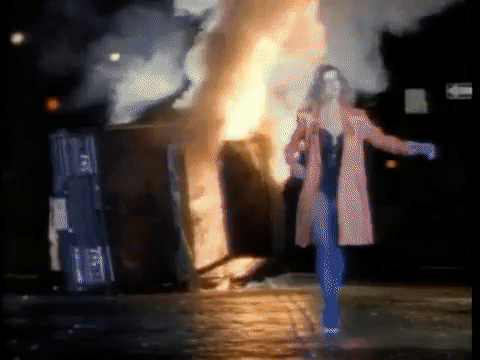 Consider all her problems handled.
Robert Lamm, whose vocals are strong no matter what he sings, is present on this album.  It was difficult during the David Foster era to find something of Lamm's that compares to his early efforts.  The two had creative differences, and Lamm had his own difficulties during that era.  As this era came to an end, he was beginning to find his way back.  These days, he seems to enjoy his emcee duties – you'd find it hard to believe there was ever a time he dealt with personal conflicts.  Lamm's "I Stand Up" sounds great, and definitely has the Lamm touch, but that may be because he co-wrote it.
For me, probably the weakest song has to be "I Don't Wanna Live Without Your Love."  I don't know why, but it just doesn't have that Chicago feel.  I could say that about "Niagara Falls" from 18, but this just sticks out for me.  I have never been crazy about this song.  There are so many other gems on this album that could have gotten a release.  I know some would argue with me, but the song, the video, it doesn't give off Chicago vibes.  Sounds like it was written for someone else.  I mean, it was written by outside writers, but it has this "anybody else but Chicago" feel.
Oh, and those music videos…
The Music Videos of Chicago 19
It is so weird seeing Walt Parazaider on guitar, don't you think?
Not any moreso than him making the "everyone imitating guitarists" face.
Chicago in a snow globe, tuxes, and strange dance choreography and a very old school feel comprise the plot of "I Don't Wanna Live Without Your Love."
Moving on in a relationship, exploding cars, and the band not being seen until the end of the music video are the plot of "Look Away," the group's final #1 single, and their first in the Post-Cetera era…
"You're Not Alone," and apparently, you're ok that you are…
I love this music video, even if it doesn't make any sense.
As for "We Can Last Forever" and "What Kind of Man Would I Be?," there are no official music video for either song.  Their MTV cred hadn't leveled off, but perhaps they decided against music videos for these songs?  They could have had another one they all cringe over!
Absolute truth, they all cringe over their music videos!
The Winds of Change Come Through…Again
The whole group faced conflict and their demons at one time or another, especially in the wake of Terry Kath's death, as they were trying to find their way past their personal battles.  A renewed sound brought a renewed spirit and look, and a glimmer of the years to come.
Unfortunately, the change sweeping through was going to result in one member's exit.  As the group wrapped up touring for Chicago 19  in 1989, drummer Danny Seraphine, a member since the group's very beginning in 1967, was unceremoniously fired from the group in 1990.  The story the group tells was that Danny's playing had declined in the years since the beginning of this era, and when the group went on tour in Europe, he had just re-married, and was touring and looking at castles…and not rehearsing.
Ooops.
The strife between Seraphine and the group lasted quite a bit of time, but they seem to have mended fences (not by the time Seraphine's book came out, but within the few years after it), and he joined them for the induction to the Rock and Roll Hall of Fame in 2016.  Drummer Tris Imboden, who had actively performed with Kenny Loggins' band between 1977 and 1989 (and again – surprise – when Loggins was on tour in 2018!), joined the group in 1990, and stuck around for 28 years.  He brought an energy to the group that was so much fun to watch – his drum duel with Walfredo Reyes is the stuff of magic, and he always has this huge smile on his face.
One of the cool things about the members that would join the group over the years is that they are fans.  Imboden said he saw them in the late 1960s perform, and when he was contacted about joining the group  (as Kenny Loggins was not going on tour in 1990), he was excited.
As the 80s gave way to the 90s, two "Best of" albums would punctuate the end of the decade – one that covers 1982 until 1989, and another that covers the first fourteen albums, as well as rare tracks.  That would be released in 1991.
So, how did the group begin the 90s?
Touring.  That's what they did.
They also contributed a single for the Days of Thunder soundtrack, "Hearts in Trouble."  It's a great song, full of Bill Champlin passion vocals and Chicago power ballad.
The end of the 1980s, and beginning of the 1990s also meant another thing for Chicago…the beginning of the end of an era.  The "power ballad" era of Chicago was coming to a close as the new decade was starting.
I'll be covering that next week, as Chicago albums (in numerical order) come of "legal drinking age."
Oh, and you noticed the screenshots I shared earlier in the article? I'd be remiss if I didn't share my personal favorite from another song on this album.
That never fails to amuse.
You're welcome.
Have a great Monday, and enjoy the music!