I don't want you to misunderstand me, I just want to say what's on my mind…and it's something a little different for Music Monday.
I mean, Chicago stuff isn't new or novel, they've been on here more than a few times.
But this is a first for Music Monday – the celebration of entire album!
A few days ago, Chicago's Twitter account mentioned the 36th anniversary of their album Chicago 17, and that got me thinking, why not devote a Music Monday to an entire album?
So as the Tweet said, "Chicago and Chill," that's what I'm gonna do on this Music Monday!
Chicago 17 is the band's thirteenth studio album, the second album released on Full Moon/Warner Bros., the second with David Foster producing, and the last with the vocals of Bassist/Vocalist/Founding Member Peter Cetera.  After the dreadful last two albums of Chicago's tenure with Columbia Records, the group was paid to leave the label, their contracted final album with the label was a "Greatest Hits" compilation, and the group released Chicago 16 after producing it with the funds received from Columbia's payment.  That album came after tragedy (the death of Guitarist/Vocalist/Founder Terry Kath), personnel changes (the hiring and firing of Donnie Dacus), and showed that the group had the staying power to make the successful transition into the 1980s.  
If that were the case with that album, Chicago 17 proved the group was fully into their renewed spirit.  Robert Lamm, who had personal issues and was largely absent from the previous album,  took lead vocals  on two tracks, as well as a bonus track released on the album's Rhino reissue.  However, much of the credit on this album goes to vocalist Peter Cetera, as well as Bill Champlin, who performed the vocals for eight of the album's ten tracks (which include the four released singles).
Prior to the album's release, "Stay the Night" was released as the first single on April 2, 1984.  "Hard Habit to Break" was released on July 2, 1984, "You're The Inspiration" on October 29, 1984 (ten days after this author's second birthday!), and "Along Comes A Woman" was released on February 4, 1985.  All singles had corresponding music videos, and the group proved that with renewed spirit, came a presence that was actually music video worthy.  Not bad for a group who preferred anonymity and album covers that didn't feature their faces.
All four released singles were successful, with "You're The Inspiration" reaching #1 on the Billboard Adult Contemporary Chart (by comparison, "Hard Habit to Break" reached #3, and "Along Comes A Woman" reached #25).  All four tracks charted on the Billboard Hot 100 – "Hard Habit to Break at #3, "Stay the Night" at #16, "You're the Inspiration" at #3, and "Along Comes A Woman" at #14.  "Stay the Night" and "Along Comes A Woman" even found themselves on the Mainstream Rock Tracks charts (#7 and #10, respectively).  The album would go on to Platinum six times over, and the band would go on to contribute to We Are The World, riding on that success.
Not a Dud
Now, with any album, you'd expect a clunker or two that you'd skip, right?
Wrong.  So wrong.
There is not a dud on this album – the six other tracks (I featured one of them, "Prima Donna," on a previous Music Monday in January 2020) are incredible, with a great mix of vocals, power ballads, and well, powerful tracks.  There's horns to be heard here, but the real emphasis is on power ballads.  Alot of people hate this era of Chicago, and really, it is one that gets glossed over in concert, but this is an amazing album.  My earliest memories of listening to Chicago on the radio started with "You're The Inspiration" and "Hard Habit to Break." 
Silly me, I used to think "Stay the Night" was a Peter Cetera solo effort until I saw the music video a few years back. 
I'm sure I saw it years ago, but it was "You're The Inspiration" I remember seeing on MTV and VH1 as a kid.  I never thought the video made sense, and that Walter Parazaider looked bored not having anything to do.
I love the tracks on this album – even the unreleased tracks are gems.  I especially love "Only You" – what an amazing and – dare I say it – powerful song.  "Remember the Feeling" has all the feels of a Peter Cetera classic that would be at home on his "Best Of" album (which I have), and Robert Lamm sounds incredible on his tracks (including the one that was released on the reissue).  The real shame was that he dealt with personal issues that got in the way of his beautiful harmony.  While he was clearly enjoying a renewed energy as a performer, it would take him many years to deal with that struggle.  It's nice to see how much he enjoys the "emcee" role of the concerts, and how comfortable he finally looks as a performer.  This obviously was not the case in the early 1980s, but he was on his way.
As for Bill Champlin, whatever his feeling is these days about his former bandmates, the man could sing beautifully and that is on full display on 17.  This was "only the beginning" of what would come in his 28-year tenure with the band (this was his second album with the group).
See what I did there?
Winds of Change
Chicago 17's release came at a time that Peter Cetera had begun to embark on a solo career.  A proposed arrangement where he could work on his solo work while the band would take planned hiatuses (similar to Phil Collins' arrangement with Genesis), but the band declined this proposal.  The result was Cetera's exit from the band in the summer of 1985.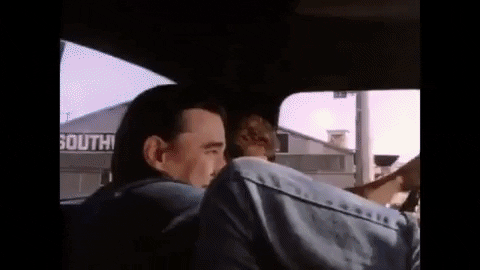 Not actual footage of Peter Cetera exiting the band, but it seems appropriate, right?
It was the height of the band's reinvigorated success, and once again, changes were coming to Chicago.  With Cetera out after eighteen years as the group's bassist and vocalist – a powerful voice to say the least – the group needed a new person to fill his large shoes.  They would find that in 23-year-old Jason Scheff, the son of legendary Elvis Presley bassist Jerry Scheff, who would find himself rising to the challenge on the band's next album a year later.
Story for another time, you say?
I think so. How's next Monday sound?
This was just too much fun – talking about an entire album and telling its story.