I'll level with you: it's a Chicago-related article.
Feel free to "look away" if that's not your thing.
If you clicked "Read More," then obviously you're invested. And that, my friends, is awesome, so…thanks for sticking around!
Ah, the music video. It tells a story without always telling a story. Ok, a coherent story. I've seen plenty of videos that make sense, but others…not so much.
Chicago broke into music videos right from the get-go of music videos. They were a decent-looking bunch and could easily assimilate into music video life. If you've seen some of their videos, they're really just about playing their music ("Hard to Say I'm Sorry"), but there are a few where they get to act ("Along Comes A Woman" or "Stay the Night"). The group has proven to be versatile – more than just a band, they also know how to entertain.
I know this sounds biased, but they really have some great music videos, but there is this one – I don't know – it just weirds me out ever so slightly. Like, it's a breakup song, but there is this one moment that just makes me think whoever concocted the video went off the rails. Like they were on a revenge bender and this was the result.
That song is "Look Away," and if it sounds like not your typical Chicago song, it was actually one of two ballads offered by Epic Records to Cheap Trick, who chose "The Flame" instead.
That's a great song, my friends.
The song, written by Diane Warren, told the story of the breakup from the man's perspective. Keyboardist/guitarist/vocalist Bill Champlin (who was with the group from 1981 until 2009 provided the vocals, as he had on many of their non-Chicago sounding songs of the time.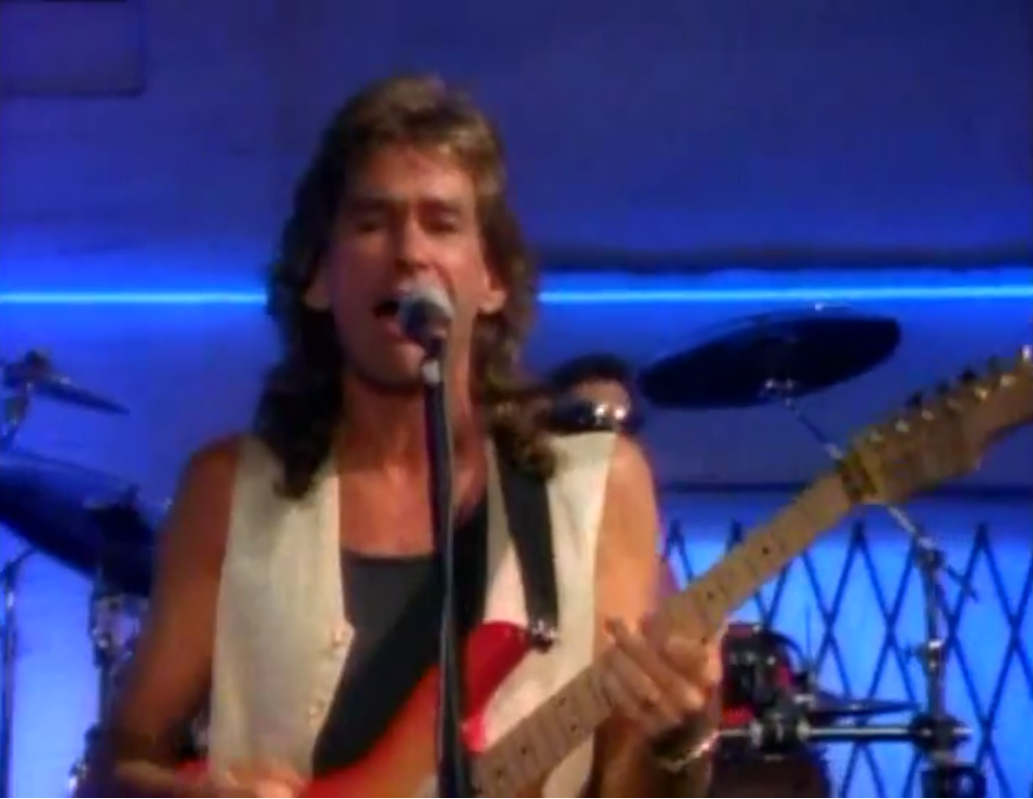 His mullet provided the awesomeness.
He heralded in the Hair Party of the late 1980s and 1990s. I compel you to watch some of their concert footage from that time You'll agree with me when I say that Champlin's hair was the most epic of all, and this wasn't even its final form.
I feel like if you touch it, there's some kind of power involved in it.
At the risk of going off on a tangent about hair and how jealous I am of men who have incredible hair…
The music video. As I said, the song is written from the perspective of the male in the breakup, as if he is ok with everything, even though he is sad. Funny thing is, what happens in the video almost seems ironic. It's almost as if the woman is having a different idea about the whole thing…
I think it has to do with this…
Holy cow, what just happened?!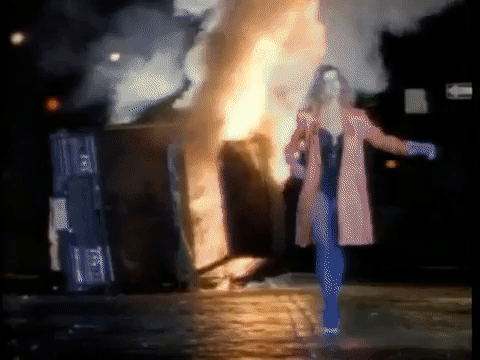 I think she just committed arson.
The lyrics over this 20 seconds talk about her stating she wanted her freedom, but yeah, this is a bit much. There's freedom, and there's killing it with literal fire.
I'm probably in the majority here, but in my mind, Chicago breakup songs usually involved horns and talking about a part of the person being taken away, there is no comparable love, stuff like that.
If I'd seen this video prior to last year… I couldn't have. I would never have forgotten this. I saw this last year and was all "Wait a minute?! What the heck?!"
I think "look away" when I see this, except its more like "Look away, while this car burns behind me!" What follows it? Collecting an insurance check?
Nah, we see "No Shits Given" Woman continuing on her merry way, Heartbroken Guy holding up a brick wall, and the band singing in a darkened club.
The song is the group's biggest selling single of all time, entering the Billboard charts in September 1988, before charting at the weeks of December 3rd and December 10th of that year. It didn't hold the #1 spot at all in 1989, but it was the #1 song on the Billboard Hot 100 in 1989. It was succeeded at #1 by Anita Baker's "Giving You the Best That I've Got" on the Adult Contemporary Chart, and (brace yourself!) Poison's "Every Rose Has Its Thorn" on the Hot 100 Chart.
Champlin reportedly, was unaware of the success of the song:
"Everybody said, 'I hear your song every day,'" he recalled. "I go, 'What song?' I was kind of oblivious to the whole thing, busy working on new stuff. That's what happens. As everybody else gets aware of what you're doing, you're usually about five or six tunes past it."
(Source: Pickle, Betsy (21 February 1989). "Chicago keeps churning out hits". The Telegraph. Scripps. p. 23.)
Bassist/vocalist Jason Scheff (still at the time quite the young man, only in his mid-20s) said of the song:
"The songs that last for me are the ones I don't get at first," and added, "I remember hearing 'Look Away' and thinking it's okay, but not great. Thank God I'm not an A&R [Artists and Repetoire] man."
(Source: Bronson, Fred (2003). The Billboard Book of Number One Hits (5th ed.). New York: Billboard Books. p. 716. ISBN 978-0823076772.)
I'm with him – I don't get the lyrics as they pertain to the images in the video.
Take a look, and judge for yourself.
It is a great song. Just a crazy music video to offset the lyrics!