We've made it to Thursday, and in a week that has been stressful and difficult, it is nice to know that it is almost over.
I'd say we're one day closer to normalcy, but the definition of normal is, well…is there even a definition?
Anyway, I'd like to think that I can bring a bit of brightness into a week of insanity and glum, and the two commercial I picked out for this week should do the trick.
In the very least, humor me.
This week with dip our toes in the waters of 1990, with two commercials from the kiddie side of gum commercials.
Sure, adults had their Juicy Fruit, Wrigley's Spearmint Gum, Extra, and Doublemint Gum (Related: #ThrowbackThursday Lasts An Extra, Extra, Extra Long Time (And Gives That Little Lift) and #FlashbackFriday Is Fat with Flavor!).  We, on the other hand, had this little classic from the early 1990s.  It was the gum for us, and not for "them" (everyone who was't us, meaning kids!).
What gum is not endorsed by your principal, who can't smile, swim, or rap…
…and your bus driver, who can't drive, wears curlers, and makes funny noises?
Man, this one was all over weekday afternoon television!
So much bubble gum…and it isn't for them!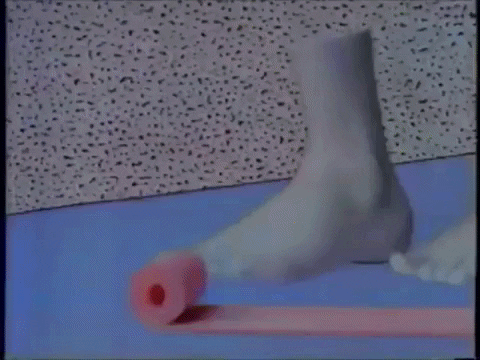 Bubble Tape was introduced by Wm. Wrigley Jr. Company in 1988 – six feet of bubble gum packed into a tape dispenser-like container.  The product hit its biggest stride in the early 1990s due to its unique packaging (it was as cool as the Bubble Beeper and Ouch! Bubble Gum), and its marketing, which basically said adults were not cool enough for the coolness of Bubble Tape.
At the height of its popularity, one million containers of Bubble Tape were manufactured per week.  These days, it is still available "for you" (and yes, "them," even though you're technically one of "them" by now, as much as we tend to deny it).  I've seen it in the grocery store checkout line.  I'm always convinced that something like this, which was awesome for its novelty factor in the 1990s (mostly because of these commercials!), doesn't quite measure up to adult taste.  The rose-colored glasses of nostalgia give me all the awesome feels and trappings of a great commercial, but beyond that, I'm not so sure about it.
I enjoyed novelty gum – yes, I had a Bubble Beeper, chewed Ouch!, and liked Fruit Stripe gum even though it lost its flavor so fast.  I got braces in 1994 I wasn't much of a gum chewer after that.  I did pick up the "habit" (such as it was) in college, and always carried at least two packs of gum on me – one in my backpack, the other in my purse.  It took me years after college to break my gum habit, but I don't really even remember the last time I chewed gum.
You're more likely to find Orbit rather than anything bubble gum-flavored – I'm just not huge on the pink gum with the weird, overly manufactured taste.  I prefer minty gum.
Knowing the potential of finding and photographing this product, after the quarantine, I'm going to keep a sharper eye at the checkout section to see exactly what flavors the grocery store carries.  Always worth a look!
I'll never be one of them.  Ever.
Bubble gum week marches on with another kiddie-centric brand, with a kid as a spokesperson.  I seriously love these commercials, even if the product was never my favorite.
Have a great Throwback Thursday!