…and cool finds are a Flashback Friday tradition!
Well, we made it to Friday…and so did the kids who went back to school this week!
By the way, I found out my niece, who started Pre-K4 yesterday, had a great first day!
Part of the experience of preparing for back-to-school is the back-to-school shopping.  Clothes, supplies, something to carry those supplies in, something to carry sustenance in (can't go hungry, can we?), the list goes on and on.
Heck, you may even need a locker answering machine.
You just never know!
Whatever you need, one store wants to make shopping for supplies a tradition, along with savings that will keep you coming back!
Today's commercial comes from 1980, and the archives of the YouTube channel of one TheRetroTimeMachine, and focuses on all the great deals one can get at Woolworth!
Look at these prices!  Click play to find out all about what Woolworth has to offer!
Upload via TheRetroTimeMachine
A calculator that comes with a math book?  Never knew that was a thing…
Woolworth (or the "five and dime" as I've heard it called) was a retailer and pioneer of the "five and dime"-type store.
Established in New York in 1879, met its fate at the hands of its own growth and expansion during the 1980s.  They had begun experimenting with specialty store formats, which included Afterthoughts (jewelry and accessories for women), Northern Reflections (cold-weather wear), Rx Place (later sold to Phar-Mor, but I'm sure you know what this place sold), and Champs Sports.  Unfortunately, this type of diversifying led to its downfall, with the company closing more than half of its 800-plus stores by 1993, with its remaining stores closing by July 1997.
Today, Woolworth exists as its top retailer, Foot Locker, which they established in 1974, and is considered to be the legal continuation of Woolworth.
As for the specialty store formats they experimented with late in life, Champs Sports still exists.  Phar-Mor closed in 2002, and Afterthoughts was purchased in 1999 by Claire's, converting them to The Icing locations. My local mall had an Afterthoughts store, as well as Claire's – it is now The Icing, and it moved across from its old Afterthoughts location about 15 years ago.  And yes, we still have a Claire's in my local mall (which doesn't have much, but it has that).
I know there was a Woolworth's near my grandparents' houses (my grandparents all lived in the same neighborhood), but I think I'd maybe been to it once or twice as a kid, so I don't remember it well enough.  I do, however, remember it closing, since it was in the same shopping center as the Bradlees location I used to shop at (which coincidentally, was across the street from a shopping center that had Caldor), and those stores closed in the years following Woolworth.
And for the record, my school supply shopping was always done at Staples, and probably because my dad loved that one commercial.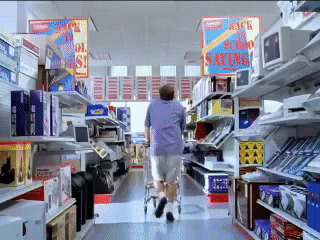 Did this happen at Woolworth? Probably not.
Have a fantastic Flashback Friday of the first week of school, and a great weekend!