Do You Remember Tuesdays rolls on into March, and with the start of the new month, a new theme!
We're leaving behind dying and defunct restaurant chains behind, and moving into the retail world.  Four weeks, four department stores.  First up, a store that was the Wal-Mart/Target hybrid of its time.  If you grew up in New York, New Jersey, and Connecticut, this department store chain should ring a bell with you.
This week, we're going shopping at Bradlees!
First up…
Savings On The Good Stuff!: The Story of Bradlees
Because no "Do You Remember?" retrospective article would be complete without history, it is important to know the story of the store. That only clears the way for the good stuff…personal nostalgia and commercials!!
Bradlees was founded on March 14, 1958, named for Bradley International Airport in Windsor Locks, Connecticut, where the store founders held their early planning meetings.  The chain was acquired by grocery store chain Stop and Shop, which owned Bradlees until 1992.  In those years, you would be apt to see a Stop and Shop either in the same shopping center, or connected to Bradlees to make a superstore-type setting (think Super Wal-Mart of the 1960s through early 1990s).  Bradlees stores also had lunch counter/snack stand sections in their stores (you know, like Target and Wal-Mart do today).
Stop and Shop pulled out of the New York area in 1992, effectively ending their association with Bradlees, selling them to an investment group. Unfortunately, this was the beginning of a slow decline that resulted in Bankruptcy Protection in June 1995, resulting in store closings and the sale of some stores of Ames (a similarly-veined store in the New York/New Jersey/Connecticut/Pennsylvania region).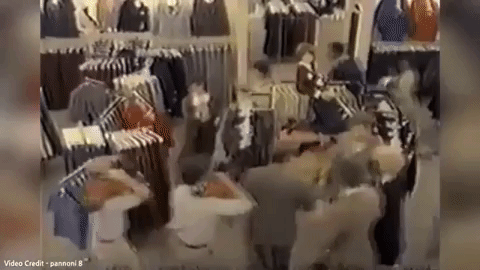 The company emerged from bankruptcy in early 1999 after making a decent profit through 1998 and into 1999.  However, this was short-lived, as the chain once again, as an economic downturn at the beginning of 2000, as well as increased gas and oil prices, competition from other Big Box-type stores, and tightening of trade credit made Bradlees operations unprofitable.
On December 26, 2000 (ugh, the day after Christmas), Bradlees filed for Chapter 7 bankruptcy, which made way for the chain to begin liquidating and ceasing operations as soon as possible.  Beginning in January 2001, Bradlees held their "Going Out of Business Sales," with the final store closing in March 2001.  At the time it began ending operations, Bradlees had 105 stores in seven states and 10,000 employees.
Today, Bradlees locations have been taken on by other major retailers (the local former Bradlees location in my area, at the Cardiff Power Center/Cardiff Circle in Egg Harbor Township, NJ, has been Forman Mills since the 2000s).  I regularly shopped at the Toms River, NJ location, and that sat vacant for a little while (it was one of the last stores to close).  That shopping center, thankfully, doesn't appear to be vacant these days.
Jake Williams, of Bright Sun Films, creates great documentaries.  His energy and thorough research make for interesting stories of retail past.  His series "Abandoned" covered Bradlees, and it is a fascinating watch.
Upload via Bright Sun Films
Mrs. B, Bradlees "Buyer"
Bradlees had its share of slogans and ad campaigns, but one of their most famous featured Mrs. B., Bradlees Buyer Extraordinaire (not a really person – she was played by actress Cynthia Harris, and her role was just clever advertising).  You only buy what Mrs. B. buys, and nothing she buys is substandard crap (not the words used in the advertising).  She was a fixture of commercials in the 1970s and early 1980s, but made a comeback in the mid 1990s (the screenshot above is from a 1996 commercial).
How does she do it?
I Was A Bradlees Shopper!
…are you surprised?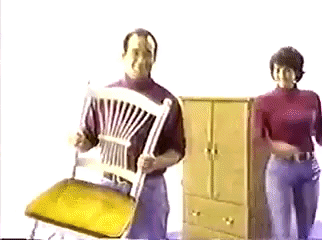 As a lifelong native of New Jersey, both the Central and Southern areas of the state, formerly living in an area served by the New York City media market, I shopped at Bradlees and watched their commercials.  In the 90s, Bradlees was the Target/Wal-Mart hybrid of its day – this was in the years where Wal-Mart and Target didn't have a market presence like they do today.  Target and Wal-Mart are shopping standards these days, but in the 90s, it was all about Bradlees and its chief competitor, Caldor.
The sad shame was that as a teenager in the late 90s, there really were no indications that the store was on its way out.  I used to shop at the location on Route 37 East in Toms River (my grandparents lived near there), and that store closed by March 2001.  It was sad to see it go too, it was always a great store to shop at, and one in a line of department stores of my childhood that met their end just as I was growing up.
(18-year-old me was sad to see this commercial, but 36-year-old me would have been hugging the TV and screaming "NOOOO!")
In those not-so-crazy days of "The Day After Thanksgiving" (before the stampeding shoppers of Black Friday became a standard), my Aunt Marilyn (and one of my cousins) stood in line at Bradlees the morning after Thanksgiving the year Pound Puppies were the hot new toy to get the kids in the family their own.
My brother and I named ours "Marilyn" and "Victor" after our aunt and uncle, probably as a way of thanking them for the great Christmas present!
(Don't laugh, I was four years old!)
What Retrospective Would Be Complete Without…Commercials?
The YouTubers of YouTubeLand have their own memories via videotape, and have put their Bradlees commercials on YouTube for the world to see!
I've checked my own collection plenty of times, but for some reason, Bradlees commercials just don't show up in any of my archives.  Which is a shame, really.
Be on the lookout for great bargains, Christmas, and Mrs. B., Bradlees buyer (for the purpose of those commercials)!
All uploads via 513official4, TheRetroTimeMachine, ClassicRetailAds, TVARCHIVEZ, and moldymac
That liquidation sale commercial makes me super sad.  Time doesn't soften that blow.
So How About You?
Did you shop at Bradlees back in the day?  Did you find bargains hand-picked by Mrs. B?  Did you save on the good stuff, or ever say "Charge It!"
Sound off in the comments (or get social on social media) and tell me about your Bradlees experience!
Retail month carries on here at Allison's Written Words, with three more defunct retail stores to feature.  Mrs. B. may be giving all the deals (and buying all the good stuff you want), but Ms. V. (soon to be Mrs. P.) helps bring back all the memories.
My aim with these is to get the stories of former shoppers, but I would love to hear from former employees of any place mentioned in these articles.  If you happen to know someone who worked for any of the places featured, please ask them to comment!  I'd love to hear from them…and you, of course!
As they say in the close of a sale (and as I say all the time) have a great day!
(Oh, and if you really want to be mind blown, check out the archived website for Bradlees, which can be accessed from as far back as mid-1998!)