New month, new theme!
Get ready, May is diving headfirst into stories of four defunct production companies!
You'd think a soft drink company and a television production company would be a weird association, but for a short time in the mid-1980s, it was an actual thing.
But before we get to that, we need to backup a few years, to 1982.
1982: A Soda Company Acquires a Film Studio
The Coca-Cola Company acquired film studio Columbia Pictures for $750 million on June 22, 1982.  This occurred within the same year that Columbia was posting a healthier balance sheet, had acquired Spelling-Goldberg Productions (Aaron Spelling's production company), and had a string of hits in films such as The Blue Lagoon, Stir Crazy, and Stripes. With the company looking good, these seemed like a great acquisition.
Post-acquisition, Columbia began mixing hit films with ones that, well, flopped.  For every Ghostbusters, The Karate Kid, and Tootsie, there was Spring Break, The Survivors, and…Yor, The Hunter From The Future.
Though there was something arguably cool that came out of that movie…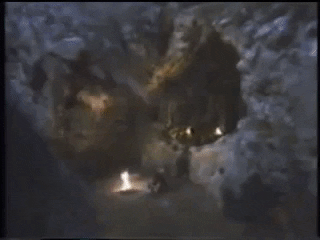 I've never even seen the whole movie.  But if nothing else could possibly sell a movie about Reb Brown as a post-apocalyptic caveman-type using a "pterodactyl" as a hang glider, killing off entire populations,  all while hunting and prowling the caves and mountains of a no-longer-existing country, nothing ever will.
Anyway, Coca-Cola's ownership of Columbia brought about many changes and acquisitions over several years, with 1986 being a year of many changes.  One of those changes was to Columbia Pictures Television's first run syndication unit.
Let's start with the name and work from there.
1986: Coca-Cola Conquers Syndication
On November 24, 1986, Coca-Cola Telecommunications was established as the first-run syndication unit of Columbia Pictures Television, the result of a merger between Columbia Pictures Television and the newly-acquired The Television Program Source.  The Television Program Source a was joint venture between Columbia, Alan Bennett, and former King World President Robert King that had previously been founded on October 15, 1984.
The newly-established syndication unit had its hands on several notable programs, including reruns of the recently-cancelled Hardcastle and McCormick, as well as first-run programs such as Punky Brewster (the show aired on NBC until 1987, and its final season aired in syndication), The New Gidget, The New Monkees, the third (and final) season of What's Happening Now!!, and the pilot of That's My Mama Now.
If you're an 80s kid (like I am), Coca-Cola Telecommunications also had its arm in the syndication of several cartoons – The Real Ghostbusters (1987-1988 season), Sylvanian Families, Dinosaucers, and Hulk Hogan's Rock 'N' Wrestling (reruns only, it originally aired on CBS Saturday mornings from September 1985 until October 1986), all of which were produced by DIC Enterprises.
So, we're all familiar with the DiC logo.  It was always kinda dark and disorienting (especially that "Kid in Bed" logo, which always seemed to come out of nowhere!) in all of its forms, so imagine the shock of coming off of that logo…and into this one.
Upload via JohnnyL80
It feels so…somber.  We come off of some bright, cheery cartoon and run headfirst into the DiC logo, so we kind of what something a little more cheerful.  But we got this instead. Nothing exciting, nothing short of dark and dreary.  Just kind of there…and plain.  I know short, sweet, and to the point is not a bad thing but…this.
And it really didn't stick around long enough to make a lasting impact.
The venture, however lucrative, proved to be short-lived.
So, what happened?
1987: Coca-Cola Bows Out of Syndication
If 1986 had been a productive year in the timeline of Coca-Cola owning Columbia Pictures, 1987 was counterproductive.  After Ishtar proved to be a massive box office bomb, Coke spun off its entertainment holdings on December 21, 1987 and sold it to Tri-Star Pictures for $3.1 billion, with Tri-Star Pictures, Inc. being renamed to Columbia Pictures Entertainment, Inc.  Coke controlled 80% of the company at this time.  Ten days later, on December 31, 1987, Coca-Cola Telecommunications was folded into the reorganized Columbia Pictures Television.
Interestingly Enough…
When I was working on my Action Max "gameplay" videos over the course of about a year (I have one left in that series, and for some reason, have been holding off on finishing), I spotted this logo on the Blue Thunder VHS of the game.  I found that interesting, being that the games were produced by Worlds of Wonder (the company behind the Action Max video game "console").  However, it isn't entirely shocking that Columbia Pictures, in some form, had been given credit for the game – Columbia Pictures was the company behind the 1983 film of the same name, and the game uses footage from that movie.
The use of actual movie footage, as well as obvious permission (we hope!) of Columbia Pictures in using the existing footage to create the game, probably explains why it doesn't necessarily have the total contamination of the Action Max system on it.  Blue Thunder is certainly the best quality game of the bunch.  Which says nothing about it, given the quality of the system's games as a whole.
I've written about it before on Retroist, but I will have to do a "gameplay" of this video at some point.
It is also the only time you'll ever see the Coca-Cola Telecommunications logo without its proper music.  The console was discontinued within 1987, not long before Coca-Cola Telecommunications was disestablished.
Upload by Allison Venezio / Allison's Written Words (yes, from my personal collection)
In the Coming Years…
By 1989, Columbia was sold to Sony for $3 billion.  It still exists as a production company today, and the logo is easy to spot if you look for it.  It has shown up on Amazon Prime prints of Dinosaucers, and YouTube is pretty good for finding it.  Other than that, it is pretty safe to say that Coca-Cola Telecommunications is a rare breed of production company logo.
As Seen On TV…
Upload via Luke2505 TV
Uploads via LogicSmash
Upload via TheEriccorp Logo Channel
And Now, You!
Do you remember the short list of shows Coca-Cola Telecommunications had a stake in?  Do you remember the logo, or even the time that Coca-Cola owned Columbia Pictures?
Next week, another production company you may be familiar with!
Have a great day!