When Throwback Thursday told you to call her that,  I wanted you to mean it.
It's a few days before Mother's Day, and I thought today would be appropriate to break out an entirely different type of commercial that isn't necessarily about Mother's Day…but is about mothers.  Specifically, about bat poop (censoring ourselves so mom doesn't get angry!) cray-cray mothers.  And where do you go to find these moms?
The movies, of course!
This week, we're doing away with the traditional commercial-type format, and going with the movie trailer as advertising.  I found two movies from the archives that I think has this whole "crazy mom" thing down to a science.
First up, we go back to 1981 and the "biographical" (term used extremely loosely, as I found out when I read this book) "tale" (you see where this is going?) of Hollywood royalty who has it all – the most beautiful house in Brentwood, feature film success, a love for shoulder pads, a drinking problem, divorces, the inability to have children, and the inability to adopt children…legally.  The story is legendary, but the movie…even more so.  And not because it was faithful to its source material.
I'm pretty sure this had something to do with that "legendary" status.
Based on the 1977 autobiographical novel by Christina Crawford (who literally wrote the book on surviving child abuse), Faye Dunaway puts on a crazy face to play the role of Joan Crawford in the 1981 film Mommie Dearest!
The trailer doesn't even begin to shed light on how crazy this movie is…but it attempts to scratch the surface.
Upload via British Secret Agent 007
This movie has become annual Mother's Day viewing for me.  I first saw this movie when I was 16 (20 years ago) when my dad introduced me to it (the same person who thought National Lampoon's Animal House was ok to show a 10-year-old).  We love this movie, but my mom doesn't exactly have any love for it.  She thinks it is ridiculous.
Now, I know it is ridiculous, but that's what makes it so great in a truly terrible way.  The production and actual scripting of this movie is as legendary as the story of Joan Crawford, as it took some pretty hefty liberties with Christina Crawford's book. Those liberties were denounced by Christina.
The film was a box office success, taking in $39 million worldwide against its $5 million budget.  Today, it has achieved cult status for its highly-charged acting and unsettling story.  I will admit that the wire hanger scene gives me chills.  Watching the young girl playing Christina Crawford getting whacked with a wire hanger, and knowing that it was just acting, but that Faye Dunaway really had to unleash on this young child, is chilling.
The acting is pretty over-the-top, and as a lover of "so good its bad" movies, it delivers on that love.  I read the book last year, and I admit, it emotionally one of the hardest novels I've read.  No lie, as fast a reader as I am, it took me 3 months to read it.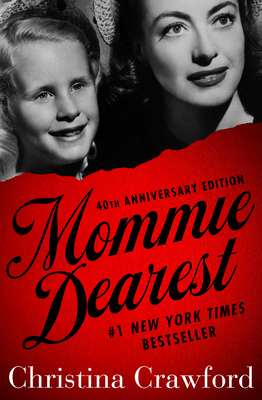 It was really a sad story of a girl adopted by a woman who wanted children, but didn't have the mental stability to raise them the proper way.  And yet, it was a fascinating story, told by a woman who courageously survived the abuse placed upon her young life.
When the reviews first came out (and were mixed), Paramount took advantage of that – and the campy, overly amped nature of the film – and tried to gear the advertising toward the movie being a comedy.  Obviously, this didn't affect the outcome of the film's box office success.
Oh, and the beautiful Henry Mancini score is amazing.  It is hard not to love his film scores.
I'll definitely be watching this over the weekend!
And while this is one crazy mother (shut yo mouth!), nothing compares to tomorrow's mother!
Oh yes, we've got another "Crazy Mom" movie trailer for tomorrow!
Until then, have a great Throwback Thursday.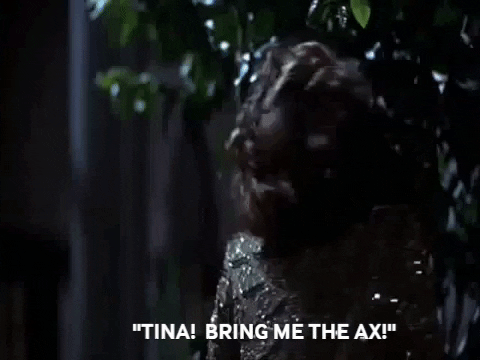 Just don't bring her the ax!