Part of the Retro Technology/Watch/Rewatch/Replay/Listen series of articles originating in 2020.
Down on the corner, out in the street, clipped to your clothes, and emitting sweet of-the-time tunes, Fisher-Price was all about getting the interest of the music-loving kid set. The way to get their attention? Small cassette players and endless loop mini cassettes featuring the one (sometimes two) song(s) we all knew by then-current artists.
The player, and those tapes were called Pocket Rockers, and their short-lived fascination made them the Tamagatchi of their time, sans cleaning up digital poop.
Down On The Corner…
Pocket Rockers were the creation of Fisher-Price, first reaching the market in 1988.
Meant to be a functioning fashion accessory disguised as a personal stereo, Pocket Rockers were geared at the elementary school crowd, with its colorful mini cassette players and even more mini audio cassettes, recorded in mono and containing at a minimum, one song, with some cassettes featuring two songs. Classics as well as contemporary hits were part of the Pocket Rockers catalog, with the likes of Bon Jovi and Taylor Dayne standing beside The Beach Boys (who were on a bit of a resurgence in the late 1980s) and Bill Haley and His Comets in the Pocket Rockers section of Toys R Us.
The players were similar in size to the traditional Walkman, but the cassettes they played were much smaller than your standard cassette tape, a proprietary sort of size with a similar look of an 8-track cassette. The players were available in black/blue, pink/blue, and three styles of Memphis Milano, which was a popular style design at the time. There were accessories, such as a bandana, cases, frames, clips to store the cassettes, carrying case, headphones, a purse, bracelets, and a deluxe set that included a display stand with amplifier and speakers. The cassettes were mostly meant to be a fashion accessory, based on the commercial showing them clipped to clothing, and were even banned in some schools during their brief time as a trend.
The mini cassettes utilized the same tape as a standard audio cassette (0.150 inch in length), running at the same speed of 1 7/8 inches per second. The upper two tracks on the cassette tape contain one mono recording each, with a switch on the player to go back and forth between the two songs, with the two lower tracks not being utilized.
This video has a quick demonstration of several cassettes:
YouTube channel Techmoan did a great video that explains the technology, such as it is.
Play 'Em Here, Wear Them Anywhere!
And what about the hits?
If our voiceover is overenthusiastic, it will sell more Pocket Rockers and cassettes, right?
But seriously, these were the songs you could choose from!
Bananarama – "I Heard a Rumour"
The Bangles – "Walk Like an Egyptian" / "Manic Monday"
The Beach Boys – "Surfin' Safari" / "Surfin' U.S.A."
Beastie Boys – "(You Gotta) Fight for Your Right (To Party!)"
Chuck Berry – "Johnny B. Goode" / "Rock and Roll Music"
Bon Jovi – Cassette 1: "Livin' on a Prayer" / "Runaway" Cassette 2: "Wanted Dead or Alive" / "You Give Love a Bad Name"
Boston – "Amanda" / "Can'tcha Say/Still In Love"
Breakfast Club – " Right on Track" / "Kiss and Tell"
Belinda Carlisle – "Heaven Is a Place on Earth" / "I Get Weak"
The Champs – "Tequila"
Phil Collins – "Sussudio" / "Don't Lose My Number"
Cutting Crew – "(I Just) Died In Your Arms" / "I've Been In Love Before"
Danny & the Juniors – "At the Hop" / "Rock 'n' Roll Is Here To Stay"
Taylor Dayne – "Prove Your Love" / "Tell It to My Heart"
Exposé – "Let Me Be the One" / "Seasons Change"
The Fat Boys – "Wipe Out" / "Rock Ruling"
Genesis – "The Last Domino" / "Invisible Touch"
Debbie Gibson – "Shake Your Love" / "Only in My Dreams"
Bill Haley & His Comets – "Rock Around the Clock" / "Shake, Rattle and Roll"
Jan Hammer + Glenn Frey – "Miami Vice Theme" / "The Heat Is On"
Whitney Houston – Cassette 1: "How Will I Know" / "The Greatest Love of All" Cassette 2: "I Wanna Dance with Somebody (Who Loves Me)" / "So Emotional"
Michael Jackson – Cassette 1: "Bad" / "Beat It" Cassette 2: "Wanna Be Startin' Somethin'" / "Another Part of Me"
The Jets – "Cross My Broken Heart" / "You Got It All" "Make It Real" / "I Do You"
LeVert – "Casanova" / "My Forever Love"
Huey Lewis and the News – Cassette 1: "Doing It All for My Baby" / "The Power of Love" Cassette 2: "Hip to Be Square" / "The Heart of Rock & Roll"
Lisa Lisa and Cult Jam – "Head to Toe" / "Lost in Emotion"
Kenny Loggins – "Footloose" / "Danger Zone"
Los Lobos – "La Bamba" / "Tequila"
Madonna – "Who's That Girl?" / "Material Girl"
Mike + The Mechanics – "All I Need Is a Miracle" / " You Are the One"
Ray Parker, Jr. + The Monkees – "Ghostbusters" / "(Theme From) The Monkees"
Tom Petty – "Don't Come Around Here No More" / "So You Want to Be a Rock 'n' Roll Star"
Pretty Poison – "Catch Me (I'm Falling)" / "Nighttime"
David Lee Roth – "California Girls"
Bruce Springsteen – "Born in the U.S.A." / "Pink Cadillac"
Tears for Fears – "Shout" / "Everybody Wants to Rule the World"
Tiffany – Cassette 1: "All This Time" / "Radio Romance", Cassette 2: "I Saw Him Standing There" / "Feelings of Forever", Cassette 3: "I Think We're Alone Now" / "Could've Been"
T'Pau – "Heart and Soul" / "China in Your Hand"
Wham! – "Wake Me Up Before You Go-Go"
Kim Wilde – "You Keep Me Hangin' On" / "Say You Really Want Me"
That's a pretty impressive (by late 1980s standards) – if not at times eclectic – catalog. It just felt like music-loving kids would be all over tiny cassettes that only played the one or two songs from their favorite artists that they like, while discovering songs their parents liked when they were their age.
Well…
Out In The Street…The Downfall of Pocket Rockers Is Heard
Pretty sure we believed cassettes would never go out of style!
When I was a cassette tape-collecting kid (I got my first CD player the summer between 7th and 8th grades), sometimes I didn't want the whole album of a specific artist. Sometimes, I only liked one song. Something like Pocket Rockers would have been great for me when I was little (I would have been about 6 years old when they were first introduced), but at the same time, I had cassettes I would want to hear from start to finish. As my music tastes grew with my age, cassette singles were a waste. The kids in the commercials look to be the age I was when I was more interested in listening to whole albums, not the little kid who only liked one or two songs that got frequent radio airplay.
For a brief time, Pocket Rockers were trendy, and as mentioned, enough so to be deemed a distraction in schools. But like any great trend, the cassettes and players saw a sharp decline in sales in 1991, resulting in their discontinuation and removal from Fisher-Price's toy catalog in 1992. But for the time they were trendy (heck, Memphis Milano wasn't even trendy anymore during the height of Pocket Rockers' popularity), they looked like a fun item to have, even if it was far more practical to get a Walkman/portable cassette player equivalent and ALL of these cassettes in standard format.
Did Allison Have Pocket Rockers?
Ah yes, the age-old summation-of-the-article question.
I did not.
I actually don't remember Pocket Rockers, strangely enough. I was six years old in 1988, definitely in the age bracket Fisher-Price marketed to (although the Pocket Rockers commercial begs to differ), but I had an actual cassette player, one of those incredible pink ones with the gray shoulder strap.
I have always loved music, and had a nice little cassette collection that eventually turned into a giant CD collection during my teens. While Pocket Rockers would have been fun during their earliest days, the novelty would have worn off by the time they were discontinued.
Though I will admit, that pink and black player would have been right up my music-loving alley!
I actually have better memories (if only because I saw them in stores) of HitClips than I do of Pocket Rockers. I remember those being around much longer, but were seemingly ridiculous in their purpose – a one-minute (later two) sampler cartridge you could play in proprietary players. These lasted far longer than they seemingly had any right to, when Pocket Rockers actually played the whole song.
Can You Still Rock Out "Down On The Corner, Out in the Street?"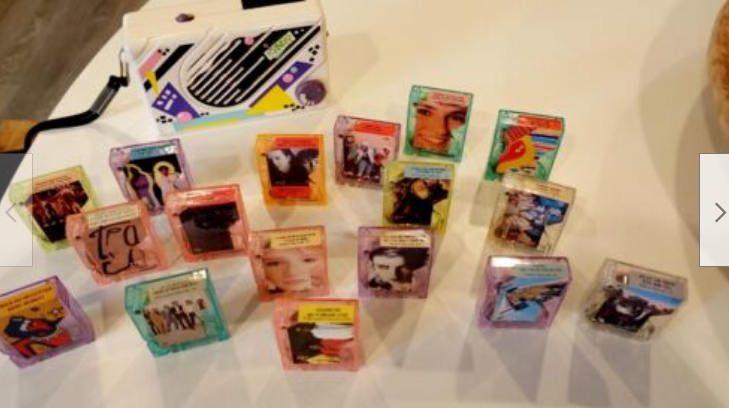 While it has been thirty years since Pocket Rockers disappeared into the abyss of once-trendy toys, Pocket Rockers are not hard to find…as long as you want to put out a pretty penny for one!
I did an eBay search while I was putting the finishing touches on this article, so as of Wednesday evening (approximately 10:45 pm EDT), June 1, 2022, there are 38 listings for "Pocket Rockers Fisher-Price."
Listings for cassettes, accessories, players, and even bundles with players and cassettes will run you $25 on the low end, and – prepare thyself – $299.99. Obviously, the higher price tags are for working models with tapes bundled in. Also noted is that the Memphis Milano style is easy to find, which seems strange, considering that this style trend was actually outdated by the time Pocket Rockers reached the consumer market.
But hey, given the choice, that style really is the cooler-looking player.
And Now, You!
Did YOU have Pocket Rockers growing up, or in the very least, do you remember them? Honestly, I didn't even know these existed until maybe a few years ago, and I think it was because I saw a commercial in one of those commercial blocks I'm fond of watching. I have a pretty good memory beyond secondhand nostalgia, but I guess these weren't popular with the Kindergarten crowd.
Maybe your memory is better?
It has been great starting the blog up again, and slowly working my way back toward what it was. I hope you're enjoying this slow but steady restart as well. Sometimes, we all need some good nostalgia to kick it in gear again.
Until next time, have a great day!