First Music Monday of 2020, and I'll confess…you don't know how it feels.
Well, I think you know what it's like to be six days into the new year.
That's just a lyric from today's song.
Until this past weekend, when I was reading about today's song, I had no clue what it was really about, and apparently so many years ago, I had been listening to an edited version.  I just knew I liked how it sounded, but at twelve years old, I didn't know the meaning…or one of the lyrics felt.
I still don't know how the song's subject matter feels, and I never plan to find out.
"You Don't Know How It Feels" is a 1994 single by Tom Petty, the lead from his album Wildflowers.  Released in December 1994, the song describes Petty's desire for personal and professional autonomy, but it also mentions something that gets censored and played backwards.  He sings about "rolling a joint," with "roll" censored (I don't remember that) or "joint" played backwards (I had no clue what Petty was saying).
Maybe you hear it, or knew the lyrics from something other than the music video?
Yup, I now hear it.
"You Don't Know How It Feels" reached #1 on Billboard's Hot Mainstream Rock Tracks, and #13 on the Hot 100 (#61 on the 1995 year-end chart), making this Petty's final single to chart in the Top 40.  The music video, which as videos go is very much on par with "these things never make sense," won the MTV Video Music Award in 1995 for Best Male Video.
I have vivid memories of watching this video as a 12-year-old, first seeing it at my grandma's house in 1995, and later on an episode of Pop-Up Video.  The woman taking over the microphone, and Petty's pushiness to get back in front of it always made me laugh.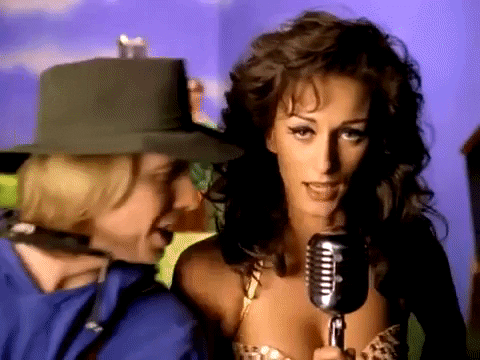 Her name is Raven Snow, and she appeared on Red Shoe Diaries (remember that from mid-1990s Showtime?).
The album Wildflowers was Petty's first with Warner Bros. Records, and is certified 3x Platinum by the Recording Industry Association of America.  The Heartbreakers, Petty's band, are the musicians on the album, but not credited due to Petty's aforementioned desire for autonomy.  In reference to this lack of credit, Petty said:
 "Rick (Rubin) and I both wanted more freedom than to be strapped into five guys." (Source: Conversations with Tom Petty, page 142. Omnibus Press, 2005)
This was the second of three "solo" albums Petty released (the next – and last – was 2006's Highway Companion), and he would go back to crediting The Heartbreakers on 1996's Songs and Music from "She's The One," which I had in my music collection in eighth grade.  I liked Petty's music at that time.  And no, I've never seen the movie the music came from.
Sadly, Tom Petty passed away in October 2017 of an accidental overdose of mixed prescription medication, including several opioids, an antidepressant, and two sedatives.  Petty had beaten an addiction to heroin in 1999, but had recently suffered from emphysema, knee pain, and a fractured hip (on the day of his death, this injury had become a full break).  Throughout the day, his death was erroneously reported several times (he had been unconscious when found, but resuscitated), but he passed away the evening of October 2, 2017.  Petty was set to tour in 2018 (his final one), and was putting off hip surgery.  Petty has a park named after him in Gainsville, Florida, and had been inducted in the Rock 'n Roll Hall of Fame in 2002.
He knew how it felt to be well-loved, that's for sure.
Have a great Monday, and enjoy the music!