In fact, they have so much heart, they took it as their last name!
Ahhh, the 1980s. Barbie was living her best Yuppie Life with her beau Ken, working out in her gym, finding the perfect balance of work and after work clothes, and dancing the Lambada.  Oh, and she found time to be a Rock Star too!
But if Barbie and Ken had decided the Yuppie Life was just too much for them, and wanted to settle down and populate the world, they'd be today's dolls.
I'd like to think that Barbie and this subject are connected in some kind of universe, one of perfect dolls with perfect lives.  Think of it as the Mattel Universe.
Totally original, I know!
Meet, The Heart Family!
Mommy's pretty, daddy's handsome, and the kids are so cute….and I swear, I didn't write that.  That really is what the jingle tells us about this family.
Perfect-looking parents, perfect looking children.  You seriously need to see this commercial to believe it.
At least Barbie commercials in the 1980s had the whole confidence thing down ("we girls can do anything, like Barbie!"), this just screams "The Heart Family does nothing more than make babies and look pretty!"
The Heart Family was introduced by Mattel in 1985, clearly a symbol of the decade's "Yuppies Who Have It All" model – the perfect job, the perfect looks, the perfect children.  According to this great 2013 article from The Strong National Museum of Play (OMG this place sounds AMAZING!), the family's original backstory had them as friends of Barbie, but that was quickly abandoned.  This family clearly embraced a quiet, family-oriented life of chasing around their perfect twins, including one that likes crawling without a diaper.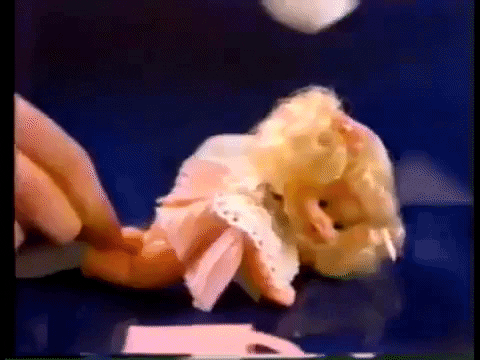 You saw it here, friends.
Even Daddy Heart likes getting his Leg Day in with his children fully involved!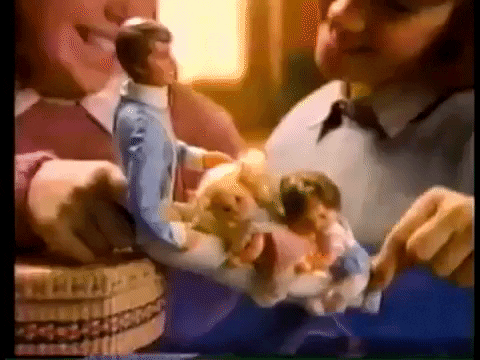 The Heart Family came in a deluxe set (as depicted in this commercial, but they also had other doll sets, a car, a house (The Loving House), and even a "New Arrival" doll your child can force Mommy Heart to give birth over and over again.
Can Barbie claim that feat in the 1980s?
The Heart Family was created by Mattel in 1985, and lasted until the early 1990s.  I wasn't particularly interested in Barbie, other than Malibu Barbie and Barbie and the Rockers (and that was likely because I LOVED Jem and the Holograms).  I don't really even remember The Heart Family, and probably would not have had interest in them.  They didn't have a flying horse, a sword, or a castle like She-Ra, nor did they make rainbows like Rainbow Brite, sang like Jem, or even had the job-jumping ambitions of Barbie.  They didn't even have names, which in some ways was probably good for fostering imagination – I mean, we didn't even get to name our Cabbage Patch Kids, and those were supposed to be OUR KIDS (!), but these seemed to not do much to stand out in a market that was over-saturated by dolls with cool backstories and accessories.
Pregnancy, skinny ties, twins, and dresses worn by families with too many kids just didn't stand out enough.
But I do admit, they were pretty people.
They did inherit a very important Mattel trait.
Have a fantastic Flashback Friday, and a great weekend!