Today…I just want to take you higher.  Throw your hands up in the sky, let's set this party off right…
Players, put yo' pinky rings up to the moon, it's Music Monday!
So, today's song qualifies as the newest song for a Music Monday article.  In three years, I've bounced around between classics, soundtracks, Christmas, Chicago, Kenny Loggins, so much Chicago, so much Kenny Loggins,  Kenny G makes appearances once in a while, so does The Doobie Brothers, Glen Frey's "Desperado" mustache made a cameo once, it has all been magical.  And well, I couldn't think of a better song to feature than one that brings the magic…and the gold!
So, as I said, put yo' pinky rings up to the moon!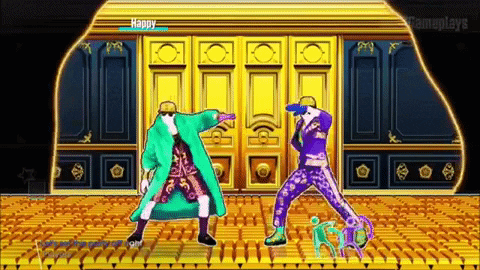 "24K Magic" is a 2016 single from Bruno Mars' album of the same name, his third studio album.  The direct followup single to 2014's "Uptown Funk," I couldn't think of a better way to capitalize on that single's success.  Written by Mars, Christopher Brody Brown, and Philip Lawrence.  Mars wanted something that would get people dancing the way his previous single did, and well, it worked.  The single debuted at #5 on the Billboard Hot 100, peaking at #4, and reaching #13 on the Adult Contemporary chart, #3 on the Adult US Top 40 and Hot R&B/Hip Hop, #2 on the Dance Club and Dance Mix Show Airplay charts, and #1 on Billboard's US Rhythmic Chart.  Oh, and the album from which it came from won Record of the Year at the 60th Annual Grammy Awards.  Top off high praise from critics, and you have a pretty catchy song.
And while the song is catchy, the music video is amazing.  I love the dancing and the Las Vegas sites throughout the video.  The dance moves in this video are incorporated into the dance for this song on Just Dance 2018, and the song and video elements call back a certain flair of 1990s Hip Hop – tracksuits, gold chains, and snapback hats – snap closure in the back, flat bill, high profile, and adjustable).
All the right elements of a good time are here, and make for an amazing combination.
For me, "24K Magic" has a nice personal connection – my husband and I use this as our road trip song, usually the first one to kick off the trip.  We listened to it on the way to a cool mall exactly a week before our wedding (a de-stressing day trip), and again as we were going onto the Atlantic City Expressway on our road trip to Walt Disney World last October.  We love singing along (where we can), and yelling the aforementioned "put yo' pinky rings up to the moon."  My favorite part is "Why you mad, fix ya face!", and I usually wave my hand in front of my face when I sing that part of the song.  We've been asked why we like driving places, when flying there is so much faster (well, for certain trips, it is), and well, little things like this make the trip that much more fun.
Considering the fact that those types of trips won't be happening anytime soon, having this song to listen to is good enough to tide me over till out next trip…whenever and wherever that is.
Have a great Monday, and enjoy the music.  And please, fix your face!