Happy Christmas Eve, friends!
I figured for Christmas Eve, I could write about a great Christmas Eve memory, but I figured I would share another happy memory of holiday viewing, much like my National Lampoon's Christmas Vacation story, or That One "Christmas Video".  Heck, I told a related story about Christmas light fiascoes this side of Clark Griswold's experience with 25,000 Imported Italian Twinkle Lights.  I've done my mandatory viewing of Christmas Vacation, but I would be remiss if I didn't do more than the gloss over from a few weeks ago for today's topic.
This relates back to the "Christmas Video," and is one of those lovely Christmas viewing memories I treasure!
Toys Love To Play!
When I was four years old (December 1986), my parents compiled the aforementioned "Christmas Video," a compilation of airings of holiday programs that month, beginning at the top of the month with Jim Henson's The Christmas Toy, right down to mid-month airings of Mickey's Christmas Carol, How The Grinch Stole Christmas, and 'Twas The Night Before Christmas.  These were not written on the video as such, but those were the specials.
The first special on the tape is the one that trumps all of the others on the tape (though I've always loved How The Grinch Stole Christmas!), since it is the most special and rarest of Christmas specials.  And not because it was terrible and destined to age poorly (remember, there are holiday specials that disappear into oblivion for a reason!), but it just was meant to be a rare, delicate flower of a holiday special.
Jim Henson's The Christmas Toy aired on December 6, 1986, a Saturday night primetime special airing on ABC in most markets.  I say most because according to my reader Joseph, Pittsburgh's WTAE did not air it on that evening (he did report to me that he had the VHS of the special).  Sponsorship for the program was through Kraft Foods, and in lieu of commercial advertising during that hour, any commercial breaks were segments for Kraft Holiday Recipes.  The recipe segments focused on host gifts, tree trimming, Christmas supper, and New Year's Eve, and featuring some truly amazing recipes.
Upload via 80sCommercialVault
Even as a little kid, I loved those segments, especially the Christmas Eve one where the tree lights up at the very end.  I've never quite gotten the music or "Celebrate the season with Kraft!" out of my head in 33 years.
As for The Christmas Toy itself…
"Am I The Christmas Toy?!"
The Christmas Toy centers on the life of toys in the playroom of the Jones children, Jesse and Jamie, who dance and sing and converse when the children aren't around.
Upload via The Jim Henson Company
Excitement is bursting at the seams of the playroom, as buzz about the impending Christmas holiday are abound within those four walls.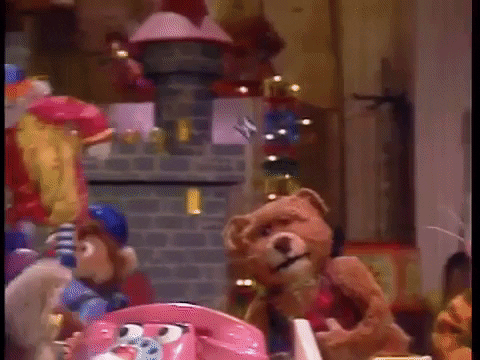 And with that excitement will come a group of new toys, which will need the guidance and support of the current playroom residents.
Upload via The Jim Henson Company
But Rugby the Tiger doesn't believe any of this, he feels he is important, and will be his owner's favorite Christmas toy no matter what.  And by "no matter what," he will sneak down to the living room and hide in one of the Christmas packages.
If only it were that easy!
Apple the Doll attempts to dissuade Rugby from his attempt to sneak out of the playroom, as toys that do that – and get caught by the humans – are "frozen" forever.  This is the worst possible fate for toys, as they will no longer be able to participate in the life of the playroom.  Being "frozen" is just a nice Muppet expression for death, apparently, which was important to teach the little kids watching this in 1986.
It was a different time, obviously.
But Rugby, being the fierce Tiger Cub he is, is undeterred by the threat of being caught, and decides it is worth the risk to be the center of Jamie's attention all over again.  Apple is against this and makes it known, and mostly because she remembers what it was like to be replaced by a Christmas Toy the previous year…Rugby.  As the Jones family goes to bed, Rugby, accompanied by "cat toy" Mew (with Apple and other toys coming to the rescue of the daring Tiger Cub and catnip mouse), as they take a huge risk just stop Rugby from his plan.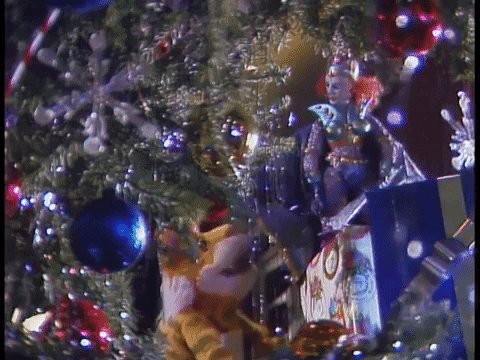 An encounter with the She-Ra of the Muppet World ends with Rugby and the crew almost successfully returning to the playroom unscathed…except for Mew, who becomes "frozen" in the adventure back.
OMG, I remember how sad this was, especially when Rugby sang to him!
But being the next morning is Christmas Day, and miracles happen, everyone's singing manages to bring back the "frozen" toys, including little Mew!  And of course, this is all just in time for the introduction of the new toys, and the reassurance by Jamie that she loves all of her toys.
Oh, and Mew gets a girlfriend!  Of course, they all sing together, a happy family of Christmas toys, old and new, all loved and cherished!
Upload via N Sands
It Wouldn't Be The Muppets Without Kermit!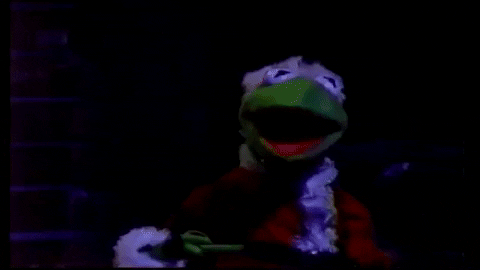 Kermit the Frog, dressed as Santa Claus, arrives in the playroom to introduce the characters and set the scene for an unforgettable Christmas Eve in the playroom.
If you were lucky enough to see the special in its original airing, or the 1993 home video release, then you saw the Kermit the Frog segments. If you saw the 2008 release…you weren't.  The 2008 re-release of The Christmas Toy, through Lionsgate's HIT Entertainment mired the company in legalities with Disney, so Kermit's introduction was cut out.
Upload by N Sands
If They Sound Familiar To You…
The familiar voices of Muppet characters is strong with this special – Rugby's voice is Fozzy Bear, Mew is Steve Whitmire, who has played Kermit's nephew Robin (and Kermit himself!).  Jerry Nelson, Richard Hunt, and even Jim Henson (using a pseudonym, but we're smarter than that…I guess.) himself are in this special.  Of course, he plays Kermit, but he also voiced Jack in the Box and Ditz (OMG, Ditz "frozen" was another tough moment!). Henson's son Brian operated Cruiser.
The children in the special were prominent Canadian child actors Marsha Moreau (as Jamie) and Zachary Bennett (as Jesse).  Adults are represented in this world Muppet Babies style, meaning lots of Nanny-like leg shots.   Even an unseen teenager's voice sounds like a stereotype.  If you know someone who ever sounded like Molly, let me know.
Allison's Love of The Christmas Toy
I have always loved this special, ever since I saw it the first time in 1986. I've seen it many times, and believe it or not, I wrote that summary without having watched it this year…yet.  That's how many times I've seen it over the years!
I had never thought of it as a kid, but my manager at the video store pointed out the whole Meteora thing, and how she was so – ahem – busty.  She couldn't believe that was a Muppet character!
Upload via The Jim Henson Company
The Christmas Toy has all the feels that comes with a good, effective Christmas special, done in that special Muppet way.  The music is bouncy and sing-a-long worthy (except for that really sad moment Rugby is singing to frozen Mew, that is sob worthy!), and the characters, for original Muppet creations, are as lovable as the Muppets.  Jim Henson and his team knew how to make their specials wonderful and memorable, and this one was no exception.
I love watching this one, especially with the Kraft commercials intact, but even as a little kid, I enjoyed watching just the recipes.  As I said, there was something so amazing and special about the tree lighting itself as the choir proclaims to "celebrate the season with Kraft!" If that doesn't have the feel of Christmas Eve all over it, I don't know what does!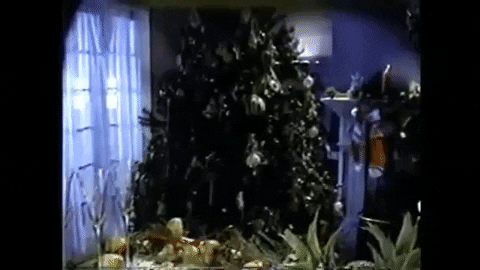 Availability
YouTube Movies had the special available to watch for free (with ads), and I tried to see if the video played.  Unfortunately, it does not.  Thankfully, the Jim Henson company does have clips on YouTube of the special, but uploading your own copy of it will probably cause a copyright strike to your account (as it did to my previous account).  If you love your account, don't do it.  I won't even change uploading clips, but since The Jim Henson Company has, I'm very grateful that there is some proof of the special's existence.  Because those of us who saw it in 1986 have to tell everyone else about it, and it is easier to show those who haven't what we witnessed 33 years ago, when toys celebrated Christmas Eve by trying to rescue a stubborn Tiger Cub from his own jealousy.
And Now, You!
Have you seen The Christmas Toy, whether it was in its original airing, or on home video?  As always, I'd love to hear your stories (thanks to Joseph for his!)!
Today was a packed Santa sack of articles – one earlier this morning, another one on Pop Culture Retrorama, and this one.  I also have one coming up tomorrow on Pop Culture Retrorama. I gotta get it all in, we've got one more day until Christmas, and I plan to keep this up until the end of the week.
Have a great day, and Merry Christmas Eve!