We're eight days and counting to Christmas Day (one week until Christmas Eve!), and I've got another anecdote of personal nostalgia for you!
Previously, On Allison's Written Words…
I've been on a personal nostalgia streak this month, talking about different aspects of my Very Nostalgic Christmas.  First, I talked about National Lampoon's Christmas Vacation as a family Christmas tradition, and last week, I discussed "That One Christmas Video," which was my childhood go-to for rare and classic Christmas specials alike (and my adult go-to for very nostalgic commercials!).
A few weeks ago, when I talked about my very nostalgic memories of watching National Lampoon's Christmas Vacation as Christmas tradition with my family, I very quickly glossed over a little detail of my nostalgic childhood Christmas experience – the lighting of the Christmas lights.  It's one of those stories my family laughs about to this day, and likely one that at least some people could relate to.
Upload via RHINO
This house does not know the struggle.  This house is the official music video for "Wizards in Winter."
As I said a few weeks ago, certain aspects of National Lampoon's Christmas Vacation are completely related to real life human Christmas struggles, and today's story is no exception.
"A Little Knot"
My dad was always in charge of stringing up the Christmas lights.  From the time we moved into my childhood home in November 1988, until the last Christmas we lived in that house (December 2005), and the first year we lived in a townhouse (December 2006) my dad took the time to decorate the house.  I'll assume he enjoyed doing it, because considering the pain in the neck it always seemed to be every year, he always maintained tradition and kept putting up those darn lights.
So, you have to know this one aspect of my dad's yearly tradition of putting up lights – he waited until the coldest, windiest day of the fall season to do it.  He always did it Thanksgiving weekend.  For some reason, Thanksgiving Weekend was always windy and cold.  I have no idea why, that's just how it always worked out.
The bane of my dad's existence were the strings of white Christmas lights he put up.  Without fail, every single time, he would have a strand burn out before they even made it onto the house.  I could see a bulb or two burning out, but Griswold-like Venezio Christmas Light Decorating was never that lucky.  So my dad, frustrated with this, would get into the car and drive to True-Value Hardware for ANOTHER string of lights.  This was an ordeal that lasted several hours, and guaranteed, every year, without fail, at least two trips to the hardware store.
New lights were always needed every year.  We went to those really cool icicle lights when I was in high school, and thankfully, those seemed to last longer, although he did still need to make at least one or two trips for the string lights.  Anytime he realized the lights weren't going to work, I remember the grumbling, the keys jingling, and seeing him pull out of the driveway.  I knew where he was going.
He didn't just put up lights – there were bows on the trees outside (my mom's doing), light up candy canes along the driveway, and if he was feeling REALLY ambitious, something decorative.  We had a light up Christmas tree in our yard when I was in college that the wind loved to tip over, as well as a giant inflatable Mickey Mouse (also when I was in college) that the wind also loved.  That survived two Christmases in our front yard, and amazingly stayed intact.  My mom kept it in the basement until recently, when she gave it to my brother to put in their front yard.  I wasn't home last Christmas, so I have no idea if they put it up or not.
"Dad, you taught me everything I know about exterior illumination."
Because of his very visible frustration, the yearly tradition of him putting up lights was a source of entertainment for our family.  My mom, brother, and I would stand at the windows and front door and laugh.  My dad would rope in the Rusty of our family, my twin brother Brian, to help.  My brother was goofy.  Actually, he still is – marriage, a job with a title I can't even remember, being in his mid-30s, and being a dad haven't stopped that goofiness (I'm sure having a four-year-old has made it worse).  One year, my brother got roped into helping, and when my brother went to plug in the lights per my dad's request, he plugged in the wrong string.  Of course, it lit up, and the dork said "Cool!"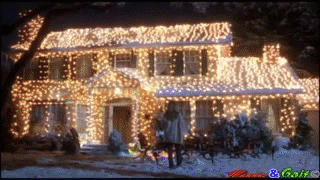 Guess whose string didn't light up?
Guess where my dad wound up going next?
"Is your house on fire, Clark?"
Even with the obvious frustration that clearly came with burnt-out strands and multiple trips to the hardware store, my dad never stopped putting them up when I was growing up.  These days, he isn't physically able to string up the lights, but he laughs about the experience of putting them up whenever we talk about his years of doing so (as opposed to cringe, which is what you'd expect, am I right?).
And despite all of this, despite all the time he spent fighting with the lights to work, making trips to True Value to buy new sets, and battling the elements to do so (at least it never snowed, that would have added a whole other Christmas Vacation layer to the light fight!), the lights (and our house) always looked amazing.
I think we had blinking lights once, which means dad had a leg up on Clark Griswold in managing to get them to work!
And Now, You!
I'd love to hear your stories of exterior illumination, and the good, the bad, the human struggle, and even the stories where everything goes right.  Do you have any great decorating or Christmas-type stories that are particularly memorable and funny, kinda like my family's rather interesting history with stringing up Christmas lights?  Sound off in the comments below, or be social on social media!
Next week, the final very personally nostalgic Christmas story, as we reach Christmas Eve next Tuesday!
We're eight days and counting until Christmas, friends!
Have a great day!