We're back with more incredible moments in licensed characters of the 1980s floats, as featured in the Macy's Thanksgiving Day Parade, as Allison's Written Words counts down to Thanksgiving!
Previously, on Allison's Written Words…
Marvel Entertainment Group was not keen on licensing their characters for film, but they had no trouble putting them on floats to act out scenes and dance to Melba Moore covering a song about needing a hero in last week's Thanksgiving Parade float.
Before we watch this week's float come toward us in all its licensed character glory, longtime nostalgic writing contemporary Johnny (I've known him since my earliest nostalgia writing days at RetroJunk) had this to share:
I was actually at the 1989 parade with my family. We were so impressed by it that my brother could be heard among the kids being interviewed on an NYC radio station about the Marvel float. We heard the interview on the ride back home from the city. I wish they could put the archival audio online. It would be great to get that to my brother.
I love stories like this – a little personal nostalgia goes a long way in my world, as I know it does for the people telling the story.
Remember, if you have any special memories to contribute, please do so!  I love hearing stories from others, and your comment will be featured either here, or on the blog's Facebook page.
Anyway, why don't we continue on through the Macy's Thanksgiving Day Parade of our nostalgic youth?  The Marvel float has continued on, but behind it, lingering a little further back, is today's float.
Those Children From A Magical Garden…
Today's float takes us to the magical years of 1984, 1986, and 1987, and was clearly a challenge by anyone who didn't believe regular Cabbage Patch Dolls were terrifying.
Obviously, the answer to that challenge….SUPERSIZE 'EM!
I'm talking giant heads with giant lifeless eyes, with an even more terrifying feature…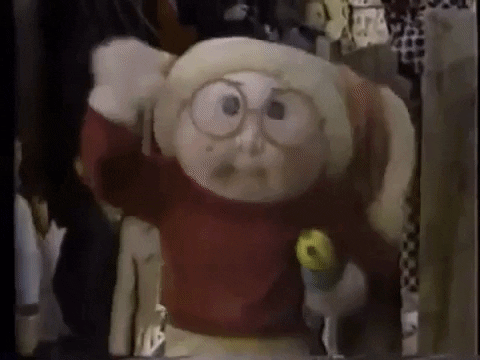 Hint: it isn't the glasses, which are also giant.
Singing, dancing, talking, interacting with actual people Cabbage Patch Kids were the order of three different floats during the toyline's heyday in the mid-1980s.  First introduced in 1983 by Coleco, the Cabbage Patch Kids sang about themselves, their hobbies, and about having fun.
And lucky for the humans they interacted with – Tim Conway, Joey and Matthew Lawrence, and the girls from Rags to Riches.
Oh, and Willard Scott too.  Because of course.
He even kisses the giant girl!
I swear, I'm not joking!
1984
Tim Conway is the first willing victim – er, presenter – of the Cabbage Patch Kids, talking with a country bumpkin accent about how the Cabbage Patch Kids live in the Cabbage Patch, waiting to be adopted.  Other facts he extols about them:
They're huggable.
They're lovable.
And they sure know how to have a good time.
They're also like kids you know (except bigger, and with lifeless eyes – but he left that part out, being a family-friendly celebration and all).
This song-and-dance has a story to it, involving the hatred of the Cabbage Patch Kids by an old lady, Cabbage Jack, and a weasel.  I have no clue what these characters have to do with, well, anything, but they have a Cabbage Patch Kid who can save the day.
I swear, this is all too much for 3 minutes!
Upload via VHS Rewind
And as that terrifying song-and-dance ends, so begins 1986's offering!
1986
Joey and Matthew Lawrence, best known at the time for Gimme A Break!, sing along with Cabbage Patch Kid Magician Otis Lee, who can turn Cabbage Patch Kids into anything they want to be.
Except not terrifying and dead-eyed.
It's a quick clip, but enough to conjure night terrors.
Upload via VHS Rewind
If you thought Otis Lee's magic combined with the Lawrence Brothers singing was a bit much, wait till you see the horror of 1987!
1987
Actually, this one is probably the best of the bunch.
The girls of the two-season NBC show Rags to Riches, a musical comedy-drama about a man who takes in a group of orphaned girls to seal a business deal, but gets so much more.  Like an opportunity to play on the Cabbage Patch Kids' Playground, driving through the Macy's Thanksgiving Day Parade in New York City!
Bet they never saw that coming!
As I said, this was the best of the bunch – the singing is great, the whole concept doesn't feel terrifying to watch, and even though the mouths don't really move on the Cabbage Patch Kids (which is creepy, I'll admit), the dancing and presentation make up for it.
And the only thing scary about it is Willard Scott kissing a Cabbage Patch Girl.
Upload via Michael Masci
Cabbage Patch Kids weren't always creepy to me, were they?
Allison and Cabbage Patch Kids
I will tell you this, based on what I remember about myself at the time – I LOVED Cabbage Patch Kids, and I certainly would have never thought any of these floats were terrifying!
My first Cabbage Patch Kid was Gayle Ellyn (I believe that was how her middle name was spelled), and I believe my brother's first was Ty (can' recall his middle name).  Over the years, I got a baby (the one in the picture), a preemie, and Beverly.
My brother got another boy that came at the same time as Beverly (in a twin doll stroller, no less!).  For Christmas, when I was eight years old, I got a Bend-and-Flex doll with the Weebok sneakers, as well as a Crimp and Curl doll when I was ten years old.
I LOVED my dolls – they weren't creepy with lifeless eyes; they were my "children," fed with bottles of disappearing milk, dressed with clothes from my big yellow Cabbage Patch Kids wardrobe suitcase, and loved the way any doll should be.  I kept them for years.
Looking back on them, I'm glad I didn't have the fear of the lifeless eyes, because they're kinda creepy now, especially when they're full-grown with heads just as big!
But, like the Marvel Universe float, a product of their time, and presented in a way that any kid would be excited about.
As I say, the 1980s were truly magical.  And special.
And Now, You!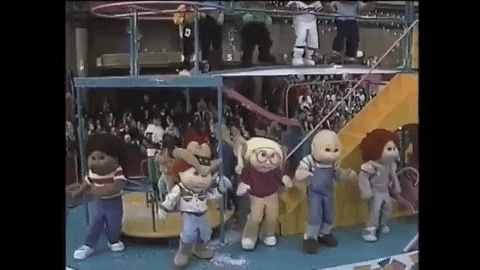 Do you remember the Cabbage Patch Kids and their Giant Heads performing in the Macy's Thanksgiving Day Parade?  Did you have Cabbage Patch Kids?  Do you find any of this creepy or terrifying?  Sound off in the comments below, or be social on social media.
Next week, another float with more licensed characters makes its way down the parade route of our very nostalgic 1980s childhood and Macy's Thanksgiving Day Parade.
Until then, have a great day!