Final week, and I'm still loving a parade.
Are you?
The Macy's Thanksgiving Day Parade of our very nostalgic 1980s youth marches into its final offering, as we inch that much closer to Thanksgiving.
(Spoiler alert: this one doesn't feature Santa Claus)
Previously, on Allison's Written Words…
Our very nostalgic 1980s Macy's Thanksgiving Day Parade kicked off with the Marvel Universe, long before it was cinematic, looking like a cross between Marvel Universe Live and a 1980s dance class.  Then, the Cabbage Patch Kids danced their way into our parade (along with the girls from Rags to Riches, Tim Conway, and Joey and Matthew Lawrence, but not in the same year), their giants heads and lifeless eyes trying to win our hearts, despite the terror they provoke.  And last week, a float that had "THE POWER!" fought-danced its way into the parade, complete with a silent Skeletor.
I was devastated.
Today, the final float coming down the parade route brings on a different kind of power…the power of a colorful world!
We stay in the magical year of 1985 for this float, as it comes down the parade route and stands out because of the lovely colors and catchy song.
Ladies and gentlemen, prepare yourselves for…Rainbow Brite!
No, not third-rate Rainbow Brite…the giant-headed, lifeless eyed, lack of mouth movement costume of Rainbow Brite!
She's here with her friends The Color Kids (the Los Angeles-based song-and-sign-language group "A Show of Hands USA") to sing the song from her new movie, Rainbow Brite and the Star Stealer!
Upload via RainbowBriteCo
Allison's Take
OMG, Rainbow Brite, Rainbow Brite!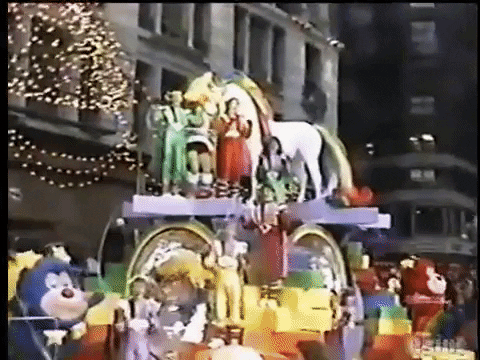 I like this float…alot.  If loving a giant Rainbow-clad float with giant Sprites and a giant-headed blonde girl who spreads color to the world is wrong…then I really don't want to be right.  I love "Rainbow Brite and Me," especially when it is sung by a group of very lucky kids.  Who wouldn't want to be able to sing that earworm of a children's movie song on top of a float?  If I was asked to do this, I'd be asking for my shiny 1980s jumpsuit right now!
I did mention that whole thing about Rainbow Brite being a bit giant-headed and dead-eyed…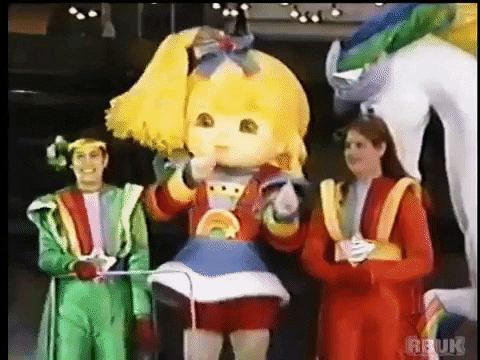 Her eyes blink, so it isn't entirely a terrifying experience to watch Rainbow Brite in action.  I especially love the girl in green actively dodging that swinging yarn ponytail while keeping the smile plastered on her face the whole time.
There's 80s dancing, 80s costumes, and everyone's favorite rainbows and cheer girl front and center.  I can't imagine how many little girls squeed during the 1985 parade!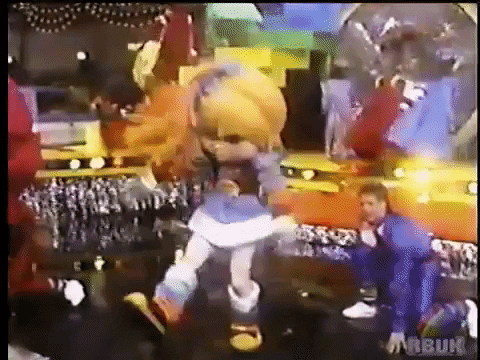 Rainbow Brite had reached her peak of fame by this point, as she had just starred in her first (and only) movie, had a television series, and a ever-growing toyline.  This would continue until 1987, but unfortunately, this would be Rainbow's last appearance in a Macy's Thanksgiving Day Parade.
(I should note that she made a brief appearance riding a rocking horse – and doing nothing else – in the 1984 parade.)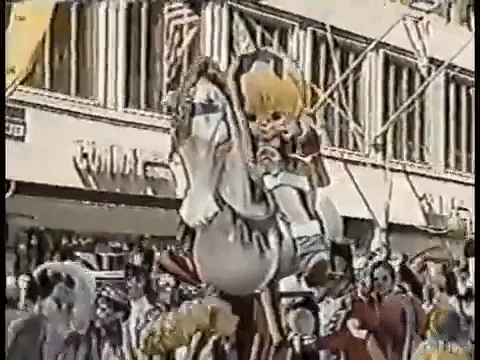 Seriously, if she had to go out in her Thanksgiving Day Parade appearances in a blaze of rainbow-fueled glory, I'm glad she had that float.  I'm also glad that A Show of Hands USA had their opportunity to take center stage and show the world communication through sign language.
This is really something special!
Upload via RainbowBriteCo
And Now, You!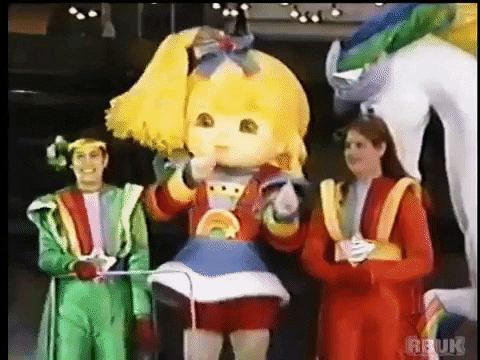 Do you remember Rainbow Brite strutting her stuff to her theme song?  How about A Show of Hands USA and their performance?  Sound off in the comments section below, or be social on social media!  Bonus points if you can tell me anything about A Show of Hands USA, since there isn't much (ok, there's nothing) about the group or its creators online.
Seriously, type in "A Show of Hands USA," and a Rush album dominates the first few results.
The Macy's Thanksgiving Day Parade rolls on, next stop Thanksgiving, and with that brings this month's theme to a close.  But fear not, because December brings on a new theme!  Come by the blog's Facebook page at 10 pm EST on Monday night for the unveiling of December's theme!
Thanksgiving Week at Allison's Written Words continues on! Have a great day!