Wake up all you sleepyheads, Throwback Thursday is leading the charge of clean teeth!
There was this time where toothpaste commercials featured kids bragging about having less cavities, but between the 1960s and 1980s, toothpaste commercials stepped up their game.
Apparently, Colgate was leading the charge in ensuring Maximum Fluoride Protection, based on both today's commercial (from 1985) and one toting the same benefits from 1986 (as covered in a previous Flashback Friday post), but they also boast the great taste you can get while getting your Maximum Fluoride Protection.
You know what else today's commercial boasts?
A catchy jingle!
So, about that jingle…
I just found out today that the song used in this commercial is a re-worked version of the 1980 Madness single "Baggy Trousers," and yes, this commercial is British.
Perhaps they threw in "Little Uncle Sam" for an American effect?
"Blue Minty Gel for a taste YOU CAN TELL!"
This commercial found its way into holiday programming and Saturday morning television blocks in 1985, and one that commercial collectors with tapes from that time would likely have (I found it in a holiday programming commercial block in my own collection, and I've seen it in other commercial blocks on YouTube as well).
Commercials these days tote super white teeth, but this commercial certainly gives off a more natural look for teeth, with the apparent promise of a healthy smile coupled with a satisfying-tasting toothpaste.
And dances you'll want to try and and do once you brush your teeth!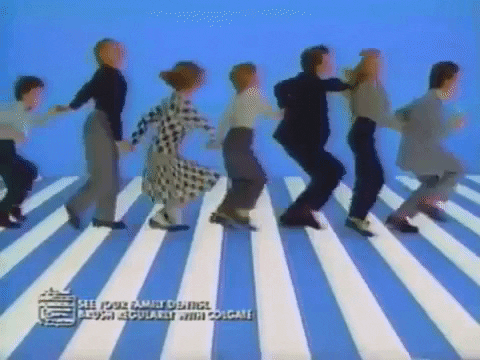 The melody was written by British TV Producer  and writer Jay Pond-Jones and Ric Cooper, who had to seek permission from Madness to use the song.  It turns out they loved the commercial.  I love it too – the song is catchy and perhaps it got kids in the 1980s to brush their teeth…and want Colgate's pressurized pump?
Hey, whatever sells your product!
Have a great Throwback Thursday!