How about a little personal Halloween nostalgia?
Happy Halloween!
I was feeling a bit nostalgic for some of my family photos, and when I was going over to my parents' house on a Saturday afternoon for a few hours earlier this month, I told my mom I was going to look at some photos so I can put them on my blog.
My mom brought up one of the photo albums, which had photos from 1983 until 1988 in it.  And boy, it did not disappoint at all.
Several Halloween's worth of photos were in the album, but I really wanted to share the photos from my first Halloween.  Not because I remember it (I don't), but because I love the photos!
So I photographed this with my cell phone while it was still in the album (which explains all the marks – the album is obviously over 30 years old!), but this photo is from 1985.  And yes, that was my first Halloween costume.  It was 1985, and my mom decided 3 years old (Halloween was just twelve days after that birthday!) was old enough for trick-or-treating.  It was my first (and only) time dressed as a clown, but boy is it a cute costume.
So according to my mom, that costume was from JC Penney (as was my brother's costume), and the red "wig" was not part of the costume.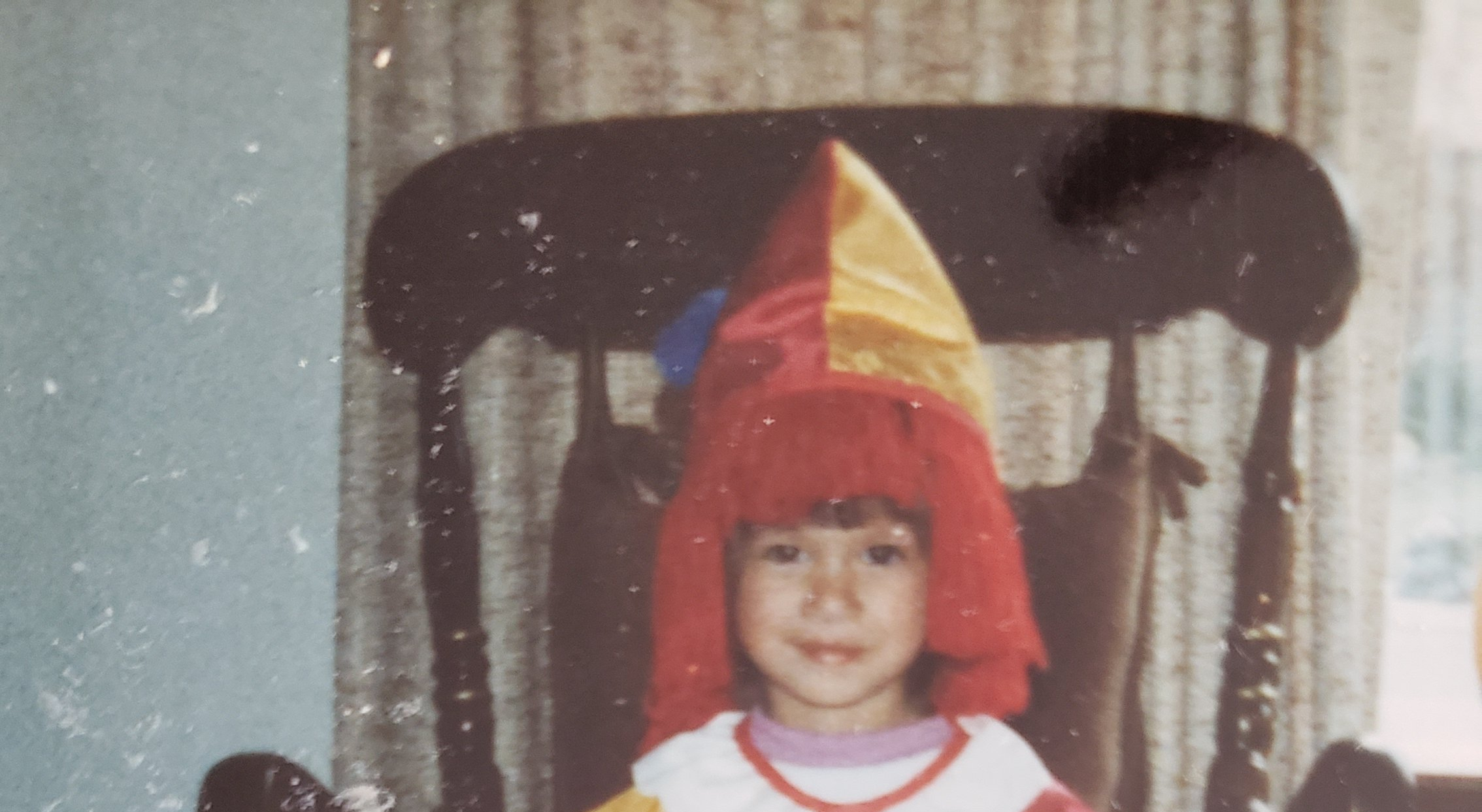 My mom attached the yarn inside the hat and then cut it to the length of my hair.  Definitely has that Cabbage Patch Kid-type hair, but a pretty good wig.
I'm aware that I smiled bigger than that (we have plenty of photos to prove it, trust me!), but that seemed to be my go-to smile in the mid-1980s.  I found lots of closed-mouth smiles in my photos.  But of course, this looks cute.  I smiled like that on my State Identification just recently, and it looks like I'm a miserable human.
Oh, and since I have a twin brother, of course we have to pose together with costumes!
My dad has made the claim that there was never a more perfect costume than the one my brother has on.  According to him, Brian was "the perfect devil."  My brother's got that "hurry up and take the picture look," but that's the patented Allison smile people know and love.
I don't recall that Halloween, but I'm betting for these novice trick-or-treaters, it was a good one!