Flashback Friday as a verb?
Why not?
This week's theme is about the power of drinkstuff – you know, the liquid version of foodstuff.  Yesterday, the delights of milk alternative (aka Lactaid) were extolled by a woman whose fantasy about enjoying foods with milk again is made possible by Lactaid Milk.
Not since cheese (and more cheese) has anything had this much power.
Ok, bacon has this kind of compelling nature, but we're not talking about bacon, are we?
Nope, we're talking about beverages!
Today's powerful drink commercial comes from 1988, and involves a force so great, that thirst cannot be quenched by water alone.
Not even in Red Solo Cups.
This runner is determined not to give into the forces of water, and his friends are on their way to help make that possible.
They're bringing the Veryfine vending machine!
See the action unfold for our runner, by clicking play below!
It all makes sense, doesn't it?  Water does nothing, but Veryfine…that's lifeforce in a can!
Is it because he's a corporate schill for Veryfine, or just running for Team Veryfine?
Such unanswered questions!
Veryfine juice has been around for many years…since 1865, actually.  Originally owned under the Standard Vinegar Co. (later changed to New England Vinegar Works in 1907), the Veryfine brand was added in 1919 as the brand name for their pasteurized apple juice.  The brand stayed in the family of Arthur Rowse until 2004, when it was sold to Kraft.
Since 2007, Veryfine has been manufactured by Sunny Delight Beverages Co., and is now manufactured at Sunny Delight facilities (the Littleton, Massachusetts plant was closed in 2015).
Image Source: veryfine.com
I had the fruit punch flavor some years ago, coincidentally enough, after finding this commercial on an old tape.  I know I used to drink this, and I remember my dad liking it.  I haven't had it since that one time I had fruit punch, but I remember it being good.
The funny thing is, Veryfine's "juice it up!" slogan sounds like something entirely different.  Something to do with a whole other kind of "juice."
No, not orange juice!
At least their current slogan is "Enjoy a glass and have a Veryfine day!"
Said without proper comma placement!
"Enjoy a glass
,

and have a Veryfine day!"

There, much better.

Seriously, you have no idea how much that bothered me.

Anyway, when your runner's thirst needs quenching, never underestimate the power of Veryfine…and the no power dissatisfaction that is water in Red Solo Cups.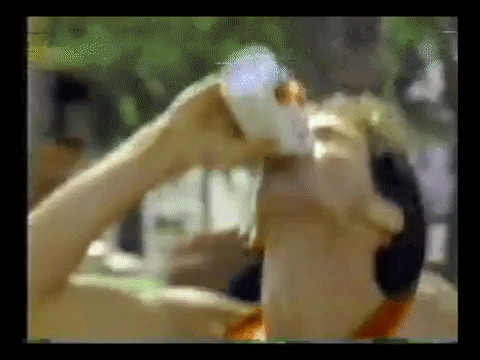 Yup, totally juice it up in some other way.
Have a fantastic Flashback Friday, and a great weekend!