It's hardly the latest, it might be the greatest…and the name makes you hungry for a certain starchy food…
First Things First…
As we bring fad dance month to a close, we've danced the Macarena, felt the shocking (!) energy of "The Electric Slide, ran in place, and did a dance after a guy named "Freddie."  Four dances, some of which have, despite the distinction of being a fad in their time, are still done at celebrations in 2019.  Not by everyone, but by the ones who aren't afraid to embarrass themselves.
Like me.  I did the Running Man at a wedding once (not mine), as well as The Electric Slide at my wedding.  As for Macarena, I specifically asked for that song not to surface on the playlist.  And forget Freddie, I'm not quite that coordinated.
Trust me, it would wind up looking something totally different.
We're staying with the 1960s this week, to a dance that was popular just a few years before Freddie did the dance he self-titled.  I've mentioned this one a few times in equal parts because I featured the song that coined the dance on Music Monday, and also because I talk about Troop Beverly Hills alot.
Guess what's getting mentioned again?!
It's The Latest, It's The Greatest…
The Mashed Potato started a long time ago…well, if you consider 1959 to be a long time ago, when James Brown created the move and sang about it.  However, it was 1962 when Philadelphia teenager Dee Dee Sharp sang a song about it, while referencing other songs where one could do the Mashed Potato dance.  The dance took off that year, and like other dances featured this month, had a short life span…hence, it was a fad.
But of course, that leaves the really important question…
How Do You Do "The Mashed Potato"?
The Mashed Potato is a variation of The Twist (as created by Philadelphia's own Chubby Checker), and involves turning the feet inward from a heels touching position (if you're Ballet-mined, think standing in first position), so that the toes point toward each other.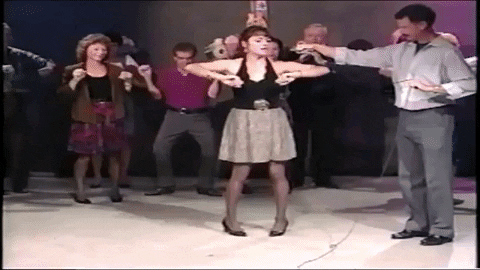 The arms are elbows pointing out, and when you "click your heels together," elbows point toward the floor.
There's also a more ambitious move that actually involves lifting your feet off the floor, as seen in (you guessed it) Troop Beverly Hills…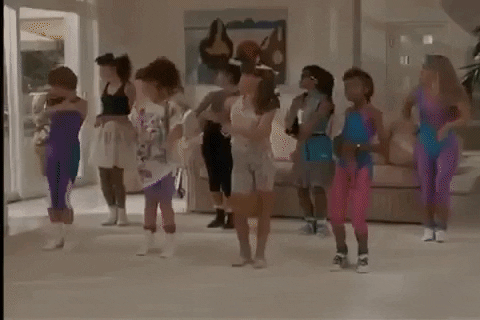 Yeah, I feel uncoordinated just looking at this version!
"Mashed Potato Time" was not the only song that mentioned the dance, even though I'm convinced it was the primary one associated with the dance.  James Brown's "Mashed Potatoes USA," Nat Kendrick and the Swans' (with vocals by Carlton "King" Coleman) "(Do the) Mashed Potatoes," and of course the aforementioned Dee Dee Sharp's "Mashed Potato Time," as well as "Gravy (For My Mashed Potatoes)" all were inspired by the dance.
Upload via Classic Mood Experience
Upload via Alfis Mam
Upload via Marc Leroy
Fun fact about "(Do The) Mashed Potatoes" – James Brown originally recorded this song in 1959, but for contractual reasons, it was re-recorded by Nat Kendrick and the Swans.
When The Mashed Potatoes Are Done…
As the popularity peaked and fell off after 1963, in Australia, the Mashed Potato found its way into 1964's "Mashed Potato" by Billy Thorpe and the Aztecs.  It's been mentioned in other songs, there's been variations (The Monster Mash dance is a variant of Mashed Potato), and of course, it was in Troop Beverly Hills.
And on the local television front, they're doing it!
Upload via asite4u2c
Upload via James Copeland
Like all fad dances, this was one born of a song, and stuck around long enough to make an impact, only to go away as quickly as it came in.
And Now, You!
Have you ever done (or witnessed) The Mashed Potato, or listened to any of the music associated with it?  Sound off in the comments below, or be social on social media!
As we close out fad dance month, I've already compiled the topics for next month's theme, which I will reveal on Monday evening at 8 pm EDT!
Be sure to stir those mashed potatoes (if you don't like lumps), and have a great day!