We're wrapping up subscription and pay-cable television month with the story of an experimental network that paved the way for television as it would come to be known years later: pay-per-view, interactivity, and special interest.
"I've had a television set that has talked at me…"
Upload via UXTV Design
So, as you can see, a network looked to change the face of watching television forever, and despite its shortcomings and ultimate demise, it did wind up being the earliest innovator of what television would eventually become.
QUBE was an experimental, two-way multi-programmed television service from Warner Communications, developed to help improve the performance of Warner's tiny cable television division.  The idea was to bring television to the viewer, but to also allow them to respond back to what they were watching, via touch button box (a big, tethered remote).  After going through a testing phase, the service was ultimately launched in Columbus, Ohio on December 1, 1977.
December 1, 1977
On December 1, 1977, live from Columbus, Ohio, QUBE came on the air, broadcasting its first steps into programming on that day.
Upload via JonQUBE
QUBE Networks
The service consisted of thirty analog channels – 10 broadcast channels, 10 pay-per-view channels that subscribers were billed monthly for, and 10 channels with interactive features.
The broadcast networks (T-1 through T-10) consisted of Columbus' ABC, CBS, NBC, and PBS stations, as well as independent networks from Columbus, Cleveland, Indianapolis, and Cincinnati, the PBS station in Athens, Ohio, and a pre-empt station in case regular programming was pre-empted on any of these ten stations.
The interactive channels (C-1 through C-10) provided special interest programming – a station for Columbus Alive, consumer information, sports, time and weather, news, stocks and business news, religious programming, selected audience programming, and a network called "live and learn."  Also part of this channel lineup was Pinwheel, which later become a show on the new children's network Nickelodeon in 1979.  It would air on that channel until 1984, but air in reruns until 1990.
Finally, there was the pay-per-view channels (P-1 through P-10).  These included a channel that provided a guide for the programming on these stations, first run films, movie greats, performance, better living, sports, special events, games, college at home (sounds like such an amazing concept in 1977, doesn't it?), and adult programming.
QUBE's programming included Columbus Alive, a local talk show, Talent Search (one of those local talent programs, with a Gong Show-like interactivity – the people at home, armed with QUBE technology, can vote people off), Screen Test (an interactive game show about movies), Flippo's Magic Circus (featuring the Bozo the Clown of Columbus, Ohio – Flippo), Columbus Goes Bananaz (a teen show that later aired on Nickelodeon as America Goes Bananaz from 1979-1980), and How Do You Like Your Eggs?, in which two couples predict how the home audience responds to questions.
It all seemed so cutting edge – a subscriber-based service that you could call the shots with, shows that responded to your actions via a giant remote, and thirty networks to choose from (that was alot for the 1970s!).
The service was launched with thirty channels, but QUBE's remote could support up to sixty, which seemed like such a foreign concept in the 1970s and 1980s, but antiquated by today's "1000 channels, and nothing is on" attitude.
So…what happened?
The Demise of QUBE
While all seemed great and innovative with QUBE, Warner Cable operated at a loss of $99 million in 1982, and by 1983, their total debt was $875 million.  QUBE was either up and running, or on its way to doing so, in Pittsburgh, Cincinnati, Dallas, Houston, and St. Louis at this point.  The significant operating loss, in addition to privacy concerns, led to the system's discontinuation, with QUBE being phased out by 1984.
Oh, and cable probably had something to do with it.  Because that's how the subscriber-based system of networks on independent stations failed.
The QUBE Remote
(Source: Wikipedia)
Pretty interesting device, don't you think?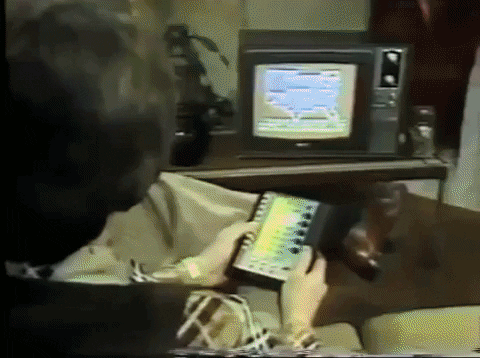 The QUBE remote allowed for channel navigation, gameplay, and voting in viewer polls,  Information provided by the viewer polls by pressing buttons on the QUBE remote could be transmitted in six seconds.
It Seemed Like A Cool Concept…
Having seen the footage and how QUBE works from watching the Oddity Archive episode about it, I would have been impressed with the service.  If it had been available to me and my family, I probably would have made a case for why we should have/need it.  The idea of interacting with the television long before interactivity was a thing.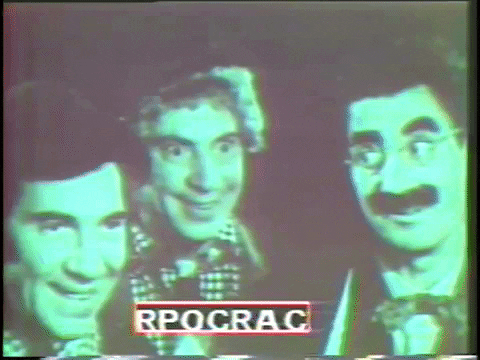 I guess the 1970s and 1980s were not ready for such an amazing concept, but something like this would be fun now!
Some QUBE Footage Survives!
Everytime I find it hard to believe that something I'm covering has actual video proof, I'm pleasantly surprised.  For you, surviving QUBE footage!
Upload by Gabrield Alarie
Upload via Jon QUBE
Upload via Jon QUBE
Upload via Jon QUBE
YouTube user Jon QUBE has some great videos on his channel all about QUBE and its offerings.  I highly recommend checking it out!
(All uploaded via Jon QUBE – Thank you!)
And Now, You!
Did you live any of the areas serviced by/testing out QUBE in the 1970s and 1980s?  I'd love to hear your stories!  Or, are you just finding out about it now?  What do you think of the concept of this type of service, and how it worked?  Would it have been interesting to you?  Sound off in the comments section, or on social media!  I'd love to hear what you have to say!
And that, my friends, wraps up this theme month of articles.  Next month, a new theme and a few new articles!
Have a great day!
Related Reading
Subscription and pay-cable television month, in a nutshell…
Tele1st: The Entertainment Recording Service (April 2, 2019) – Chicago's subscription-based television service, requiring a decoder box.  This service aired for several hours overnight and allowed people to record the programming onto a VHS tape….with interesting results.  Lasted several months in 1984 on Chicago's ABC station.
That Time HBO Signed Off (April 9, 2019) – Did you know that HBO wasn't always a 24-hour network.  For a few years early in its national reach, it signed off like a local station.  You'll love the way they did it!
Just What You're Looking For: The Life of Prevue Channel (April 16, 2019) – The evolution of the electronic program guide (EPG) spawned both interactive and non-interactive versions.  The non-interactive kind were the first ones, and this was the advancement of the earliest guides.  You came this station for the movie trailers, didn't you?
"Scrambled UHF": The Pre-Cable Days of Television (April 23, 2019) – An expansion of the Tele1st article, covering four more networks from the subscription-based network era of pre-cable late 1970s and 1980s.