Alternate title: I Came Here For the Trailers
Second Alternative Title: Waiting On Listings For A Certain Channel…Still Waiting…
Consider those the worst of the worst in working titles.
When I originally planned out this month's offerings for Do You Remember Tuesdays, I had initially planned to talk about the time when Nickelodeon would end its broadcasting day at 8 pm and A&E would take over.  I always found that interesting, bizarre, and disappointing as a kid (it only happened on weekdays, as far as I can remember), but there was another broadcasting oddity of the same time that I've always found much more interesting.
Who knows, the Nickelodeon/A&E split may make its way into a future article, but for today, we're talking electronic program guides.
What is an Electronic Program Guide?
Asked no one – er, I mean – everyone!
Electronic Program Guides, or EPGs, are menu-based systems that provide viewers, listeners, and users of media applications with continuously updated menus that display current scheduling information, as well as that of upcoming programming.

There are two types of EPGs – the non-interactive guides known as navigation software, and interactive guides, which allows users to navigate and search by time, channel, program title, or genre.  Think of EPGs as the dedicated television channel that showed this information day in and day out – the Prevue Channel (later TV Guide Channel), and the interactive guides as the ones on your cable or satellite provider's service.
We're going to talk about the earlier, non-interactive version today, since it is something we all admit to having watched at least once, when we were too lazy to pick up a TV Guide, and oh wow, did you see that trailer?  And that one?  And the music is so catchy!
What?  Why do you judge me?!
Yes, I Admit It…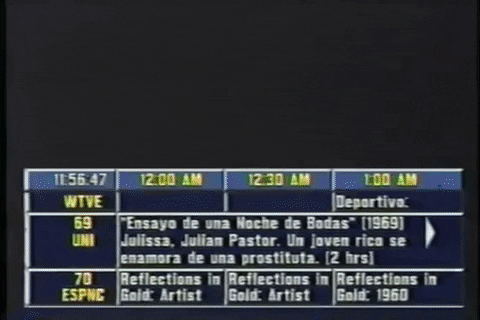 I LOVED Prevue Channel as a kid.  It was less about seeing what was on (though the technology felt mind-blowing for its time), and more about watching movie trailers and television show promos.  Oh, and you probably were looking for something to watch anyway, so you stick around.  I also liked the music played between commercial/promo/trailer segments.  It had that elevator muzak vibe that The Weather Channel always had.
I always liked the movie trailers – I have this ridiculous memory of seeing so many mid-1990s movie trailers on Prevue Channel.  And it was never for good movies, just the really terrible movies airing on HBO, Showtime, Cinemax, and The Movie Channel at the time.  I can't tell you how many times I saw the trailer for Dr. Jekyll and Ms. Hyde when it aired on HBO, yet I didn't see it until 2008 (don't ask, it was 2 am and nothing else was on!).
Anyway…how about a history lesson?
From The Electronic Program Guide to TV Guide: The Evolution of the Concept
The first network channel-dedicated Electronic Program Guide was established in 1981 as simply The Electronic Program Guide.  It was launched through the United Video Satellite Group.
It provided onscreen programming information 24 hours a day, with listings shown up to 90 minutes in advance.  Data for the listings was provided via satellite to a computer at a headend facility.
This service would later be renamed as Prevue Guide, which ran from the late 1980s until 1999 (changing its name to Prevue Channel, and overhauling the service in 1993), when it was renamed as TV Guide Channel, then TV Guide Network, before that network became a channel called Pop.
Along with trailers for movies and television show promos, Prevue also showed commercials (especially the psychic hotline ads that were "all the rage" in the 1990s), and infomercials late at night.  They also had "programming" in the form of Prevue Tonight.  Movie summaries, VCR+ codes, ratings, and weather were also features of Prevue Channel.  It seemed so cheesy and the lazy man's TV Guide, but it was technological and THE FUTURE(!)…except when it crashed.  Then it looked like the future was one big technological nightmare playing out before your eyes.
And oh, when it crashed, it was something else!
Upload via Steve Sisson
You NEVER got that music out of your head!
Technological failures (known as guru meditations) were a common, but not overly frequent, issue with Prevue Guide/Channel.  They were actually kind of funny.
By the way, the interstitial music is called "Opening Act," from the James and Aster music library. Because it was worth knowing about.
Upload via PrevueChannelMusic
On February 1, 1999, Prevue Channel became the TV Guide Channel, which became an expansion upon the popular weekly cable listings guide.  The channel maintained the same format as Prevue Guide/Channel before it – movie previews, its own programming above the listings grid, and of course, the listing grid.
Upload via HulkieD
The transition to TV Guide Channel (later TV Guide Network from 2007 until 2013) marked the end of the earliest era of the innovative standard for checking for a show).  This type of channel would become obsolete by the mid-2000s.  Even in the earliest days of the TV Guide Channel's takeover, programming would take on a fullscreen concept, and by the late 2000s and early 2010s, were showing movies and programs without even a two-line programming grid.  The network went from a utility network to a television network, and by 2015, with relaunching as Pop, the days of the non-interactive electronic programming guide were history.
The fact that it took until the mid-2010s to figure that out are nothing short of interesting.  That's even like reading TV Guide, which seems to be less "I'm checking to see what's on" and more "I'm reading the articles!" I mean, I did that all the time in the 90s, which either makes me ahead of my time, or strange.  Or both?
By the time the network was rebranded as the TV Guide Channel, it had already become something I would tune into just to check for something, and really nothing more than that.  In fact, I don't think I've watched that channel, well…ever since it rebranded from the old Prevue Channel.
The Prevue Guide/Channel Lives On Through Video!
Well, of course I was going to wrap this all up with videos people of the YouTube Land archives have posted.  Because someone thought to tape this stuff!
Upload via Kobe E. Blanchette
Upload via John Kord
Upload via bostonnewsarchives
And the Oddity Archive did an episode on these guides.  The story of the technical aspect and just seeing all that cool nostalgic footage is so much fun!
Upload via OddityArchive
And Now…You!
So, let's chat.  Tell me about your Prevue Guide memories.  Did you/someone you know have any professional connection to the network, or are you like me and have a personal nostalgic connection?  Do you remember the inevitable crashes, infomercials (did anyone ever see Dionne Warwick's Psychic Friends on there?  I did!), and any of the programming.  Did you come back to it when TV Guide took over, and have you ever watched Pop?
Or was this network merely convenient, a utility, and redundant if you kept watching it long enough…like all day?
For me, it still brings back great memories of summer vacation and looking for something to watch…with the previews becoming "something to watch" instead.
Sound off in the comments below (or be social on, well, social media), sharing is caring (this is the good kind of sharing!), and have a great day!
So…what to watch…