The future being the late 1990s…and not beyond that.
The late 1990s ushered in the newest home video format to rival videocassette and the outgoing Laserdisc, the DVD. And with the ushering in of the DVD, came the dilemma of all these DVDs taking up space in one's home. Because all those videocassettes accumulated over the years didn't already do just that, and required the need for one of those cool wooden media rack from Caldor, like my family owned.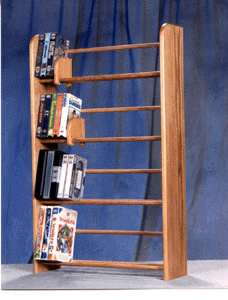 Or you had one – or several – of these bad boys, depending on how big your collection was.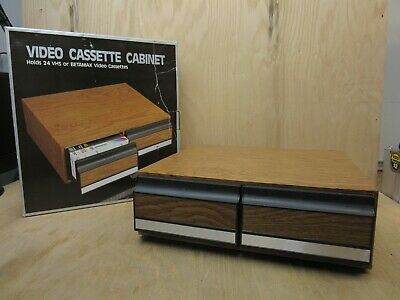 I had one for my audio cassette tapes. Bought it at the aforementioned Caldor!
You knew collections were serious when you needed special storage solutions!
You had tons of places to store your media, but in reality, you probably also liked the idea of renting and returning. Well, what if I told you that you could rent a DVD for your newfangled DVD player – the one you spent a pretty penny on – and dispose of it – yes, throw it away – when you were finished watching it, because two days after you "rented" it, the DVD would no longer work?
I'm not kidding – for one glorious year in the late 1990s, there was such a proprietary DVD player that was capable of this, but it could also play your regular DVDs that you weren't rushing to throw out afterward.
It's a format so good, the demonstration acts as though it is a gift of the Gods. A DVD player with more to offer, if you will.
May I introduce…
Yes, before DivX, there was DIVX!
"The Best Way To Watch Movies At Home"
In June 1998, a DVD format called DIVX (Digital Video Express) was introduced to the market, touted as "the best way to watch movies at home." You would purchase a specially-encoded (and specifically labeled) DVD from your local Circuit City (provided you had one in your area – this was the 90s, so there had to be one around, right?) The Good Guys, Future Shop, SoundTrack, Audio King, or Ultimate Electronics, that you would play on your special, "specifically purchased to take advantage of the technology" DIVX DVD player (which also played regular DVDs).
At least we know it was never a total waste of time or money to own one.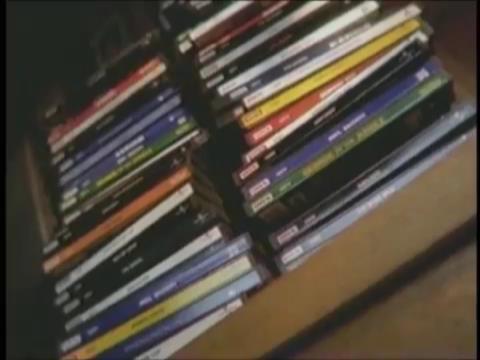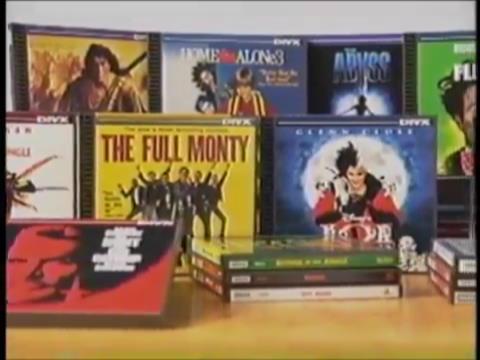 The DVD player (priced at $499 and up, and made by several manufacturers) would be connected to a phone jack. Once you start the specially-marked DVD of your choice ($4.99 to purchase), you had a 48-hour window to watch it, with an opportunity to pay a little extra ($3.25) for an additional 48 hours.
What if you wanted to, oh I don't know, keep the DVD?
You could!
If you viewed the disc and finished it, you could trade it with someone else (as long as they had the required DIVX player), or it could be dropped off at your local Circuit City. And there is the option of purchasing a DIVX Silver disc, which is an unlimited play disc, or converting a disc you have already to Silver, which meant you could keep it FOREVER! This option (and the discs that were "Silver" by default) were made as long as studios wanted their movies to have unlimited play. The concept of DIVX was to make a DVD collection that was affordable, since at the time, DVDs were $15-$35 each on average.
Reminds me of when videocassettes were insanely expensive.
The aim was to help consumers build an affordable DVD collection, while removing the video rental store experience from the home media selection and viewing equation. Retailers who sold DIVX wanted your rental dollars, and if you so chose, your purchasing dollars as well, with their claims that the video store experience was a nightmare – the prospect of driving there (the horror!), not finding the latest movie on the shelf (SHOCK!), and then having to return the movie you rented, which means having to drive to the video store AGAIN (terrifying!).
DIVX is entertainment on your terms, and it wants to be on YOUR terms!
I mean, all of this is eventually going to be a reality, but DVDs have not gone away as a result.
The window of time to watch didn't begin until you actually started watching the disc, so if you bought it three months ago, it was available to watch the minute you chose to, even if it was three months later.
DIVX was a service that lived on the merits of: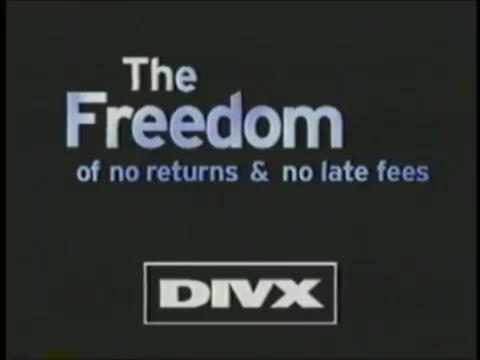 All good, honest aspects you look for when adopting a new home video format, or making an investment in, well, anything costly, right?
I think so!
Of course, it all sounds incredible. And in theory, this should have been great for Circuit City and the retailers who participated in the venture – exclusive DVD players that played a proprietary format that was convenient by design for the purchaser in every regard. No late fees, and the ability to fast forward, rewind, stop, pause, and play the movie, since pay-per-view didn't have that capability in 1998, all sounded AMAZING, INCREDIBLE, and EXCITING!
So…what happened?
"What If DVIX Goes Out of Business?"
(Forced smile, put on best sales pitch hat) Good question!
The format launched on June 1, 1998, and by September 1998's major roll out, DIVX was already showing signs of trouble. Despite a 4.1% gain in net profit for Circuit City, the expense of launching the format severely undercut that profit. By January 1999, DIVX DVD players was 23% of the market, and there were 419 titles available, but eventual studio pushback, and retailers refusing to adopt the format (aside from the ones who had already adopted it), signaled the beginning of the end for the DIVX Experience. And to add to this very imminent demise, Paramount did not allow their discs to be converted to Silver, eventually pulling their titles from the format altogether. Studio support had begun to phase out by May 1998, and as the first anniversary of DVIX's launch loomed, so did its end.
On June 16, 1999, DIVX was discontinued, garnering a loss of $114 million after taxes, with a likely total loss of $337 million. While the sales of products were phased out, anyone purchasing a player after the discontinuation date would receive a $100 refund on it, as well as any discs upgraded to Silver. All discs unsold by the end of the summer that year were destroyed, and unsold players were modified to remove the DIVX Security Module (which caused lockups when trying to access DIVX menus) before going to liquidation on the auction market.
As for customers who had already bought into this during initial sales, DIVX service was made available until June 30, 2001. DIVX discs would cease to work at that time, but the DVD players were able to be used as otherwise fully-functioning DVD players.
Just don't attempt to make one of the discs work in a standard DVD player.
The "888" number apparently doesn't exist for anything at the moment.
DIVX claimed affordability, the ability to building a home video library of the newest home media format, and…it failed miserably. Even having one of these players now, or attempting to get one on the auction market, is worthless, as discs will not work.
They didn't lie about it not working after June 30, 2001. Almost 20 years later, and no one can get one of these to come alive again!
The Digital Video Express Derailed at the DVD Format Station
Wow, that sounds a bit dark, don't you think?
While reading up on the DIVX demise, I recalled the time I spent researching scrambled UHF stations, the precursor to cable in the late 1970s to mid 1980s. DIVX was not the precursor to the DVD format, but instead attempted to be a market within the format. As a result of this little snafu in believing this was what consumers wanted, as a whole, the market was slower to be adopted.
My family was a VHS family during the 1980s and 1990s – we didn't buy into Laserdisc or Beta, just the good old-fashioned videocassette. We got our first VCR in the mid-1980s, and replaced it in the mid 1990s. My brother and I also had our own VCRs – Christmas gifts in the mid 1990s (me first in 1996, him in 1997). In 2000, my brother wanted a DVD player – he'd seen them at Best Buy, and knew he wanted this format in his life. My parents helped him buy his first DVD player, which was partially a birthday and Christmas present, along with money he had saved up (that unit was expensive!). This was a year after DIVX was discontinued. I had never actually heard of this format until, believe it or not, 2013.
Yes, long after Digital Video Express was taken out back and shot – heck, it was a few years after Circuit City went out of business – I came across a demonstration video on YouTube. I found it during one of my random "YouTube Rabbit Holes" I had a tendency to go down on Sunday afternoons, sitting in front of the computer. I'm betting it was the same day I watched a Laserdisc player demonstration video.
The other likely reason I never knew about DIVX was accessibility to Circuit City. The closest location was about 35 minutes from my house, so I maybe went there once or twice when they were in that location during the 1990s. However, it did move to a different shopping center in the mid-2000s, so I went there a little more frequently. We actually went to Best Buy at the time, as it was the closest store to the mall, but I hated the customer service there, and in the mid 2000s, took a liking to Circuit City, which always felt more friendly. Thankfully, in the years since Circuit City closed (which was a sad time), Best Buy had gotten much better. Even when I started going to Circuit City, DIVX was still a long dead concept.
Even better than knowing the format actually existed, there are TWO DIVX videos – one for sales persons to push the format, the other for prospective customers to hesitate over. Both have the same segment featuring a family adopting the technology, and how it works for their busy lives. The sales demonstration was made for Circuit City, while the customer video mentions all the places you can pick up your favorite new home media format.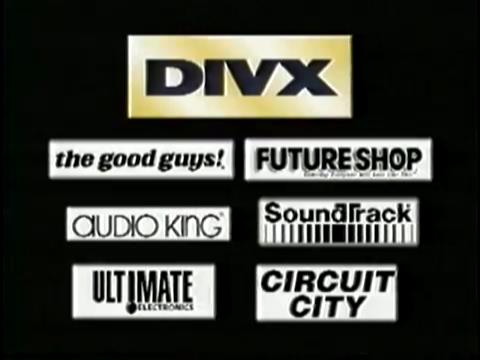 Hey, guess what? All of these stores are defunct now!
Let DIVX Be Your New Home Video Format
…because someone at Circuit City is going to try to convince you!
As I said, there are two demonstration videos for DIVX's advantages in the home video market – one for training salespersons, and the other for the potential customer. They're quick watching (a combined 20 minutes), and cover plenty of ground, including that one very important question someone needed to ask!
Oddity Archive's Ben Minnotte covered the format in plenty of detail, and also discussed the disposable DVD trend, in episode 99 of his show.
And Now, You!
Do you remember DIVX (not to be confused with DivX) as the future of the then-new DVD market? If you owned this setup, did it feel like a promising new way to watch movies and build a huge DVD collection, or did it have all the makings of being a dud?
If you know anyone who worked for one of the retailers involved in this venture, or YOU worked for one of them at the time, I REALLY want to hear your story!
So, there was the not-so-successful DIVX, but there was also another venture into the "disposable DVD" format, this one apparently more useless and ridiculously doomed than DIVX. At least you can still use the DVD players associated with DIVX. This other format was literally a ticking time bomb right out of the packaging.
That's a story for another time…like next time?
Have a great day!