It's Monday, Ooh, you feel like a prisoner, and you want to find someone who will let you out.  Can't you see the heartbeat that you know so well?
That heartbeat being…Music Monday.
1988 was a crossroads in the duo life of Hall and Oates.  Daryl and John had been a pair since 1970, though they'd been friends since the 1960s, while attending college at Temple University in Philadelphia.  By 1988, they'd seen the highest of highs in their success, enjoying fifteen Billboard Hot 100 Top 10 songs, they'd signed to their third label, Arista Records, shortly before their string of top ten hits ended.  Music was taking on a whole other sound and look for their music videos, and established groups found themselves falling into that sound.  The duo were a fixture of MTV in the early days, and as the channel and its music evolved, so did Daryl and John.
At this point, they'd taken on calling their duo Daryl Hall and John Oates.  Proving they could re-invent with the best of them (I mean, Chicago did it, right?), they released an album with a whole other look and sound that wasn't the Daryl and John we all knew, and apparently, that little spark of change wasn't entirely a bad thing.
Now, I'll preface everything else in this article by saying that for some reason, I had no idea today's song was a Hall and Oates song.  I've heard other songs from the later years that sounded nothing like them, but maybe it is because the most familiar songs to me are the songs you hear all the time, the ones they play in concert, and the ones the radio stations still love to play to this day.  I've been a fan of their music since the late 1990s, ever since I saw The Wedding Singer, and heard "You Make My Dreams" on the soundtrack.  That was the first time I ever felt like I appreciated 80s music on a different level, part of what opened the floodgates for nostalgia the way I love it.
I was lucky enough to see them in person in 2018 (fifth row, in direct view of Daryl Hall – I'm a lucky girl), and my husband and I enjoy their music together.  We even danced to (not our first dance) "Sara Smile" at our wedding, just so you know the level of fandom we are at.
I'm just really surprised I thought this was anyone else – I had no clue who – other than Daryl Hall singing.
"Everything Your Heart Desires" is a 1988 single by Hall and Oates (written by Daryl Hall), from their album Ooh Yeah!  The album was their thirteenth studio album and the first for the aforementioned Arista Records.  Released on April 16, 1988, the single entered the Billboard Hot 100 as their sixteenth single to reach the Top 10, and their biggest hit on the Adult Contemporary Chart at the time, a record they would hold until 2002, when "Do It For Love" succeeded – and surpassed – its success.
The song's lyrics find the singer asking his lover why she would want someone else, if she has "everything her heart desires," and that if she's really happy, then he was probably the one she'd been looking for all along.
Hey uh, Daryl, I'm married and all, but 1988 you is pretty hot.  That chick be crazy not to throw herself at you.
The video features a new, late 1980s look for the duo – long curly hair.  Daryl Hall had long hair at some points beginning in the mid-1980s, but the look in this video…wow.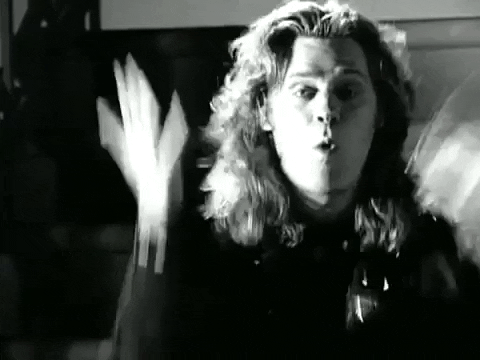 That hair is Jason Scheff Circa 1988 glorious.
Was 1988 a year for gorgeous blonde hair on male singers?  Because that is seriously an amazing look on him.  I mean, Daryl Hall at any point is hot, but this look is…wow.
The whole "I sat in the eyeline of Daryl Hall" had (almost) everything to do with him being hot, trust me.  I just really like looking at Daryl Hall.
I know he's in his 70s now, but he wasn't in 1988!  He still looks good!
So if you like MTV good looks, a late 1980s Adult Contemporary sound, and Daryl Hall saying he's the right one, while John Oates dances in the background, boy do I have a music video for you!
"Everything Your Heart Desires" reached #3 on the Billboard Hot 100 (#72 year ending 1988) and #2 on Billboard's US Adult Contemporary chart, the sixteenth and last single to do so, from an album that was the final one to reach Platinum status, and received favorably.  While the arguably best years for the duo were probably behind them in terms of hit singles, they still had something to prove.
These days, the two pursue their own projects, but still actively tour.  As of last year, they came back to Atlantic City, but we were going to Disney World a little over a month after they were local, and we didn't bother trying to get tickets.  They still put on an amazing show.  They look amazing, and sound as great as they have on every song we've ever sung along with.  In a concert that opened with "Maneater," and ended with "You Make My Dreams," there's too many hits.  Unfortunately, this one doesn't see the light of the set list, but they have performed it in recent years.  Perhaps one day, it will make it into a set list?  I honestly hope these guys continue to tour as long as they can, I'd love to see them again.  Maybe we would get a little of this "grown up" Hall and Oates pursuing a more mature love, not a "Maneater"/"Family Man" kind of love, but instead a "Sara Smile" kind of love like this one?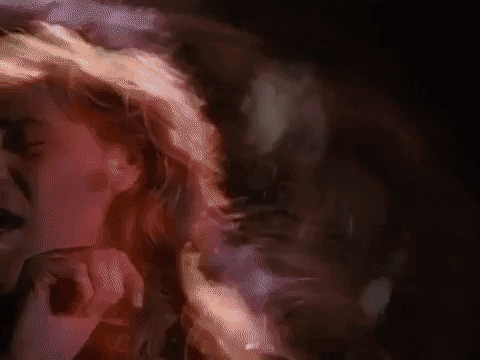 Gotta be better than the dance moves.  Nothing about that changed over the years.
May your Monday be everything your heart desires.  Have a great Monday, and enjoy the music!