And if you grew up in the 1990s, you know how that sentence is supposed to end.
You don't have to take it, but wouldn't you like to take it? I mean, Flashback Friday is the end of the week, and it is totally non-threatening to your well-being.
From dads whose negative influence rubs off on teenagers to mascots, cartoon characters, and celebrities talking about the dangers of drugs, inappropriate touching, and stranger danger, well-intentioned commercials become fodder for the internet users who witnessed these commercials as impressionable kids. We laughed at the premise, but the hope was always that the message would sink in.
Because hey, whatever you have to do to remember something.
And if you don't remember the message, maybe this visual will jar it from your subconsciousness…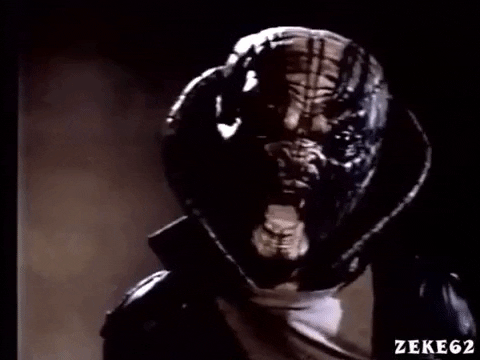 Honestly, how did this not sink in for some?
Today's commercial shifts its well-intentioned focus away from drugs, and turns to social issues. Today's commercial is an important issue – and has been since it was first considered to be an issue (or, at least, until it was known that the action behind it was not appropriate for any situation), and comes long before the Me Too movement. Again, the message is valuable and well-intentioned, but it gets caught up in – again – being quotable.
The darlings who laughed at the kid shouting "I learned it from watching you!" were now bigger and older brats laughing at the response in today's commercial. Oh, and they had their younger siblings watching right alongside them. Because family values.
Honestly, if you grew up in the 80s and 90s, you will remember this commercial like you just saw it for the first time.
From 1993, American Women on Radio and Television remind women everywhere there's one thing they don't have to take.
Upload via Commercial Archive
Jeez.
Schooled by a woman who knows her rights. Specifically, the fact that she has them!
This commercial has all the good intentions of educating lecherous co-workers and supervisors that under no circumstances should harassment of any kind be tolerated. Unfortunately, those intentions are laughable because of…the line.
"No, we're talking about sexual harassment, and I don't have to take it."
I'll state the obvious – the acting is always terrible in these commercials. I wouldn't expect them to be Oscar-caliber performances; they're discussing a heavy issue wrapped up in a 30-second commercial that aired many times throughout the day. We certainly got the message – be a letch and pay the price – but we laughed about how that message was delivered.
I first saw this in the summer of 1993, like pretty much everyone else my age. And like pretty much everyone else my age, I laughed like an immature brat (I was ten years old, forgive me!). I get the message now, the way I got it in 1993 (or at least, what I understood of it – again, ten years old). Guidelines for handling sexual harassment are well outlined in company policy no matter where you work. The long and short of seeing this policy is simple – it will not be tolerated.
There was a time where policy was lacking – heck, there was a time when the term "sexual harassment" didn't exist – and the sad shame was how bad a work environment could be for someone who tried to report this behavior. It knows no gender, it knows no boundaries, and if it happens to you, you're well within your rights to report it.
American Women in Radio and Television, Inc. was created from the dissolution of the women's division of the National Association for Broadcasters, established in 1951. An educational foundation, The Alliance for Women in Media Foundation, was established in 1960. The organization as a whole changed its name to Alliance for Women in Media in 2010. Their continued goal was supporting women in the media in all different forms. For years, I assumed this commercial was part of the Ad Council, but when I was watching this yesterday, I was pleasantly surprised to see it was not their commercial.
We have a long way to go on this policy of stopping and preventing sexual harassment. The threat of a hostile work environment is still a reality for many. Men and women live in fear of reporting their superiors or co-workers. But in 1993, it was good to know that someone was looking out for victimized individuals…even if the message made us laugh a little.
Thank you to YouTube channel Commercial Archive for posting this video!
Have a fantastic Flashback Friday, and a great weekend.
Come on, you have to take it!