You can never say I'm a negative influence!
This week, we're learning the kind of lessons one could only learn from the good old-fashioned (or ol-fayshoned) Public Service Announcement. The thirty (or fifteen) second statement that always managed to educate you…or scare you.  Images of your brain looking like cooked breakfast, a giant dog in a trench coat telling us how we can "take a bite out of crime," cartoon heroes telling us about "inappropriate touching," and a drug dealer whose head turns into that of a snake are enough to make you take notice.
Honestly, have you ever seen the one with the giant snake head?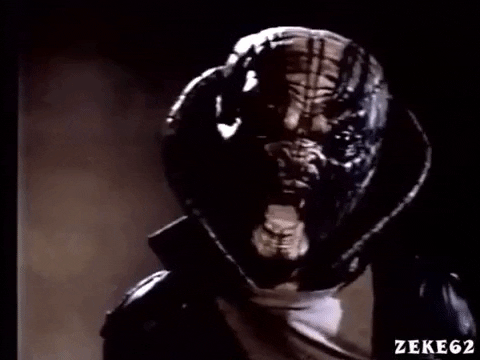 This commercial aired for MANY years beyond its debut in 1986, and maybe I'm in the minority here, but I think the war on opiates could be won if this commercial was shown again.
I still wonder how this wasn't effective in the 80s and 90s?  I know the only ones scared of this were kids who didn't do drugs, but honestly, if you were doing drugs and a giant snake head popped up on your TV, wouldn't you get yourself clean?
Anyway, today's Public Service Announcement has all the classic feels of the ones we watched in the 1980s and 1990s, without drug dealers who turn into snakes.  No celebrities, no Pee Wee Herman talking about crack cocaine, just hard core reality to smack sense into you.
It's an exchange between Mustache Dad…
…and Rebellious Son.
It's a heated exchange about why would his son ever want to do drugs…and where did he learn how to do them?
And it ultimately leads to a heartbreaking revelation.  One that is the honest truth, and shakes Mustache Dad to the core.
The year is 1987, and this Public Service Announcement is…sobering.
This is a terrifying reality – A kid who follows in his parents' foot steps for the wrong reasons, with a shocking accusation that floors the parent.  Leading by dad's example only leads to heartache and equally bad decisions.  The hook is so quotable, but the real lesson learned hopes to get its point across.
"Like Father Like Son" made its debut as a Public Service Announcement by Partnership For A Drug-Free America in July 1987.  The PSA is a large scale anti-narcotics campaign, but has been more notorious for its lack of effect and confusing premise.  However, "I learned it by watching you!" has become a sticking part of a 1980s kid lexicon.
It has been parodied many times, it has been seen probably more times than it has any right to have been seen, and it should have a hard-hitting effect.  The war on drugs was a losing battle, and the attempt to show parents who partook and their influence on their own children should have hit harder…but it didn't.
Here's the thing – you're going to do drugs, or you're not.  Environment and influence can only provide so much fuel for the fire.  If something is in your makeup, the best you can do is try to fight temptation and the consequences.  These commercials made us laugh (because we were immature, let's face it), but they were easily understood by those who understood the dangers and were too freaked out.
I've never done drugs in my life, nor have I smoked anything.  I hate the smell of cigarettes and marijuana, why would I want that smell to follow me, or worse, have an effect on my health.  I know it sounds cheesy, but I knew these commercials were always more than just fodder, they were well-intentioned.  Sure, I laughed, but I knew the message. Once you get past the terrible acting, only then do you get the message.
If Mustache Dad and his teenage son couldn't persuade you to stay away from drugs, could Snake Head?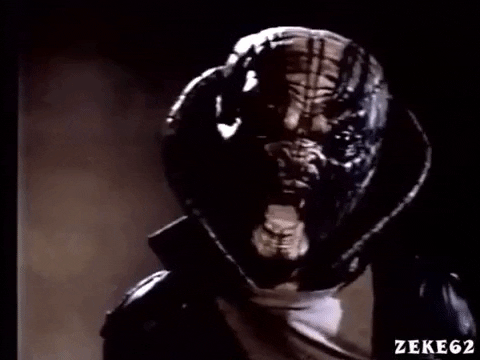 It's even more terrifying that I remember it being!
Tomorrow, we move away from parents as negative influences, and move into social issues.  Illegal social issues.  The Public Service Announcement is just as quotable, and is, I'm happy to say, free from snake head drug dealers.
Have a great Throwback Thursday – that's the one thing I hope you learned from watching me!