Because tomorrow, you're on your own.
But then again, tomorrow's Friday, so that's enough relief for today's stress headache.
I honestly hope you don't have a stress headache today (or any day), but if you do, may relief be in your grasp.  Because when your headache feels like this…
…you need all the help you can get. And for "today's stress headache," you need a very "today" pain reliever.
You need the pain relief of the product in today's commercial, from 1990.
Anacin (and its aspirin free counterpart, Anacin-3) is the trade name for several analgesics manufactured by Insight Pharmaceuticals (now Prestige Brands, as of 2014).  Invented in 1916 by William Milton Knight, Anacin was first sold in the 1930s by Wyeth (formerly American Home Products).  It sponsored soap operas, the first television sitcom (Mary Kay and Johnny, in 1947).
The commercials always mentioned high stress situations – work, life, overbearing mothers.  The advertisements were parodied several times, including in the classic 1980 parody of the Airport movies, Airplane.  
Upload via Movieclips
I always found it funny that everyone was waiting in line to slap this woman – I had no clue what it was parodying!
These days, you can still find Anacin on the market.  I haven't seen commercials for it in years, but it is still there, doing exactly what it advertises. Of course, pain reliever commercials these days aren't nearly as dramatic these days.
Heck, this was 1990 and not nearly as dramatic.
This is dramatic!
Upload via Gerald Santana
Upload via allcommercials
Tomorrow, more pain relief! But is it dramatic?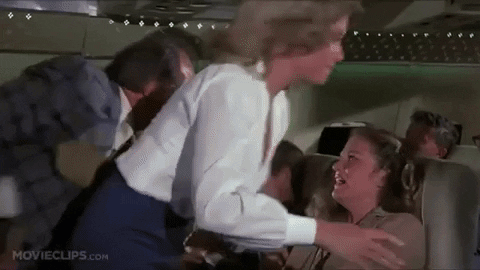 We shall see.
Have a great Throwback Thursday!