With a key, you unlock a door to imagination.  Beyond it is another dimension.
A dimension of sight…a dimension of sound…a dimension of mind.
You're moving through a land of both shadow and substance, of things and ideas.
Guiding you through this wondrous journey is the hypnotic sound of…Music Monday.
Wait, were you expecting something else?
You gotta admit, that was pretty suspenseful.
You always knew that whenever this narration, this guy was out to convince you the world is very much like the one on television.  A world where people with pig faces are the norm, where little redhead boys can "send you into the cornfields" for thinking terrible things about him (which is actually a cute way of saying "I'm gonna make you disappear"), and fuzzy-costumed gremlins make William Shatner freak out while flying on an airplane.
Rod Serling was the OG of stuff that scared kids, the 1950s-1960s predecessor to Robert Stack telling us about things that remain unsolved, and Williams Shatner introducing dramatized versions of real-life emergencies.  All of it made for great television, but we have Serling to thank for starting it.
And today's group for writing a song that feels like a love letter to the television show.
That show is The Twilight Zone, the group is The Manhattan Transfer, and the song is…"The Twilight Zone/Twilight Tone."
"The Twilight Zone/Twilight Tone" is a 1979 song by The Manhattan Transfer, from their album Extensions.  The album was made famous for the song "Birdland" (which netted The Manhattan Transfer a Grammy win) but this song and "Trickle Trickle" were also released from the album.
So, if this song sounds like a love letter to the television show, that's because it is.  It was, in fact, written about The Twilight Zone, with the opening narration being an amalgamation of the opening narratives made famous by Rod Serling in each episode.  In the six-minute version, which I didn't know existed until a few years ago, there is more narration, this time about "Mr. Miller" and his trip.
The version I had been familiar with for over 20 years was the shorter version, which omits this really cool part of the song.  And thanks to the internet, the entire song, as it was intended, is something you can listen to.
Which means that you should!
"Twilight Zone/Twilight Tone" charted at #30 on the Billboard Hot 100, and #12 on Billboard's Disco chart (talk about an obsolete chart!), with Extensions charting at #55 on the Billboard Top LPs chart.
Written by Jay Graydon, Bernard Hermann, and Alan Paul, it was Alan Paul's vocals that imitated Rod Serling's narration, and singer Janis Siegel performed the song's vocals.  The song captures that chilling introduction music of the television show perfectly, and the narration is great.  Rod Serling he's not, but Alan Paul does pull off the weighty part of capturing the Rod Serling flair.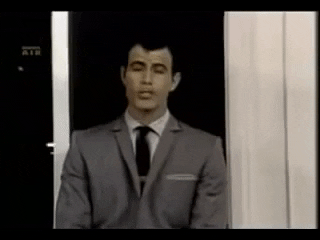 Homage, my friends.
Oh, and this is from a music video the group did for this song.
Yes, there was a music video!
And it is so gloriously 1970s!  Seeing is believing!
The 1970s were a hell of a drug.  Tell anyone who asks.
Have a great Monday, enjoy the music, and avoid mystic unknown zones.  At all costs.