Probably not.
When I was going through commercials a few days ago, I came across a product – specifically, a game – that I had never heard of before. Now, I'm not an expert and don't know every board game in existence, but this one definitely is as far off my radar as it gets.
That said…
"Heard about the great new game going 'round?"
Today's commercial is from 1987, for the board game Instant Replay, a game of matching a design made by one player, as it spins on a small record player-like platform.
Yup, it's a game of building combined with "you spin me right round baby, right round, like a record, baby!" No, that isn't said in the commercial, but it sounds like a catchy concept.
As for the game, judge for yourself how easy or difficult this looks.
Instant Replay was produced by Parker Brothers, and first released in 1987. One player creates a model from tiles and other players have to replicate that model in the time the platform spins. It was for children ages eight and up, and up to four players could participate in the building of replicated block designs.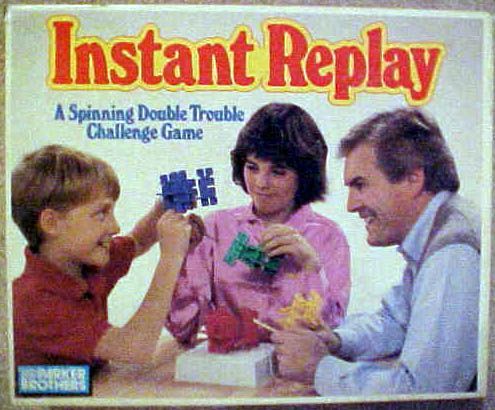 The box refers to it as "a spinning double trouble challenge game," but to me this seems less double trouble, and more challenge. Interesting in concept, I don't see too many younger kids actually playing this successfully, unless they're smart. My husband could easily tackle this game, and I'd probably be the opposite, though I do surprise myself once in a while.
Funny thing is, the kid who created the model looks much younger than the ones he's playing with. And they can scream "I got it!" as many times as they want…because they don't got it. Not even close.
As a company, Parker Brothers went defunct in 1998, when they were purchased by Hasbro, which later reincorporated the brand into Hasbro Gaming. At the time Instant Replay was baffling gamers, Parker Brothers had just been acquired by Tonka, only two years after General Mills merged Parker Brothers with Kenner.
According to Geeky Hobbies, the game starts off fun, but loses its novelty quickly. Recreating the designs is fun, but it can be difficult based on the person creating the designs. Something tells me this game, based on the reduced replay factor alone, rendered it a short-lived Parker Brothers creation. It sells very cheap on the secondhand market (used copies in very good condition are under $10 on Amazon Marketplace, as of this writing). I'm hedging my bets that this one didn't survive any corporate mergers and sales.
As a rarity, this game looks interesting enough, but can be mired in the messed-up mind of some smartass kid (or adult) who wants to make it difficult for the rest of the players.
"Let's see that again."
You don't got it.
Have a great Throwback Thursday!