So, dig this. Fabulous powers were revealed to me the moment I held aloft my magic sword and…
That didn't happen, but fabulous memories (moreso than in the past) were revealed to me the day I went through my commercial collection (both mine and the stuff I've acquired over the years) and found yet another commercial that brings back too much nostalgia!
I love a good commercial, especially one that gives me goosebumps.
Today's commercial does just that!
I've mentioned this in the past, but I loved She-Ra when I was little. I had a doll – er, action figure – and my brother (who had He-Man) and I watched Masters of the Universe and She-Ra. We loved both shows – She-Ra was total Princess Goals, and for me, still is.
The commercials promoting the doll and everything She-Ra were always a thing of wonder and beauty. From the jingle proclaiming She-Ra the "Princess of Power!" to the visuals of all the cool toys, and just the excitement of watching the girls in the commercial play with the toys made me so excited as a little kid. At 37 years old, I still feel that way, especially about today's commercial.
I always say that 1986 was a magical year, but 1985 is a strong competitor, especially with stuff like this commercial.
Behold, She-Ra's answer to Castle Greyskull, the Crystal Castle!
Bow before its gloriousness, and be jealous of the two luckiest commercial actresses EVER!
But wait till you see what this castle does that is so…I'm getting chills thinking about it!
Just press play!
I'm not going to lie, this happened…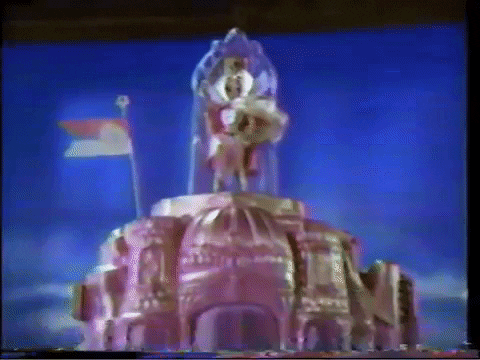 …and I was all "oooooh!"
Luckiest girls ever!
Now, I'm sure I saw this commercial when I was little, but I was re-introduced to it while revisiting moments of the Macy's Thanksgiving Day Parade. I'm pretty sure my jaw dropped watching that elevator rise to the glorious top of this glorious castle.
She-Ra, Princess of Power, was introduced to the syndicated television world in September 1985, with two seasons and ninety-three episodes airing between 1985 and December 1986. The castle, in She-Ra lore, was located atop Skydancer Mountain, and is overseen by Light Hope. She-Ra leads The Great Rebellion, and is considered to be the "Defender of Crystal Castle." While well-received as a positive role model, she was poorly received as a female counterpart to He-Man.
There were three waves within the "Princess of Power" toyline – 1985, 1986, and 1987, and the line ended around the same time its counterpart, He-Man and The Masters of the Universe, was discontinued. Like everything else, the toys have made comebacks over the years, as have the cartoons. I had the original She-Ra action figure (loved her!), and I actually have the doll (a Barbie-sized doll!) from the new series that I won in a prize package of cool girlie toys (some of which I kept, others I gave to my five-year-old niece). I still have her in the box (where she will stay, because I'm a grown-ass woman), and need to find a spot to display her properly. I also have a Funko Pop of She-Ra, which was my first ever Funko. I spotted her at my first Wizard World Convention in June 2014, and I needed to have her. I'm so glad I got her, because she was discontinued around that time and is expensive to buy. I unboxed mine, but no regret, she is gorgeous!
I've watched episodes of the original series here and there (it is pretty cheesy, but the kind of cheese I love), and it reminds me of being little and playing with my action figure. The commercials, as opposed to the cartoon, are the biggest source of nostalgia for me. A memorable jingle, the excitement of seeing girls JUST LIKE YOU playing with them, and imagining adventures for your Princess of Power. It was all so incredible and so incredibly 1980s. I admit, it is hard not to get excited.
Especially when this happens.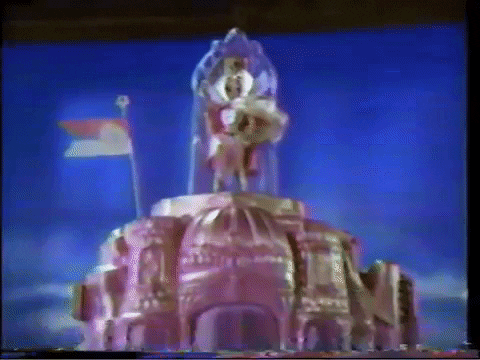 Ooooh! I mean, yeah!
Not even the weirdness of the Macy's Thanksgiving Day Parade could ruin this moment for me!
Have a fantastic Flashback Friday, and a great weekend!