Likewise, Flashback Friday cannot recommend a detergent that doesn't dissolve well in cold.
We're keeping it clean on this Flashback Friday, with a classic commercial that was one in a series of ads that aired between (I believe) 1987 and the early 2000s.  If you watched enough television in the 80s and 90s, you ran into one of these commercials.  They were notable in that they didn't rely on dialogue, just visuals to get their point across.  That point was that there is a laundry detergent that works best in cold water.
Those commercials relied on testing done by a silent man, The Cheer Man.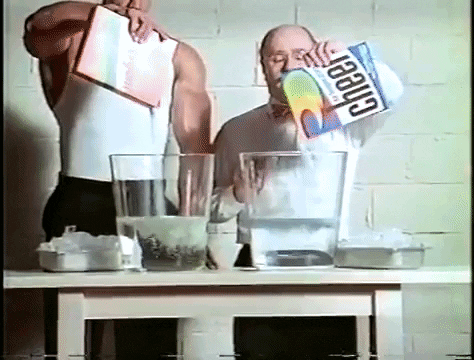 And once in a while, he had an equally silent helper for a comparison.  In the case of this commercial, from 1988, it was a bodybuilder.
See which detergent stacks up best in cold water!
Upload via Rewind Me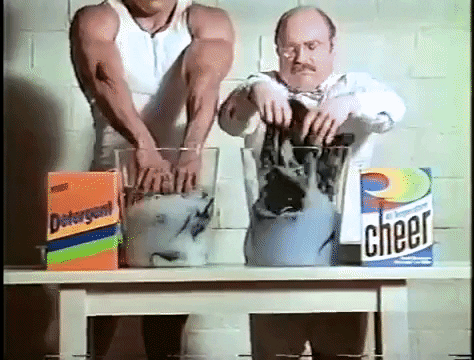 A simple look, a simple nod, and that was the product.
Cheer laundry detergent has been on the market since 1950, with a slight reformulation in 1952.  It is manufactured by Protcer & Gamble, a successful followup to their introduction of Tide.
Known for being Jerry Seinfeld's favorite laundry detergent (it was seen in the episode "The Sponge"), it is perhaps known more for its commercials, featuring the silent "spokesperson" demonstrating the product.  That man is JoBe Cerny – he's an actor with film credits, is the current voice of the Pillsbury Doughboy.  Cerny did many commercials for Cheer over the years, relying on little more than letting the product speak for itself over the years.
Cerny is still acting today, and is the founder and president of Cerny/American Creative, a production company based in Chicago (Cerny is from Cicero,  a suburb of Chicago) that offers creative services catering to film companies and advertising agencies, and is also a weekly columnist in Screen Magazine.
The Cheer commercial featuring a hankerchief was featured as #47 on Entertainment Weekly's "50 Best Commercials of All Time" issue on March 28, 1997.  I remember loving this article as a 14-year-old – I had just gotten my subscription for the magazine, and that was the first issue I received in the mail.
47 CHEER DETERGENT

"HANDKERCHIEF"

Upload via jeremiah johnson

As grand opera swells, a silent, portly fellow—Second City alum JoBe Cerny—takes a dirty handkerchief and plunges it into a cocktail shaker, adding Cheer detergent, water, and ice. A couple of shakes and, voila!, the handkerchief is gleaming. The ad's stylistic paradox—visual minimalism and musical maximalism—is a blissful assault that somehow conveys the notion that high culture is cleansing. Not your usual TV message.
AGENCY: Leo Burnett
YEAR: 1987
Perhaps it was this magazine that jumpstarted my love of commercials?  I'd say it started much earlier than that, but I'm sure this helped.
As for Cheer and its presence on the market…it still exists!  It is currently known as "Cheer Colorguard" and "Cheer Brightclean," and these days, it is marketed as a budget brand.  The days of demonstrating the detergent in a container with water and ice are over, but man were these commercials funny!
There were so many of them over the years, and all of them great, that I had a hard time choosing which one to display today.  I settled on the bodybuilder one, as it was the one that made me laugh the hardest, but I found an entire playlist of these commercials (probably not a complete list, but complete enough).  I watched them on the treadmill this morning, and let me tell ya, they're still as funny as they were when they aired.
Truly simple, effective advertising that got the point across, with the right touch of humor.
Holy muscles.
Have a fantastic Flashback Friday, and a great weekend!