It doesn't matter what I say, so long as I sing – rather, write – with inflection!
I mean, it does matter what I write, because there's writing, and then there's writing people want to read.  I strive for the latter.
90's Music Month rolls on here on Allison's Written Words, alternating songs that were hits by groups who continued on releasing hit singles, with hits by singers/groups that didn't meet with the success of their shining moment.  Don't get 'em wrong – the one hit wonders are still in the business, but they were never able to capitalize on that one song everyone loved.  I've been focusing on the time period from 1995 to 1997, as this was a period of music that defined my love for music that I've carried throughout my life.  I was still watching MTV as this point, alternating it with VH1, which actually was showing good music videos and not just being "MTV Lite."
Today's group falls into the "had a hit single…and then some" category.  They'd been around for a few years (since 1987), and had a few hits prior to the release of today's featured song.  It was the music video that was the "hook" in getting my attention as a 12-year-old MTV watcher in the summer of 1995, and even to the summer of 1996.
"Hook" is a single by Blues Traveler, released in 1995, part of their 1994 album four.  The song is played for satire, directed at the audience and informing them of the meaningless nature of the lyrics, but that the "hook" of the song will bring the listener back, no matter what.
So really, that's true of so many songs – some hits are all about the sound and not necessarily the lyrics.  I mention this song once in a while, but it was the catchy beat of "Semi-Charmed Life" that got our attention, and got it into films – especially kids films – despite the nature of the song's lyrics.  The "hook" was in its sound, everything else was meaningless.
In the case of today's , it had a music video that's the "hook" of the song.
"Hook" reached #23 on the Billboard Hot 100 in 1995, and #22 on the Adult Top 40.  The video features game show host Ken Ober channel surfing late at night, as beauty pageant models and a Charles Foster Kane-type politician (on two separate television channels) lip sync the song's lyrics.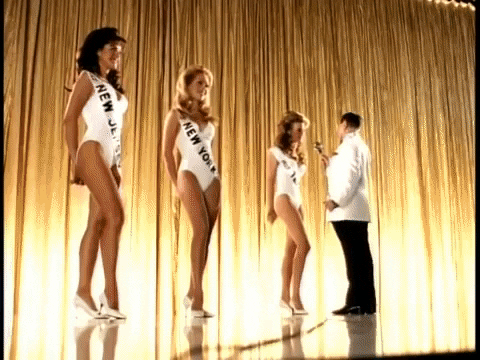 We see flashes of TV channels, a cameo by Paul Schaffer (also lip syncing), and the band in tuxedos.  While not as successful as the previously-released "Run Around," the song is just as catchy, and dare I say, brutally honest.
I owned the cassette tape for four when I was in seventh grade (early 1996), and listened to both this song and "Run Around."  It was a great album, and the group's sound is catchy.  The "hook" with this song's corresponding video was the lip syncing beauty pageant – I laughed so hard at that part!
Blues Traveler is still around today.  Responsible for the revival of jam band sound in the 1990s, their mainstream success was solidified with the release of four.  The death of band member Bobby Sheehan and John Popper's weight cause their dropping from label A&M in 2002 (which was part of corporate restructuring at the label in the early 2000s).  After that, they bounced around through different independent labels, worked on an experimental sound, and John Popper survived heart surgery and had gastric bypass surgery, which has helped him lose alot of weight.
The group still tours today, and every year for Independence Day (with the exception of 1999), the band performs at Red Rocks Ampitheater in Morrison, Colorado for two nights on July 3rd and 4th.  The tradition started in 1992, opening for The Allman Brothers the two nights at Red Rocks.  The following year, the group booked as part of the HORDE Festival to play there on July 4th, and the tradition for this group began in 1994.  They most recently released an album in 2018.
The "hook" brings them back to Red Rocks, and public consciousness, no matter what.
That ain't no lie.
Next week, we wrap up 90s Music Month with a one-hit wonder of a song known for its inclusion as a television show theme…and not much more.
Have a great Monday, and enjoy the music!