It's Music Monday, and I'm not braggin' on myself, baby, but I'm the one who loves you…enough to dedicate a whole month to the music of love!
Welcome to February, lovers.  It's the Month of Love here at Allison's Written Words, and for this month, songs in the key of love are the order of the playlist.
First up, I'm not trying to make you stay (though I hope you'll choose to stay!), But I know some how, some day, some way, you're gonna know today's song!
"You'll Never Find Another Love Like Mine" is a 1976 single performed by Lou Rawls from his album All Things In Time. Written by Kenny Gamble and Leon Huff (known for creating the Philadelphia soul music genre of the 1970s), the song was Rawls' breakthrough single, in a career that had already been going for 25 years, interrupted briefly during his stint in the 82nd Airborne Division of the United States Army, and then a few years later while recuperating from a car accident that left him in a coma, but not before being pronounced dead before arriving at the hospital.  Rawls had released albums and performed with other popular R&B acts of the 1950s and 1960s prior to his breakthrough in the 1970s, but his song about how he's the only one that could love you, despite your exhaustive search for the right one was the one that put him on the map.
Because you'll never find a love like his, and a song that lets you know it…quite like this song!
"You'll Never Find Another Love Like Mine" reached #2 on the Billboard Hot 100 (held out of the top spot by the Bee Gees' "You Should Be Dancing" and KC and the Sunshine Band's "(Shake, Shake, Shake) Shake Your Booty."  However, it did reach #1 on both the R&B and Easy Listening charts.  The single's success came at a time when many of the original members that made up the pool of Philadelphia soul singers (called MFSB, or "Mother Father Sister Brother") had left for better opportunities.
The song has been featured in movies, television shows, a Burger King commercial from the late 1990s (because when I think of uncomparable love, I think of Whoppers), has been covered by the likes of Michael Buble, and has even seen Rawls singing it as an action figure on a Nickelodeon program, and dressed as a doctor getting ready to perform a colonoscopy on Damon Wayans.
Yes, that's right.  Rawls performed the song on My Wife and Kids as he is preparing Damon Wayans' character, Michael, for a colonoscopy.  I'd only heard this song in the Burger King commercial (it is somewhere in my collection) prior to seeing this episode, and I've never quite been able de-associate it with the episode.
Pretty sure it has less to do with Rawls singing into the colonoscopy camera, and everything to do with the nurse that dances and spins around behind him.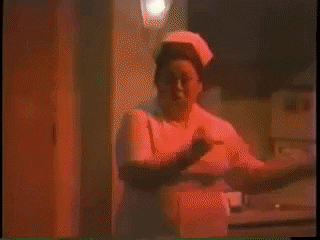 Now you'll never unsee it.  You're welcome.
Rawls enjoyed a career that spanned thirty more years, before being diagnosed with lung cancer in December 2005.  Rawls performed for a final time only a few months earlier during during a tribute to Stevie Wonder, and around the same time, he had performed the National Anthem for game two of the 2005 World Series at U.S. Cellular Field in his hometown of Chicago (he had been performing the anthem at various sporting events for 28 years).  Rawls passed away on January 6, 2006 in Los Angeles.
He was at home singing the about a fat orange cat named Garfield, the wind beneath one's wings, and uncomparable love, but for me, I'll never unsee him preparing to give Damon Wayans a colonoscopy.
The only drug he ever gives is love.
Yup.  Can't unsee it, and can't unhear it.
The month of love extends beyond Music Monday into this month's nostalgia-themed articles, which begin tomorrow.
Until then, have a great Monday, and enjoy the music!