Well, we've cleared the Christmas season, and we've got two more days of 2019, which means Allison's Written Words has officially shifted gears to take you through to the end of the decade.
I remember in 1999, at the age of seventeen, having my whole life ahead of me.  The end of high school (Class of 2001!), college, adult life – all of it was coming my way in the New Millennium!
The night of the new millennium beginning, my parents hosted my dad's cousin and her husband for an evening at home.  Myself, my brother, and my boyfriend at the time were there for that evening of dinner and conversation in the family room, watching television and waiting in anticipation of the year 2000.  Wow, 2000 – that always seemed so futuristic – a world of flying cars, appliances and technology that could service you.  It was a world only The Jetsons and Back to the Future Part II could set up for us.  If I had known how much was going to happen in the world after December 31, 1999 ended (and not all of it good), I would have been shocked.  This exciting, optimistic time became something of the total opposite, but only if you allowed it to.
For me, the close of the current decade was much more amazing than I could have imagined as it started.  As 2010 was starting, I was twenty-seven years old, laid off from my seasonal job at a golf course, single (though I was trying to have a friendship with my turbulent relationship in waiting of an ex-boyfriend), and taking dance lessons.  Ten years later, I'm working at my current job going on ten years, I've been in an amazing relationship for four years (and married for six months), and own a house along with two furbabies. Thirty-seven-year-old me is heavier and not dancing anymore, but that same person is happy and living the best life.  I've spent the last almost five years getting my writing into something to be proud of, worked hard to build a life that is everything I ever wanted, and am looking forward to everything that comes my way.  Challenges are now always accepted in my life!
When I was in the car the night before New Year's Eve 1999 with my parents, driving home from dinner at a restaurant, I heard today's song among the other non-holiday offerings on the lite rock station.  The song is one I've heard because of Dick Clark Rockin' New Year's Eve, but this very version is one I only heard for the first time that evening, and it stuck with me.
20 years later, as a thirty-seven-year-old, it still sticks with me, the symbol of a millennium's worth of achievements, moments, and life, and the promise for a bright, incredible future.
Take that, Negative Ones.
Anyway…
"Auld Lang Syne (The Millennium Mix)" is a 1999 single by saxophonist Kenny G, whose work should not be unfamiliar to Music Monday followers (Related: #MusicMonday – September 10, 2018 and #MusicMonday – April 2, 2018).  At one time, the subject of laughs from myself and my fellow uncultured young people, G's work is one I've grown to love in all its instrumental, Adult Contemporary, Quiet Storm-like, Jazz format radio station glory.  Armed with a saxophone, his music is one of beauty.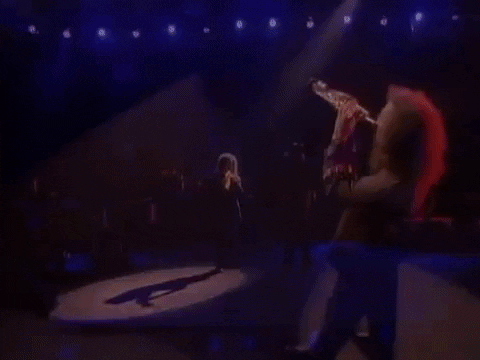 So leave it to him to help close out the millennium with the beautiful and celebratory look ahead.
The song was released on Kenny G's Faith: A Holiday Album, released in November 1999, his tenth studio album.  There are two versions of "Auld Lang Syne" on the album – a tradition version featuring Yanni on keyboards and Charlie Adams on drums, and this mix, which features different soundbyes of historical events of a newsworthy and pop culture significance mixed in.  An official music video showing these events was made.  I didn't even know there was a music video until a few years ago.
Faith: A Holiday Album reached #6 on the Billboard 200, as well as 1 on the Contemporary Jazz Albums chart, number 4 on the R&B/Hip-Hop Albums chart, number 5 on the Internet Albums chart, and was the highest-selling holiday album of the year.  Kenny G's version of "Auld Lang Syne" reached #3 on the Adult Contemporary Chart, and #7 on the US Hot 100.
The song is beautiful, yet feels surprisingly mournful.  Perhaps it is a combination of both – hope for the future, yet a look back on what was. Kenny G captures that wonderfully.
We have one more day until the last day of the year, and like everyone else, I'm looking to both 2020 and what the coming decade have to offer.
Have a great Monday, and enjoy the music!