We're in the throes of Christmas week (two days left!), and I'm dancing merrily in the new old fashioned way!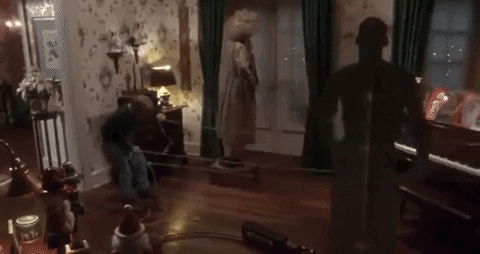 When constructing the perfect Christmas playlist, it is vital to pick a song that gets them up and dancing, even if you have to use those skills to stage a party for the neighborhood busybodies.
Or the "Wet Bandits," whichever your neighborhood has.  Hope it is the former and not the latter.
If you must construct a party playlist, be sure that today's song is on it, because you've got a Christmas tree, you might as make it the center of attention!
"Rockin' Around The Christmas Tree" is a 1958 single by singer Brenda Lee (born Brenda Mae Tarpley) and written by Johnny Marks.  Despite Lee's mature voice, she was actually only thirteen years old when she recorded this single (yes, I had no idea!), and had begun performing at a much younger age.  A child prodigy, Lee got her start singing in a local candy shop for candy and money.  At the age of six, she won a school-sponsored singing contest, and won an appearance on an Atlanta radio show, and by ten, she was appearing on local radio, television, and Atlanta-area events.  She moved to Cincinnati, Ohio briefly after her mother's remarriage and appeared on radio shows in Kentucky before moving to Augusta, Georgia.  Lee's first two singles (released in 1956) were actually Christmas songs, but her breakthrough (and a full Christmas album) would come in the next few years.
Initially not a successful-selling single upon its 1958 release, it took a few years for "Rockin' Around The Christmas Tree" to find its footing, but it eventually did, becoming Lee's biggest selling track – it even reached #37 on the Billboard Hot 100 on December 13, 2017, but its highest chart position was #14 on the Hot 100, and #3 on the Billboard Christmas Singles chart in 1965.  On December 7, 2019, it re-entered the chart at #3!
Lee's was the first version of this song I knew, after having heard it on a freebie cassette tape of Christmas songs my dad from Exxon in the late 1980s.  I was six years old, and loved hearing this song.  For me, it has always felt like a classic, and not many versions rival the original.  By the time I saw Home Alone in 1990, I had heard this song quite a few times since the previous two Christmases.  Being a kid, I assumed this was the only version, though it is the OG version, by far.
Oh, and speaking of covers, "Rockin' Around The Christmas Tree" has been covered by numerous voices singing "let's be jolly" over the years, from Alabama, LeAnn Rimes, Kim Wilde (with Mel Smith in 1987, and Nik Kershaw in 2013), and even Chicago, who made a short film music video featuring the band as a lounge act who boosts the morale and Christmas spirit of Saturday Night Live's Kyle Mooney, as a young man who tells his tales of woe and how he doesn't fit in with his family to a bartender (played by Joe Montegna, a long time friend of the band).  I especially love how Keith Howland did the vocals for the song, given his rock-sounding voice, which sounds great with Chicago but is totally unexpected.
But of course, today I'm focusing on the original version, since this one has the most sentimental value in my Christmas playlist.  I have several other versions as well, but it is the Brenda Lee version I always go back to, the one I feel works the best for me.
I still can't believe she was only thirteen!
And speaking of kids who do amazing things with their given talents, here's that infamous scene in Home Alone, where Kevin McCallister stages a party to dissuade the Wet Bandits from breaking into his house. There's dummies drinking at a window-side table, Michael Jordan riding around on a train, and an eight-year-old literally pulling the strings of it all.  This was one in a long line of amazing things to excite the kids who saw this movie in 1990.
We're two days and counting until Christmas, and I have a few more surprises up my sleeve for Christmas excitement, which will continue through the week, even after the radio and television stations peace out on Christmas.
Have a great Monday, and enjoy the music!