Because it's Friday, and why should anything knock the wind out of one's sails…or the crunch out of today's snack food?
I will admit that today's commercial was picked because of hunger while I was finding a commercial.  I usually work on these while I'm eating my lunch, but I watched this one at home…while not eating.
The real surprise is that I didn't rush out and buy today's product after seeing this commercial.
So we move forward from yesterday's time in 1987, to the year 1989, from delicious non-candy that makes your mouth happy, to crackers that stay crunchy no matter what.
No matter how you top it…
…no matter what you do to it.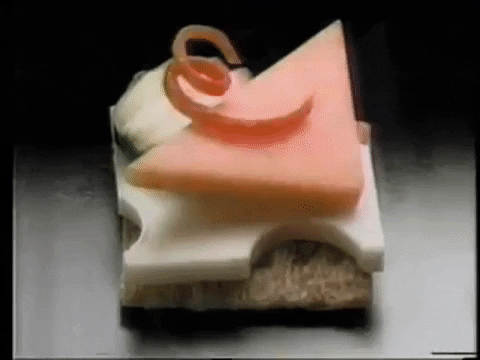 Nothing can take the crunch out of a Triscuit.
Including the appliance in this commercial!
Mmmmm.
Anyway, Triscuits…
The delicious Triscuit cracker, baked whole wheat wafers in nature, were invented in 1900 and patented in 1902.  Originally made by the Shredded Wheat Company in Niagara Falls, New York beginning in 1903.  In 1935, the crackers were sprayed with oil and salt during production.  By 1984, Nabisco began adding additional flavors for Triscuits, as well as making them crispier.
And then there is this "stays crunchy no matter what" claim.  I've never actually microwaved a Triscuit before, but I do like mine with cheese on top.  It is a cracker that spent time as a regular in my pantry growing up, and on occasion, I'll see it when my parents have company.  I think it is one I'd like to start keeping in my pantry.  Perhaps I'll top it with cheese…and microwave it.
That sounds really awesome.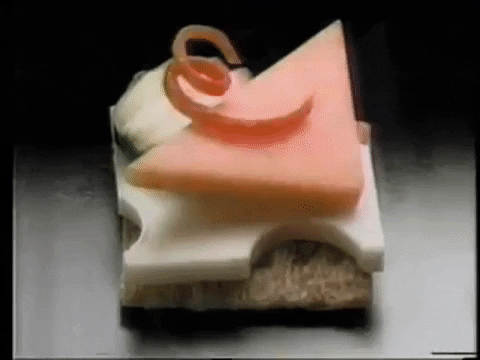 Mmmm, melty!
Have a fantastic Flashback Friday, and a great weekend!