When it feels like the world is on your shoulders, let Music Monday help you through it!
Several years ago, my husband (who was my boyfriend at the time) introduced me to a movie called The Last Dragon, a movie about a teenager named Leroy Green, who aspires to be the next Bruce Lee (you know, because he had a son to follow in his footsteps, but Motown didn't know this!).  Leroy is told by his master that only a true martial arts master can achieve "The Glow," which is the ability to concentrate such mystical energy into their hands, that they begin to glow.
Spoiler alert: He let his soooooooooooul glowwwwwwwww!
Yes, I know that's Coming to America, but it works well here.
This movie, cheesy and enjoyable as it was, also had something else working for it…a soundtrack that included today's song. The song, as well as the success of The Last Dragon, propelled the group performing today's song into crossover success.
"Rhythm of the Night" is a 1985 single by sibling group DeBarge, from their album Rhythm of the Night, but also included on the soundtrack of Berry Gordy's The Last Dragon, which was released to theaters around the same time (the single was released in February 1985, with the movie being released in March).  Until the time this single was released, DeBarge enjoyed success with their ballads.  Lionel Richie had similar success with his ballads, but his Calypso-sounding "All Night Long" was hugely successful and the crossover hit he needed, that it was felt DeBarge could do the same.
And did they ever!
"Rhythm of the Night" was written by prolific songwriter Diane Warren (who wrote one of Chicago's biggest hits, "Look Away," a few years later), whose career was jump-started by this song.  The free publicity with its use in The Last Dragon, as well as El DeBarge's amazing voice, didn't hurt the song and its catchiness either.
Of course, I already know this, but do you?
"Rhythm of the Night" marked the beginning of the group's brief life as pop superstars, with the music video receiving heavy airplay on MTV and BET.  It reached #3 on the Billboard Hot 100, and #1 on the Billboard Hot Adult Contemporary Chart, as well as the Hot Black Singles chart.
DeBarge was a family of singers consisting of siblings El, Bunny, Marty, Randy, James, Bobby, and Chico.
Hailing from Grand Rapids (by way of Detroit), Michigan, the family were often compared to the Jacksons, who had paved their way on Motown's label before them.  Formed in 1979, the family had several albums and an impressive catalog of hits, but drug abuse by the siblings ultimately eroded the group, and they disbanded in 1989.
Of the siblings, Eldra (El) DeBarge proved to have the most success of his siblings, but even his success was marred by legal and drug issues, which he has managed to overcome.  Though his biggest years were as a member of DeBarge, he has released albums and singles on his own.
And to think, this song is associated with a movie about martial arts, produced by the founder of Motown.  A movie which had nothing to do with dancing, as the song talked of.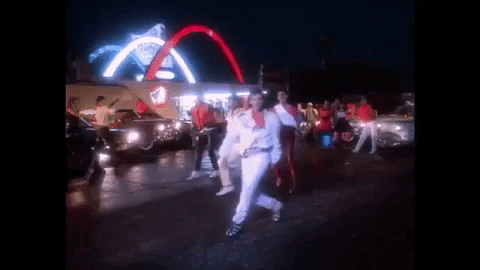 Of course, we'll always have "The Glow."
Even if it is Cheesy Special Effects Glow.
Have a great Monday, and enjoy the music!