…Is nothing short of exciting!
Ok, it isn't quite as exciting as Mack The Third Lego Maniac saving the universe, but it works out well for anyone seeking out a slightly more tame Lego experience.
1981 was the 32nd year of Lego's long, still-going-strong life.  A few years earlier, in 1978, Lego Town was introduced, and a few years later, an extension of the town was added to the hustle and bustle – the Public Works Center!
Fill 'er up, get a repair, and drive on along through Lego Town.  The action's up to you!
Go on, click play and see what the buzz about Lego Town is all about!
Today's commercial comes from the compilation Awesome 80s Toy Commercials, which was essentially a half hour in the archives of great commercial joy.
For me, these structured Lego sets were always kind of cool, but I never had the patience for them.  I preferred loose Lego sets and the ability to create whatever I wanted, and I created an airport out of my creator sets.  I'm not Zack, Jack, or Mack, but I made lots of cool houses.  I did have this set in the early 1990s, I think when I was 10 years old…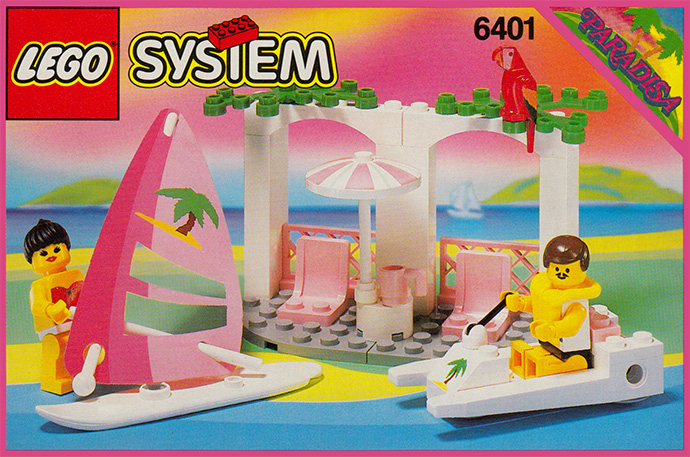 And I had fun building it!  I created my own little Aaron Spelling-style universe with this small set, where the two Lego figures were obviously pretentious snobs with a cabana, Ski-Doo, and a parrot.
Back to the Lego Town Public Works Center…
According to Brick Link, the Public Work Center set is a fairly expensive one to come by – a complete, good-to-very-good goes for $450, and on the low end (no box, missing parts, or replacement parts put in set to make up for missing/lost parts), this goes for $189.
It is a pretty cool setup, but then again, even 38 years ago, Lego sets never looked primitive or short of the imagination department.  They've stood the test of time, and despite technology and "better" toys honing in on creative ones, Lego manages to keep right on going.
Well, there you have it.  Master Builders of the World, have you ever seen the Lego Town sets, specifically, the Public Works Center or gas station?  Let me know!  I'd love to hear your stories.
Until next time – well, next article – happy building, have a fantastic Friday, and a great weekend!
Oh, and Happy Easter!