…that would put yesterday's realistic toy guns to shame!
Yesterday, we experienced the feel of a totally controversial, very realistic-looking toy water gun from the mid-1980s, the Entertech line of water guns.  From their inception in 1985, until modifications began on them in 1987, the toyline was not without controversy for their realistic look and feel.
Their use in criminal activity, not to mention the deaths of children by police shootings due to their realistic nature, lead to blaze orange caps being placed on newer models, as well as giving the Entertech line neon-colored plastic.  What made these amazing and set them apart from their competition was the very thing that resulted in their redesign and eventual discontinuation.  Once revolutionary, they became part of the crowd.
I knew there had to be even more realistic-looking toy guns out there, and 1001 Classic Commercials did not disappoint in my search.  In fact, I'm pretty shocked at what passed for toys in the 1950s and 1960s.
Behold, ten minutes worth of commercials to really make the Entertech line look fake!
A realistic-looking pistol in a cowboy hat…as endorsed by Roy Rogers?  A child-sized hand loading a toy pistol?  This military-looking piece of weaponry?  RIFLES?!  And that spy-looking kid and his $3 gun?
This isn't even an exhaustive list of what's in this commercial set!
Also…
Even Kurt Russell (related: #ThrowbackThursday is For Young Spies in Training) makes a cameo here!  And he's got his giant compressed air-powered behemoth of a weapon!
Go forth and click play, and be totally surprised by what toy makers let get out there!
Good lord, it's no wonder toy water guns are incredibly unrealistic looking, because our parents and their giant pretend military-grade plastic guns existed!
I mean seriously, what's more threatening to you?  This…
…this?
…or this?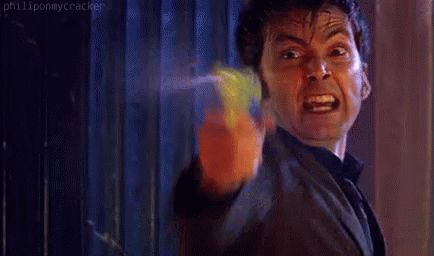 I mean, the 10th Doctor with a water pistol could be threatening-looking.
Oh, who am I kidding, they're only going to get your shirt wet!
That's more of an inconvenience, friends.
Have a fantastic Flashback Friday, and a great weekend!