That slogan, my friend, advertised a toy.
I kid you not.
The 1980s were the time of things companies could get away with murder over.  By the early 1990s, any hopes of keeping that up were dashed.  Gone were the cartoon as a product placement (and largely, the end of Saturday morning cartoons as we knew them), out was marketing heavily to children on the level companies were accustomed to, and definitely out were toys that had all the look and appeal of something dangerous.
In other words, realistic-looking water guns were so history.  But for the last half of the 1980s, this was actually a thing.  And its slogan slapped you in the face with it.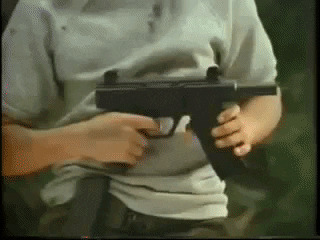 Or rather, shot water at you to create the logo.  Can your water pistol do that?
1985, LJN's Entertech introduced a line of realistic-looking water gun toys, revolutionary in a time of water pistols that were brightly-colored plastic, had poor range, and were quite simply squirt guns.  We all have played with neon-colored water pistols one time or another, and Entertech looked to change the market.
Don't believe me?  Watch the commercial, and find out more!
This commercial (gathered from a tape of cartoons filmed in June 1987 and given to me by my fiancee to "comb through" two years ago) demonstrated the second generation of Entertech's realistic-looking water guns, as well as that sweet water grenade balloon-filling toy.  I laughed my butt off watching kids get pelted with water balloons in slow motion!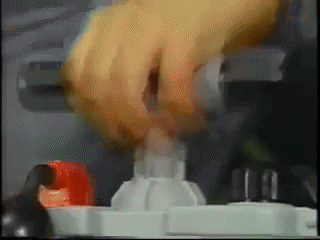 By this point though, enough controversy had brewed around their very existence, as cops had shot and killed children playing with them, based on the belief that they were real weapons and not just toys.  Conversely, criminals were using the Entertech toys to perform their criminal actions – you know, rob banks and stores.  So, due to that, the guns were manufactured with blaze orange-colored caps in 1987, and later models took on more of a "water pistol" look with less realism and more neon.
Because the 1980s needed more neon.
By 1990, LJN was purchased by Acclaim Entertainment, and shifted LJN's focus to video game production, as it would increase the number of titles they would be able to produce for the Nintendo Entertainment System.  In September 1990, the Entertech name was sold for $1.7 million, effectively ending their run as the water gun that was seriously a cut above the rest.
You can still play War, but it takes on a whole other tone with Super Soakers.
Dan Larson covered the controversy behind the brand his show, Toy Galaxy.
The look, the feel, the controversy…SO REAL!
Alas, this was a toy from a time where there was more pushing the limits of what toy companies could get away with marketing to children…until there no longer could keep it up.
And there you have it, controversy killed the toy line.  It kills other things, but this was certainly one of those times it seemed necessary.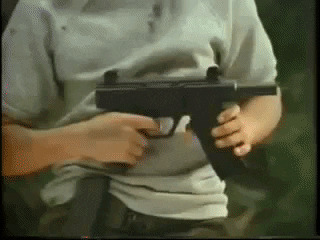 Honestly, can you imagine the parents of today if these were available?  I can't even imagine!
Tomorrow, on Flashback Friday, more commercial goodness from the archives, hopefully not tinged with controversy and easily-offended populations.
Have a great Throwback Thursday!