Well, we're almost there!
Merry Christmas Eve, everyone!
It's Music Monday, and…we got a Chicago song!
Like you were going to get away without one this year!
We made it to Christmas Eve, and with that, we have one final Christmas song for Music Monday.  This one is an original – no other group or singer can lay claim to it.  It is everything you'd expect from Chicago.  And since they didn't have any original Christmas music (aside from their on version of "Jolly Old Saint Nicholas" in 2003), this one is a real treat.
Just humor me, guys, it is a good song!
"Rockin' and Rollin' On Christmas Day" was released on Chicago's 2011 Christmas album, O Christmas Three, and was written (and sung by) founding member/trumpeteer/flugelhorn player extraordinaire Lee Loughnane and John Durrill.
This isn't Loughnane's first songwriting credit.  He has songwriting credits dating back to Chicago VII ("Call on Me"), as well as "No Tell Lover" and "Take A Chance" (Hot Streets), "Together Again" (Chicago X), "This Time" on Chicago XI and most recently, "America" (Chicago XXXVl: Now).  This also isn't his first vocal contribution – this dates back to Chicago VII's "Song of the Evergreens," as well as backing vocals on other songs.  He was the lead vocalist on "Let It Snow!  Let It Snow!  Let It Snow!" (from Chicago XXV: The Christmas Album), and currently sings "Colour My World" in concert.
He also has theis cool moment during "Ballet for a Girl in Buchanan"…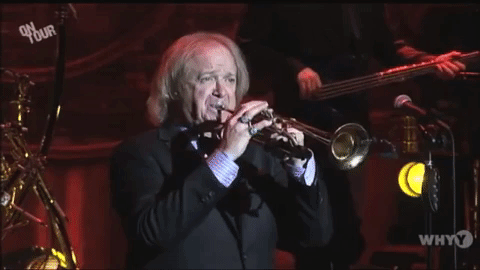 This is the "sit in complete awe until he finishes moment."
But don't sit in complete awe while listening to this song, click play and sing along!
If only Chicago actually made Christmas music videos…
I mean, they did with another song from the same album (Related: Rockin' Around the Christmas Tree…With Chicago!), but why not another song?  I know it isn't the 80s/90s anymore, and they don't have to appeal to the MTV Generation (or anyone other than their dedicated fanbase), but seriously, you made a great video that shows you guys are alot of fun!
Oh well, one Christmas present was enough.  🙂
Well, that's it.  We're in the homestretch, Santa is on his way, and Christmas is almost here!
Have a great Christmas Eve Monday, and enjoy the music!