Admit it, you only read the title and started hearing the jingle.
I had two favorite stores that I pretty much shopped at exclusively as a teenager – Old Navy and Aeropostale.  I'm still shopping at Old Navy to this day (after a very long drought due to the quality and style of the clothes, as well as the clothes not fitting when I had gained weight a few years ago).  Aeropostale, on the other hand, I stopped shopping at years ago when the clothes were "too young" and too small and I (sadly), was too old.
Now, despite the fact that I've been shopping at Old Navy on and off for almost 20 years, and I'm a lover of commercials, their ads have never been the driving force to get me in their store.  Ever.  I don't think I've ever seen an Old Navy ad that hasn't made me want to punch people and mannequins so much in my life.
Yes, mannequins.  Those ads where the actors were freakin' mannequins had me wanting to punch the ones in the store.
Conversely, one of the seemingly more irritating ads of its time has softened on me, replacing my annoyance for its horrible off-key singing and earworm of a jingle with fondness and nostalgia.  Granted, it was probably in the running for the most annoying thing to come out of 1998, but now, it's kitschy, goofy, and everything this writer loves about goofy and kitschy nostalgia.
And you're invited!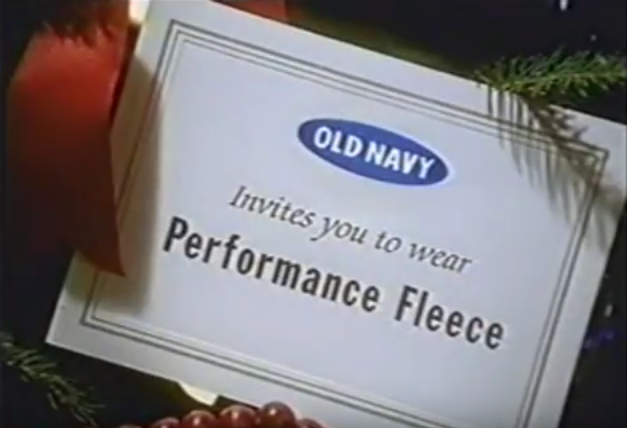 And why not?
I mean come on, you have…
The lady with the huge glasses…and some guy hanging a wreath.
This guy and his freaky eyes!
Or is it just the screenshot I made?
"Invite me somewhere!  Performance Fleece parties couldn't even handle me!"
Morgan Fairchild, whose outfit dilemma could potentially have caused great peril…
…now knows what she will wear.  And what time she will be there while wearing it!
George and Weezie Jefferson?!  You're invited too?!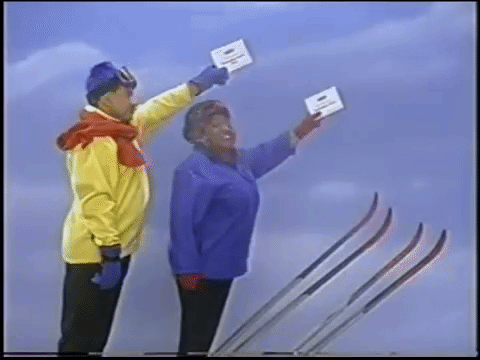 You WILL be the best dressed, George!  Let's just say you will be movin' on up in the style world!
(You see what I did there?!)
Join the chorus of non-celebrities both here…
And the questionably relevant ones in their respective places!
Do you know the words? I do!
And now, for the pleasure of your ears, I proudly present, from the archives of 1998, the Old Navy spokespeople for Performance Fleece!
And if you must know, I did own a Performance Fleece quarter-zip shirt in gray and black (gray exterior/black interior)…and gloves that matched!  I'm sure I wasn't best dressed (but it was trendy!), but that stuff was really warm!
So, did you own Performance Fleece?  Did this commercial drive someone to gift it to you (or did you buy it yourself?)?  Did it drive you nuts back then?  And seriously, who is this guy?