Music Monday, she'll get a hold on you believe it.  Like no other, before you know it you'll be on your knees…
There was this one Saturday Night Live sketch from 1997, for a 900 number manned by women from Long Island trying to be sexy to men from Long Island, but coming off as quite the opposite.  I was fourteen years old the first time I saw it, and remember laughing hysterically at the ridiculous over-exaggerated accents, big hair, and Colin Quinn playing a Jewish guy.
My personal favorite was the woman saying "Ohhhh, I got CRAMPS!  Call back in an hour!"
Alec Baldwin was the host that evening (February 22, 1997), and he was also the spokesperson for the "hotline," talking about Long Island girls who "just got their nails done" and "diet regularly" waiting for a call.  And behind all of the hilarity, the song that set the tone, from what I could hear, was Phil Collins singing about an "easy lover."  It wasn't until 2001 (the year I graduated high school), that I found that song among a greatest hits compilation of Phil Collins songs.  However, I saw the accompanying name, Philip Bailey, and had no idea who he was, but he would become an artist whose group, as I would come to find out, made some of my favorite R&B songs of the 1970s, and a group that I've been lucky enough to see in concert.
Unlike Phil Collins.  And Genesis.
"Easy Lover" is a 1984 single by Philip Bailey, a co-founding member of Earth Wind and Fire, and Genesis vocalist and drummer Phil Collins.  Collins was on a break from Genesis and, at that time, was riding high on the commercial success of his single "Against All Odds."  His next album, No Jacket Required, was on the verge of release.  Philip Bailey's group, Earth Wind and Fire, were on a hiatus that started in 1983.  Bailey was on a solo career during this time.  The song is part of Bailey's 1984 album Chinese Wall, his third solo effort, and the single would later find itself on Phil Collins' 1998 greatest hits compilation, …Hits.
The song came out of a jam session between Collins, who was producing Bailey's album.  Bailey approached Collins at the conclusion of the sessions for Chinese Wall and wanted to write a song with him.  The duo worked on a song as a jam session, and went round and round with a song that eventually became a verse and a chorus.  They recorded it that evening, so they "wouldn't forget it."  According to Collins, the song "doesn't sound like any particular era. It's just fantastic." (Source: Greene, Andy (29 February 2016). "Phil Collins: My Life in 15 Songs". Rolling Stone).
Released on November 20, 1984 in the United States, and February 14, 1985 in the United Kingdom, "Easy Lover" reached #2 on the Billboard Hot 100 on February 2, 1985, held out of the top spot by Foreigner's "I Want To Know What Love Is" (ooooh, a classic – such competition!), but reached #1 on the UK Singles Chart, and stayed there for four weeks.
As a result of their jam session effort, "Easy Lover" was nominated for a Grammy in 1986 for "Best Pop Performance by a Duo or Group With Vocals."  In 1985, its music video won an MTV Video Music Award for "Best Overall Performance in a Video."
As for that music video, the story is a "making of" for a music video, and was filmed in London.  Collins appeared in the video with Bailey because he knew it wouldn't be shown if it was just Bailey appearing in the video.
Or no one would recognize Bailey without this glorious costume!
I'm sure your distinct vocals would have had viewers and listeners wondering where you were.  We've certainly done that with Rockwell's "I Always Feel Like Somebody's Watching Me," whenever we hear Michael Jackson's vocals.  Like that single, I always believed this was actually a Phil Collins single with backing vocals. I had no idea this was the other way around.  Either way, Bailey – and Collins – shine through.
They certainly do in the music video!
As for that Saturday Night Live sketch, the sketch (along with season 22 in its entirety) are not easy to find.  When I was recording episodes back in the late 1990s, I didn't record that one Alec Baldwin episode.  I remember recording the sketch sometime in the early 2000s when the episode was re-airing on Comedy Central, but I guess for copyright reasons, "Easy Lover" was replaced by some generic song.  So, probably safe to say the sketch in its unaltered version is lost to the cosmos somewhere.  I remember the sound quality on my recording to be pretty bad.  And forget uploading the sketch to my YouTube channel.  I found out how quickly an account can get shuttered by doing that back in 2007.  Even if that doesn't happen these days, my copy of the sketch still wouldn't even be good enough to show.  The sketch lost its luster without "Easy Lover," but those over-exaggerated women on the sex line were classic, a funny memory from a funny season.
Phil Collins would continue on with his solo career, returning intermittently to Genesis before leaving the group in 1996.  He has since reunited with them for a tour, retired, and come out of retirement, only to tour with Genesis a second time.  In between, he's contributed to Disney movies, released solo efforts, and has done some acting.  I've yet to see him in concert, and while that probably won't happen (I said that about Kenny Loggins, and that has happened twice), it is still on my bucket list.
When Earth Wind and Fire picked up where they left off in 1987, Philip Bailey returned.  He still does some solo work, but since the group's reformation, he has been front and center as one of the group's lead singers.  As I've said, I was lucky enough to see EWF in concert in 2015 (in a co-headlining concert with Chicago), and Bailey is very much a gifted entertainer – his voice is beautiful, and is part of a group that continues to make beautiful music today.
But for a glorious time in 1984, two Phils were making beautiful music together.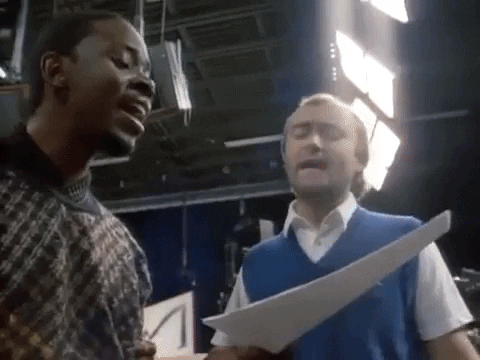 Have a great Monday, and enjoy the music!