Calm down.  It's Thanksgiving, but we're not selling anything today.  Or any day.
First of all, Happy Thanksgiving!
Whenever you're reading this, I hope you've had a great day (or are having a great day), and are preparing for massive eating that comes with the holiday.
Once you've eaten the turkey and trimmings, and are in a tryptophan-induced haze, are you planning on just sitting it off…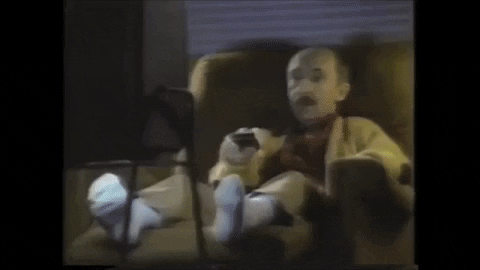 …or shopping it off?
Discount retailer Zayre hopes you'll perish the very thought of sitting (or even spending time with family, and yes, cleaning up after the meal) in today's commercial from 1988!
Upload via Televisionarchives
Massachusetts-based Zayre (which seemed to be a Chicago-area staple, based on the amount of commercials I've seen for it on 1980s WGN commercial breaks on YouTube) was established in 1956.  "Zayre" is the literal pronunciation of "Zehr gut," the Jewish translation of "very good."  The store specialized in discount shopping, featuring the usual discount store goods – softlines, electronics, home goods.  This store was like many of its kind – think Bradlees, Kmart, and Ames.
By 1988, the company reorganized, with one of its brands TJ Maxx, becoming a subsidiary (as TJX Companies, which was profitable), and the company operated at a loss as the year began.  In October 1988 (hey, right before this commercial!), the entire Zayre chain (400 stores at this point) were sold to Ames Department Stores, and Zayre instead focused on TJX Companies.  By 1990, Zayre stores had been converted to Ames Department Stores, Ames Department Stores had filed for Chapter 11 (they later emerged), and the end of the fifth-largest retailer in the United States had come.
Zayre was known in the mid-1980s for their "around the clock" store hours leading up until Christmas, but seeing this commercial for the 64-hour sale reminds me that the worst of getting a jump start on Christmas shopping was yet to come.  Stores being open on Thanksgiving Day seemed so rare back then. And yet, here was Zayre, throwing 64 hours of non-stop sales and open stores at you in their advertisements.  They don't want you to wash dishes, listen to the old ladies in the family gossiping, or sit on the couch and actually digest food – they want you to SHOP!
I'd like to think everything has changed since 1988, but it was going on back then as well.
I love this commercial!  I'm not familiar with the brand – I know it existed, but Zayre didn't have a market presence in my area.  We had Bradlees, Caldor, Kmart, Ames, Woolworth, and eventually Target, but not Zayre.  The concept of appealing to your hidden want to "screw Thanksgiving tradition, I'm going shopping!" really made this commercial great.  I particularly love the gossipy older ladies and the younger one with the facial expression.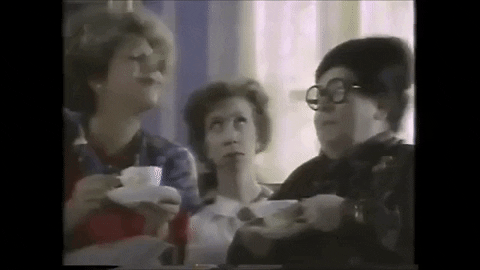 Who hasn't felt this way around the holidays?
Based on what I've seen of Zayre advertising (as I said, mostly on old WGN videos on YouTube), their advertising was on part with other discount retailers of the time, which always seemed to be the more appealing advertisements when I was growing up.  I probably would have liked Zayre in the way that I liked Bradlees, which almost twenty years later, I still miss.
Like those non-stop Thanksgiving sales, not everything lasts forever…but the advertisements go on, which is something us of the nostalgic love can be thankful for not just today, but everyday.
Tomorrow on Flashback Friday, we focus on the time-honored tradition of "The Day After Thanksgiving," before it was called "Black Friday," and you stampeded your way into stores for sales.
Oh yes, there's a commercial from the archives for that purpose!
Enjoy your turkey, trimmings, and dessert, and have a great Throwback Thursday!